On test: Colnago E1, October 5, 2005
Life's Simple Pleasures
Colnago E1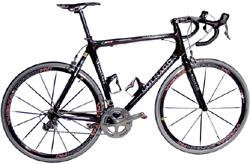 Steve Beletich feels the wind in his hair, aboard a full-house Colnago E1.
Colnago needs no introduction, but attention tends to focus on the company's very top, lightweight offerings because these are the bikes ridden to victory by stars like Oscar Freire and Michael Rasmussen. The
Colnago E1 frameset is a recent addition to the line-up, that fills a hole in their catalogue that is often neglected - it's for frame-punishing power junkies rather than pedal-dancing featherweights. Hence it's noticeably beefier than the C50, with a monocoque front triangle and semi-sloping top tube. The rear seat stays are Colnago's B-stay carbon units and the chain stays are distinctively oversized.
This Colnago landed at Cyclingnews as a fully assembled, turnkey bike, complete with pedals, bottle cages and inflated tyres. It was built around the new-for-2005 E1 frame (size L; 582mm top tube) with the famous Colnago Star carbon fibre fork. Hanging off the frame was a full Shimano Dura-Ace group, Speedplay CSC team issue stainless steel pedals, Colnago (San Marco) Aspide saddle and Colnago carbon fibre seatpost. Various novel componentry also came fitted, such as Vuelta Carbon Pro clinchers, Cinelli Ram carbon bottle cages and an outrageous Cinelli RamJam integrated bar/stem combo. Wild stuff.
Cinelli RamJam handlebar

A very minimal front hub

The computer mount

Shimano Dura Ace

The front end is a monocoque

Comfy!

Beefy clamp

Colnago post and saddle

Plenty of bottom bracket

Vuelta carbon Pro wheels

Cinelli bottle cage

The master's signature

Tidily mounted drop-outs

First impressions
In what could possibly be described as the world's worst timing, I picked up the E1 within a week of injuring my lower back. That's another story, but it did have a silver lining with respect to the E1 review, which I'll get to in a minute.
If you've ever had a back problem which is exacerbated by riding a bike, there's a good chance you'll be concerned about correct bike fitting and setup, as I am. This involves much mucking about with spirit levels, frame angles, and getting the bike dimensions right, to the nearest millimetre.
With this obsessive mindset, I did encounter a slight problem with the saddle angle adjustment on our E1. The seat tube angle is a pretty standard 73 degrees, however the Colnago seatpost top clamp did not allow me to get the Aspide saddle to sit horizontally. No amount of fiddling with the difficult-to-access adjuster bolt would allow the saddle to sit further forward than a few degrees nose-up. The bolt would bottom out before the saddle reached horizontal. Hence I was forced to slide a thin piece of plastic under the cradle to get the saddle where I wanted it. Dodgy, but it worked.
Fortunately, the Cinelli integrated bar-stem combo gave a handlebar reach that was pretty close to what I required, which was more a result of fluke than good planning. Despite the sexy looks of this unit, its obvious drawback is that you cannot change the stem length without outlaying several hundred bucks for a whole new unit.
Riding
After an hour or two of fiddling with rulers and plumb bobs, the E1's setup was within cooee of my ideal spec. There was nothing more to do than get out and ride the thing. Given that I was nursing a sore back, I was not able to race the E1, which was a bummer on the face of it, but there was one golden upside. I was able to stop, smell the roses, and appreciate the pure, simple joy of riding a bicycle for pleasure rather than to compete.
To explain, this enjoyment is rooted in the rewarding sensation that comes from human powered motion. I pedal, the bike moves forward. I pedal harder, the bike moves faster. This absolute connectedness between effort and motion is extremely satisfying. It has never been more evident than when I was aboard the Colnago E1. Add to this the knowledge that I was atop a piece of high-end Italian craftsmanship, and I felt like a soppy DeCaprio at the bow of the Titanic.
Even while I was being overtaken by kids at 25 km/h, this was a truly joyful bike to ride. In fact if Cinelli were to offer some handlebar streamers and a basket, then I'd fit a set of those to the E1, provided the basket was full carbon, naturally.
But seriously, the technical reasons behind the enjoyable ride of the E1 are many. Firstly, just a glance at the oversized front triangle told me that this was one rigid bicycle, hence the very direct relationship between effort and motion. The solid underfoot feeling was courtesy of a significant amount of meat in the bottom bracket shell, along with Shimano's proven two-piece crank design. Secondly, the slightly more subtle seat stays helped provide a smooth ride quality, although perhaps not quite as soft as other carbon frame offerings, but that suits me just fine.
Lastly, the E1 frame geometry is inherently stable. A longish wheelbase, 73 degree seat tube and generous fork rake gave a predictable and confidence-inspiring ride. No twitch, no speed wobbles, and yet a pleasing amount of 'pounce' when the juice was applied. And at a claimed 1135 grams for the medium size (85 more than a C50HM), it's by no means a heavyweight.
Other componentry
Our E1 came fitted with a Vuelta Carbon Pro wheelset. Vuelta is an Italian wheel maker with a modest but growing presence in Europe and beyond. The Carbon Pro has a medium profile clincher rim (just under 40mm), constructed from carbon fibre with alloy outer walls and braking surfaces. The rear wheel has 16 fat, bladed spokes which are conventionally laced, and the front has 12 radial spokes. These Alpina spokes incorporate a patented alloy thread locking system to maintain spoke tension, and can be tightened in situ. The wheelset weighs a claimed 1730 grams, which is pretty reasonable for wheels with this depth of profile.
On the road, the Carbon Pros had amazing top end performance and a Ksyrium-esque feel to them. They were plenty stiff under load, with reasonable ride quality. My only complaint was the slightly uneven braking surface of the rear rim, which caused somewhat irregular braking. The front wheel also rattled a little when I was out of the saddle and applying increased weight to it. The good news however was that these wheels have remained true over two months of testing, which is reassuring for carbon fibre clinchers.
Pedals on the E1 were Speedplay's amazing Zeros, in CSC team issue red livery with stainless steel axles. I've heard a lot about these pedals, and was eager to give them a whirl. As a result I'm one impressed camper. They have a very low shoe-to-axle height and infinite float adjustability.
Of course the most pleasing aspect of the Speedplay Zero's was their ease of entry. In contrast, the bearings in my old pedals would allow the pedal to spin freely if kicked when lifting foot from road to pedal. In this situation I had to first stop the pedal spinning, then align my cleat with the front of the pedal, then align and clip into the rear. A total of three separate operations.
The beauty of the Speedplays is that pedal orientation and front/rear alignment are eliminated from the equation. All you have to do is align the cleat with the pedal and press down. This is a joy when taking off from hillside traffic lights in a bunch, and I've reached the point where I don't even have to look at the pedal to get in quickly.
The most radical component fitted to our E1 test bike was the Cinelli RamJam integrated bar / stem combo. The Ram name is no doubt derived from the bars' resemblance to the horns of a ram, particularly at the bifurcation point where bars separate from stem. It's a wild looking unit, with trick black and silver carbon fibre patterns under a tonne of clear coat.
There's also a very nifty computer mount which bolts on under the stem, thus placing the computer in front of the bars for improved aerodynamics. This is helpful, as you'd be doing well to bolt any kind of computer to bars with an aero profile like these. The tops are about 45mm deep at their widest point (in the horizontal plane). I learned that the trick to being comfortable on the tops was to place both my fingers and thumbs on top of the bars, rather than gripping them with thumb underneath. This gave a relaxed and comfortable position which, Steve Hogg reliably informs me, allowed my arms and shoulders to rotate outwards slightly, thus opening up my lungs for improved breathing.
I'm not quite sure how the basket and streamers will attach to these bars, but I'm sure Cinelli will figure out a way.
The other trick components worth mentioning, again from Cinelli, were the Ram bottle cages. Black carbon fibre with red and grey graphics added much techno-cool, and surprisingly they gripped my bottles like you would grip the last can of Victoria Bitter from the bathtub at a BBQ.
Last but not least, the Shimano Dura-Ace group worked faultlessly, as expected. From my perspective there are only a couple of differences between this group and Campagnolo Record that are worth pointing out. Dura-Ace has those wonderful two-piece cranks and mind-blowing brakes. Both drivetrains shift supremely well, although I prefer the solid "thunk-thunk" of the Record upshift, to the "click-click" of Dura-Ace. It's also nice to be able to upshift four cogs at a time when you need to, and this is something that Shimano have yet to master. All things considered, both groups have pros and cons, so it's down to personal preference as to which you would choose.
Conclusions
In summary, the Colnago E1 is a beautiful frame to ride. It's a piece of high end Italian craftsmanship that I would be thrilled to own. It gave a very solid and rigid ride that was slightly less nimble than other carbon frames, but this is clearly a design intention.
The component spec was not too far off perfect, save for the lack of seat post adjustability, a slight wheel rattle and the somewhat uneven braking surface of the rear rim. The integrated handlebars were spectacularly comfortable, particularly with all digits resting on the aero tops. Speedplay Zero pedals were a delight to get in and out of, and the Cinelli carbon bottle cages did their job admirably whilst providing a talking point for onlookers.
Hypothetically speaking, if I could afford to purchase this bike, I would do so for one or more of the following reasons:
1) I had the power to rip other bikes to pieces, or
2) I wanted something a little more solid and reliable, or
3) I want an all-rounder, suited to punishing crits, longer road races and training rides, or
4) I appreciate hand-built Italian craftsmanship.
Specification
Measured weight (complete bike, size 57s with pedals & bottle cages): 8.1kg
Frame: Carbon fibre, semi-compact geometry, monocoque front triangle.
Frame sizes (equivalent c-c top tube): 45s (518mm), 48s (531mm), 50s (540mm), 52s (550mm), 54s (563mm), 57s (582mm)
Fork: Colnago Star carbon fibre.
Component group: Shimano Dura-Ace 10 speed.
Wheels: Vuelta Carbon Pro carbon/alloy.
Tyres: Michelin ProRace.
Saddle: Colnago (San Marco) Aspide.
Seat post: Colnago carbon fibre shaft with alloy head.
Handlebars: Cinelli RamJam carbon fibre integrated bar/stem combo.
Headset: Colnago Star.
Approximate retail price: US$7000, AUD$9000.
Pros: frame rigidity, solid and predictable ride quality, comfortable handlebars, ease of pedal entry.
Cons: rear wheel braking surface, seat post adjustment.
More information: www.excelpro.com.au, www.colnagonews.com
Cyclingnews Rating: