Recently on Cyclingnews.com
On test: Canyon Carbon F10 Ultimate Pro, August 20, 2005
Light and aggressive
German manufacturer Canyon has launched a mid- to high-end racing machine that is quite competitively priced. Cyclingnews' Chief Online Editor Jeff Jones took the Canyon Carbon F10 Ultimate Pro for a spin in Belgium, and liked it.
The Canyon Carbon F10 Ultimate Pro
Photo ©: Jeff Jones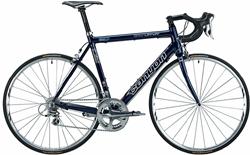 Based in Koblenz, Germany, Canyon Bicycles GmbH is an up and coming player in the mid- to high-end racing bike market. Specialising in, but not limited to carbon, Canyon does road, MTB, and triathlon frames and bikes, selling them directly to the public from its factory.
Test rig
Cyclingnews was given a 56 cm Canyon Carbon F10 Ultimate Pro to test - not quite Canyon's top of the line bike, but certainly near the upper end of the range. Retailing for €2800, the Ultimate Pro is specced with Dura-Ace 10 speed, Smolik wheels and fork, Continental tyres, Syntace bar and stem, Thomson seat post, and Selle Italia saddle. The bike, without pedals, weighed in at 6.9 kg (7.2 kg with a pair of Time Impacts), which is, well, bloody light for a mid-range bike.
The frame
The heart of the Canyon Carbon F10 Ultimate Pro is the frame, a very light weight (960g), shiny black, full carbon job. Designed and manufactured in Germany, the Carbon F10 is quite different from one of your typical Taiwanese carbon frame clones that all seem to come from the same factory. Of course, the first thing that strikes you is the look of it: a massive 55mm diameter down tube with an equally chunky head tube sets it off, while the top and seat tube are made from smaller diameter tubing. The seat tube is actually asymmetric: flat on the derailleur clamp side and rounded on the other. The rear stays have more of a rectangular cross section, and taper up to meet the beefy bottom bracket. Somewhat oddly, the 300g Smolik SL carbon fork is quite skinny, and is quite a contrast to the rest of the frame.
Smolik Race SL
Photo ©: Jeff Jones

The front brakes
Photo ©: Jeff Jones

More Dura-Ace
Photo ©: Jeff Jones

The derailleur clamp side
Photo ©: Jeff Jones

There is a contrast
Photo ©: Jeff Jones

A generous set of gear ratios
Photo ©: Jeff Jones

Selle Italia's SLR
Photo ©: Jeff Jones

The Carbon F10 has been designed with lightness and strength in mind, and while the bike feels very stiff to ride, the frame has also been subjected to fatigue testing by EFBe (Engineering for Bikes, an independent German bicycle testing company). The Carbon F10 has been given a "top performance" rating by EFBe, which is the best rating available. The ultimate test is riding and racing it on less than perfect terrain, but it is comforting to know that it will stand up to a lot of pounding in a lab.
The Carbon F10 frame comes in seven sizes, ranging from effective seat tube heights of 52 to 64 cm (approx. 2 cm increments). Our model was 55 x 55.7 cm, with a seat tube angle of 74° and a head tube angle of 73.5° - both fairly steep, and contributing to what I would describe as twitchy handling. It's available in black, red, and midnight blue.
Components and finishing kit
The Canyon Carbon F10 Ultimate Pro came decked out with Shimano Dura-Ace 10 speed, with 175mm, 53/39 tooth cranks, and a 12-25 cluster. For the rides I typically do, this was a perfectly adequate range of gear ratios, sufficient to climb short hills of up to 20 percent and also to sprint at 60 km/h or more to try and snare that elusive, but highly prestigious, canal sprint.
Shimano Dura-Ace is good stuff all round. The shifting is very light and smooth, and performs very well when upshifting under load. I did not drop the chain once during the test. Shimano's dual pivot brakes are also my stopping mechanisms of choice, because they provide a firm degree of control without grabbing, and are generally good under wet conditions.
The wheels supplied with the bike were Race SL clinchers by Smolik, a German components company. The wheels are bladed spoked with low-aero profile rims, built on Smolik hubs. The front wheel had 24 spokes, arranged radially, while the rear had 30 spokes - 10 (radial) on the non-drive side and 20 (three-cross) on the drive side. The hub/spoke arrangement looked to be such that if you broke a spoke, it wasn't easy to replace, as they were non-standard spokes. Fortunately I didn't break any, and the wheels stayed perfectly in true after 3500+ km of hammering. They were just that extra bit quicker than normal spoked wheels, while still giving the same good handling characteristics. At around 1700g a pair, they weren't super-light, but the rest of the bike made up for that.
The wheels came with Continental's GP Force/Attack tyres, which I found to be generally excellent. I have reviewed these separately.
The handlebars and stem were Syntace Racelite 7075 (42cm centre-centre, 230g) and Syntace F99 260 (110mm, 100g), both aluminium and both light but solid. The stem is actually one of the lightest available. There's little to say about a handlebar/stem combination that works well, and that's a good thing. I found that I adapted to the rounded shape of the handlebar drops quite quickly, so comfort wasn't really a problem.
The seatpost was a Thomson Elite 31.6/287mm model, weighing 190g. Thomson makes two versions of this post, with and without setback. The Canyon came with the no-setback version, which is an unusual choice on a bike with a 74° seat angle and won't suit riders who like theior saddle set back a bit. I normally do, but again, I adapted to the F10's geometry fairly quickly.
On the other hand, the Selle Italia SLR saddle did present a few problems for my padding-craving rear end. It looks good and only weighs 165g, but that's about the best I can say for it. I do realise that saddles are a very individual thing, and many people would have no problems with an SLR, but I cracked after two weeks and put another saddle on. Unfortunately, it was only slightly more comfortable. But I now have a super-comfy Fi'zi:k Aliante in reserve for when the going gets tough.
On the road
It didn't take me long to assemble the Canyon Ultimate Pro and get it out on the road. You could even say I was eager. It did take me about a week to tweak it so that it fit properly, and then I could settle into the ride a bit more. All up, I rode it for a good 2500 km over what could be described as "varied" Belgian terrain. It was too early in the season to race, although I would have liked to have put it through its paces in a few kermises. The closest I got was our regular bunch training rides, which for all intents and purposes are similar to races, and I also did the Davitamon Classic, a 150 km cyclotourist ride with a lot of climbing but not too many cobbles.
My first impressions of the Ultimate Pro were that it was very twitchy, especially compared to my decaying GT, which can be described as having the handling characteristics of a large Volvo. Being a smaller frame to what I was used to, combined with the steep seat and head tube angles probably explained this. But I got used to it and quite liked it, so would now describe it as "agile" rather than "twitchy". It's all in the interpretation.
Being light and coming with a generous set of gear ratios (down to 39x25), it was an excellent bike to climb on. I never found myself grinding on a climb and enjoyed sitting in the saddle, motoring up all the bergs around East Flanders. And when needed, a few pedal strokes out of the saddle would get me over the steepest parts.
On the flat, it was comfortable bike to ride (saddle issues aside). The carbon frame soaked up the bumps, and I was never with a sore back after a couple of hours on the saddle. I also began to appreciate the "agility" and responsiveness of the frame, as it made it a hell of a lot easier to follow the big boys when they led out the bunch for the sprint to the café along the Schelde each day. Normally I lose sprints in the jump, but having a bike that accelerates quickly when you stomp on the pedals, rather than when it feels like it (yes, I love my GT) is mentally fortifying.
Finally, I didn't break anything on the bike. This is remarkable for me.
Conclusion
The Canyon Carbon F10 Ultimate Pro is a mid-priced machine with a lot going for it. Its light weight combined with a stiff, but comfortable carbon frame that handles aggressively, makes it a bike suitable for most types of racing, and general purpose riding. I found it hard to fault, with perhaps the hard SLR saddle my only complaint.
Pro: Comfortable, light, stiff, responsive, agile
Con: Twitchy, saddle hurt
Cyclingnews Rating:

Photography
For a thumbnail gallery of these images, click here
Images by Canyon
Images by Jeff Jones/Cyclingnews.com
Full specification: Canyon Carbon F10 Ultimate Pro

Frame: Canyon F10 Ultra High Modulus Carbon
Fork: Smolik Race SL full carbon
Colours: Black, midnight blue, red
Sizes: 52x51cm, 54x53, 56x55 (tested model), 58x57, 60x59, 62x61, 64x63 cm
Seat Angle: 74°
Seat Angle: 73.5°
Actual Weight: 6.9 kg (without pedals)


Cranks: Shimano Dura-Ace 175mm, 53/39
Bottom bracket: Shimano Dura-Ace
Front derailleur: Shimano Dura-Ace
Rear derailleur: Shimano Dura-Ace
Brakes and levers: Shimano Dura-Ace
Rear cassette: Shimano Dura-Ace 10 speed, 12-25

More information: Canyon's website

RRP (complete bike): €2,799

Wheels: Smolik Race SL
Tyres: Continental GP Attack & Force


Stem: Syntace F99 110mm
Bars: Syntace Racelite 7075 (42cm)
Head set: FSA Orbit No. 42

Pedals: Not included
Seat post: Thomson Elite 31.6/287mm
Saddle: Selle Italia SLR XP