Recently on Cyclingnews.com
Long term test: Canari Raglan jacket, November 29, 2005
Shutting out the elements
After a season in Belgium, where the weather varied from bucketing down to only raining a bit, Jeff Jones pronounces himself impressed with this waterproof shell.
Canari Raglan jacket
Photo ©: John Stevenson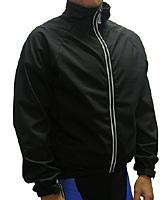 A while ago, I wrote a first impressions piece on the Canari Raglan long-sleeved jacket after wearing it on a particularly bitter winter's day in Belgium. I've now had the chance to try it out in a wide range of conditions, from extremely wet to merely quite damp. Yes, apart from a few rare exceptions, the weather in Belgium this year was fairly uninspiring.
Canari Cyclewear is a San Diego, California based company that's been in existence for 25 years, and specialises in custom made clothing for cyclists. It was acquired by the Robinson family in February 2001, which hopes to make it as successful as its other brands.
The jacket
Our Raglan jacket came in black (plenty of other colours are available) with reflective stripes along the zips, a high collar, and a medium-sized single rear zip pocket. The main zip has a rubber pull, and is right-handed. There are also velcro straps and elastic at the ends of the sleeves to ensure a snug fit, and the bottom hem is elasticised. We were given a size M, which was more than adequate for my puny chest, but the arms were a little short. Or maybe mine were too long. It all relates to that half-full/half-empty glass thing that I can never get the hang of.
Being left-handed and also very used to left-handed zips, I had to exercise great care when zipping up to make sure the zip stayed together. If I was rushed, then I'd end up with the zip halfway up but no closure. I hate not having closure. Fortunately, if I wasn't in a great rush to go out and face the elements, then once the jacket was properly zipped up, it stayed that way.
The jacket is quite lightweight, which I appreciate in any piece of cycling kit. With a winter jacket, the trick is to get something that's light but warm at the same time. The Raglan is made of Canari's Sirocco Extreme fabric, which constructed by laminating a "Micro Denier outer layer to a brushed box textured inner, which creates a vapor/heat barrier. This allows a lightweight fabric to defend from the elements where a heavier material is often used." The inner layer is quite comfortable and isn't too clammy when it gets wet.
Finally, and this always counts for something in any cycling product, the Raglan jacket looks pretty good. It may not be skin tight, but the lack of any garish colours combined with a subtle weave pattern on the outside means that it should fit in well with the rest of your kit and bike. In the case of a black jacket, the more carbon, the better.
Testing and performance
Plenty bright
Photo ©: John Stevenson

It was quite easy to see how well the Raglan "defended from the elements" when I got to sunny Belgium in February, as the maximum temperature hovered at the zero degree Celsius mark for three weeks, and was coupled with the odd bit of snow and sleet. I found that it was just warm enough to ride in with a long-sleeved base layer and a standard jersey underneath. When fully zipped up, the high collar covered the lower part of my face, and that was appreciated on those cold days with the icy north wind blowing. In fact, when the temperature eventually got up to 10-15 degrees, it was almost too warm to wear this jacket, unless it was raining of course.
The Raglan does have good waterproof properties, as rain actually bounces off the material and doesn't penetrate into the jacket. This has its downside in that it doesn't breathe as well as other types of clothing, but if it's a choice between getting wet from the freezing rain outside, or your sweat inside, I'd choose the latter. And yes, you do need to wash it after each ride, otherwise you won't want to wear it again. If you do, you will have no friends. But the fabric is quick drying, which is good.
The jacket's single pocket is a tad small for putting in all the food and kit that cyclists are used to carrying with them. Also, if you need to get at something in a hurry, like your mobile phone, you need to fiddle with the zip, and by that time, you will have missed the call. I speak from experience here. On the upside, the pocket is fairly waterproof, so your mobile phone won't need drying out on the heater when you get home.
Overall
I was generally satisfied with the performance of the Canari Raglan, and found it to be at its best in 0-10 degree conditions, adding five degrees if it was raining/sleeting/snowing. Its waterproof properties are quite good, although this comes at the cost of breathability. It's not a heavy piece of kit and it looks good. The only negative issues I had were with the functionality of the zip and the size of the rear pocket. The latter is strongly dependent on personal preference, of course.
Recommended retail price: US$85-113, depending on number of colours and quantity ordered
Materials: Sirocco Extreme (micro Denier outer layer laminated to a brushed box textured inner)
Colours: Canari wear comes in a wide range of colours
Pros: Warmth, waterproofness, lightness, looks
Cons: Zipping up requires care, rear pocket a little small
More information: www.canari.com
Cyclingnews Rating: