On test: Campagnolo Next Retro 3/4 Zip Jersey, May 29, 2005
Campagnissimo!
Steve Beletich dons the Campagnolo Next Retro 3/4 Zip Jersey for a touch of nostalgia.
Campagnolo Next retro jersey
Photo ©: John Stevenson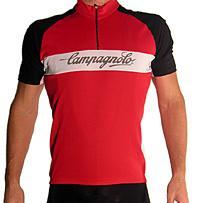 There are two kinds of road cycling, each of which calls for a different mindset and a different set of cycling apparel. First, there's flat out racing and heavy duty training, which demand loud club colours or team wear with serious attitude. In contrast, there's the Sunday morning road mission, which is undertaken at a sensible pace, often with a few hills thrown in. This type of riding calls for more subtle and stylish attire. Perfect for the Campagnolo Next Retro 3/4 Zip Jersey.
Unfortunately the Retro 3/4 zip jersey has a very short zip, so I'd say '1/4 zip' is a more fitting description. It's available in red, black, blue or yellow, and has short black sleeves with a very retro white stripe across the middle, emblazoned with a reflective grey Campagnolo logo front and back.
Honestly, this is one beautiful jersey. If you're a Merckx fan, then you're going to need one of these in your collection, along with your duck-egg-blue safari suit and Elvis sunglasses as worn by Eddy in the mid seventies during his rock star phase. Having 'Molteni' printed above the Campagnolo logo would add a little more authenticity, but then again you may not want the name of an obscure Italian sausage maker across your chest.
From the back
Photo ©: John Stevenson

As soon as I pulled on the Next Retro jersey I swear I became Eddy Merckx, although I'm sure I was much more comfortable than the great man was, as this jersey is made from lightweight polyester rather than the heavy wool weave of yesteryear. It's incredibly light, as you'd expect from a modern jersey. However, due to the subtle chequered weave of the fabric, it has a slightly textured feel. It's silky soft to the touch, and has a relaxed cut which does not grip your body. The stitching looks adequate, but not what I would call bullet proof.
The laid-back fit made the Next Retro a joy to wear, and it did not rub or chafe me in the armpits as tends to happen with other jerseys. It did flutter in the breeze a little, but this is to be expected with the generous fit. The waist band has a quadruple row of rubber grip stitching to keep it from flailing around, and the three rear pockets did their job effectively. The spring-loaded locking feature on the zip pull worked well, although the zip could be a little longer. The front and rear Campagnolo logos, although dark grey in colour, are semi-reflective and will reflect car headlights. However I found that the exact conditions of light and beam angle were required for this to happen. Given the right circumstances though, it's a pretty impressive effect.
The full zip version
Photo ©: John Stevenson

The sleeveless version
Photo ©: John Stevenson

As is lamentably the case with most cycling apparel, the Retro jersey needs to be hand washed by Tibetan monks in pure rainwater at room temperature, then dried in a photographic darkroom held at 25% humidity. Any deviation from this procedure will cause it to spontaneously disintegrate. Personally I'd prefer to chuck it in the washing machine on normal cycle with the rest of my clothes, but what can you do? I suppose if you invest in an iconic piece of Italian garb like this one, you're prepared to look after it to make it last and keep it looking good. [Actually, it's not quite that bad. Campagnolo's washing instructions, detailed below, are very conservative, and previous Campagnolo Next series clothing we've used has survived perfectly well at 30°C on 'delicate' cycle. - Tech Ed]
All in all I'd have to say that this is a beautiful piece of kit. Subtle retro styling, relaxed fit, modern fabric and that timeless Campagnolo logo all worked a treat for me. If I can muster the patience to adhere to the washing instructions, this is one jersey I'll treasure for a very long time. It's only to be brought out for special occasions though, when the hills beckon and the pace is sedate old school.
Typical retail price: Full zip - US$89; Sleeveless - US$85
Material: Polyester
Available colours: Red, black, blue, yellow
Sleeves: Short
Zip length: 150mm
Pockets: 3
Pros: Style, comfort
Cons: Short zip
Washing instructions: Hand wash cold, do not bleach, do not iron, do not tumble dry, do not dry clean.
More information: www.campagnolo.com
Cyclingnews Rating: