On test: Campagnolo Next Light Textran Jacket, June 9, 2005
Camp it up
Steve Beletich wears the Next Light Textran Jacket and concludes that too much Campagnolo is never enough.
Campagnolo Next Light Textran jacket
Photo ©: John Stevenson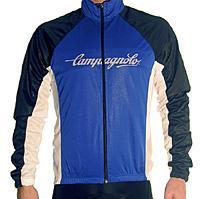 For road cyclists, few brands ignite a level of passion to compare with Campagnolo. The famous marque's historical roots and innovative approach to design, not to mention its unending dedication to style, give it a mystique that's unrivalled in cycling. When Tullio Campagnolo conceived the quick release mechanism in 1927, he probably did not envisage the enormous empire that would ensue. One which now produces everything from groupsets to wheelsets to chic cycling apparel, turning over more than 80 million Euros per year in the process, and sponsoring more than a dozen professional cycling teams.
Today's test item is the Light Textran jacket, from Campagnolo's Next spring/summer range.
Although it's just turned winter down here in Sydney Australia, it's not the kind of winter you're likely to experience in Europe or North America. On the coast, it doesn't get much below 5 degrees C (41 F), which is about right for the Light Textran jacket. If you live in a climate with a more extreme winter, you'd probably utilise this jacket during the transitional seasons of spring and autumn.
Logically, the Light Textran jacket is based around a fabric called Light Textran. It's also available in the heavier 'Thermo Textran' fabric, from the Campy autumn/winter Next range. The front, shoulders and top portion of the sleeves are made from Light Textran, whilst the rear and undersides of the sleeves are made from a lightweight, jersey-like fabric called Dryarn.
There are three pockets at the rear and the timeless Campagnolo logo is reproduced on the front and back of the jacket in a glittery, semi-reflective grey. It's a striking piece of kit - subtle, somewhat retro styling, using bold primary colours without fancy graphics. The cut is somewhere between jersey and jacket, providing a good combination of fit and freedom.
Given that we're in the grip of the worst drought on record down here, I was unable to wear the Light Textran jacket in the rain, so unfortunately I can't report on its wet weather performance (damn shame, that). My rides did consist of early morning jaunts where the temperature ranged from 5 to 11 °C (41 to 52 °F) and I wore the jacket over a typical short-sleeve jersey without a base layer or arm warmers.
The rear view
Photo ©: John Stevenson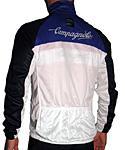 In these conditions I found the jacket to be just about ideal. The only time I felt I could have used a little more wind protection was as I headed off from home, which is lamentably always downhill, no matter which route I take. Thus I would say that 5 °C is about the lower limit for this jacket. Any cooler or any more wind (or bike speed!) and I'd probably want an extra layer underneath. The self-locking zip does however extend all the way up to the chin which helped keep my neck toasty warm.
Once I had warmed up fully, the jacket breathed exceptionally well. Best of all, the jersey-like Dryarn fabric at the rear was adept at letting heat and moisture escape. Overheating and sweating is one of my pet hates in winter - as the moisture builds up and then evaporates, I can end up yo-yoing endlessly from hot to cold. Not an enjoyable experience, but I'm happy to report no such unpleasantness with the Light Textran jacket.
The semi-reflective logos front and rear are pretty catchy, although they're not to be relied upon - their primary purpose is to let people know, during the day and at night, that you're a true Campy devotee. The rear pockets worked well, slightly on the small side but I prefer this to having great wads of pocket to hold my house key and fruit bar. Actually it's a good thing that these pockets exist, because the elastic around the waist of the jacket made it near impossible to access my jersey pockets underneath - it holds the jacket down nice and tight, which is as it should be.
I found it pretty darn difficult to fault the Next Light Textran jacket. It was absolutely spot on for me, down to about 5 degrees °C and up to about 11. The front had effective wind blocking properties, and importantly the rear allowed heat and moisture, and therefore discomfort, to escape beautifully. All this, svelte retro design and we're-not-worthy Campagnolo logos, meant that I had no trouble Camping it up in the Next Light Textran jacket.
Typical retail price: US$140-150
Materials: Light Textran and Dryarn (polyester, polypropylene, polyurethane)
Available colours: Red, black, blue, yellow
Sleeves: Long
Zip: Full
Pockets: 3 at rear
Pros: Looks, breathability
Cons: Reflective a bit of a token
Cyclingnews suggested temperature range: 5 to 11 C (41 to 52 F)
Washing instructions: Machine wash cold, do not bleach, do not iron, do not tumble dry, do not dry clean
More information: www.campagnolo.com
Cyclingnews Rating: