Recently on Cyclingnews.com
On test: adidas adiStar XC Race MTB shoes, June 21, 2005
Quietly-spoken quality
These mountain bike competition shoes from sports shoe giant adidas are unflashy but impressive, as James Huang discovered.
Adidas adiStar XC
Photo ©: James Huang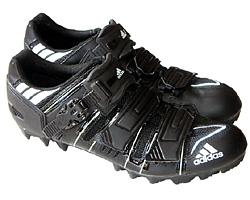 Adidas is undoubtedly a worldwide sports footwear and apparel giant. However, as iconic as the company founded by Adi Dassler is in the more general sporting world, its presence in the cycling world has not been nearly as ubiquitous in recent years. For 2005, though, adidas is dedicating a wealth of resources and energy to changing that perception with a very complete line of cycling apparel and footwear. Adidas's cycling footwear lineup comprises no fewer than seven distinct road models and eight off-road ones, several of which are offered in a choice of colors and also in women's-specific versions.
The AdiStar XC Race is adidas's top of the line offering for the cross-country MTB crowd. As a virtual prerequisite for entry into the category, the AdiStar XC Race is equipped with a carbon fiber mid sole plate (a full-length one in this case) for maximum pedaling efficiency with minimum weight. Aggressive and well-spaced lugs on the outsole suggest good traction in hike-a-bike sections and a pair of removable toe spikes also allow for some adaptability for differing ground conditions. The uppers are constructed of very well-ventilated nylon mesh reinforced with synthetic leather and are anchored in a nicely shaped injection molded heel cup. A combination of one ratcheting main strap plus two Velcro instep straps secures your feet in place. Sounds like nothing special so far, right? Well, that would be true for the most part, and it would also be true that these features alone would not be enough to make these shoes stand out among the burgeoning competition. While I wouldn't say that there is anything about the shoe that is overwhelmingly innovative, there are a host of thoughtful touches that add up to a pretty impressive package.
Lots of open mesh up top
Photo ©: James Huang

Full carbon sole plate
Photo ©: James Huang

Well-shaped molded heel cup
Photo ©: James Huang

Super beefy EVA strap pad
Photo ©: James Huang

A conventional tongue has been eliminated
Photo ©: James Huang

Unique Fast Strap construction
Photo ©: James Huang
These thoughtful touches start with a serious EVA instep pad on the main strap working with the unique forefoot wrap construction to eliminate potential pressure points on the top of the foot. Eliminating the tongue not only improves the comfort of the shoe but also makes for one fewer layer standing between your feet and some ventilation . Adidas's unique Fast Strap forefoot straps attach to the upper using one pair of thin nylon cords each, making for a more compliant upper. Finally, at 832g per pair (for a pair of size 44 shoes with standard insoles but without cleats), these shoes are nearly road shoe light.
It took a bit of tinkering to get these shoes to fit perfectly, but I must admit that I have very flat feet so I probably lie at one extreme of the fit range. Given my relatively low-volume feet and the stock insoles, the straps also proved to be far too long. I had to ratchet the main strap down to the last detent to get them to hold my feet reasonably securely and the two Velcro straps were ridiculously long and hung out over the side of the shoe quite a bit. With the addition of my custom orthotics, though, my feet more closely approximate a 'normal' shape and subsequently the shoes actually fit quite well. The forefoot straps were still pretty long, but tying a little knot in the nylon cords to shorten their length solved the problem. Regardless, though, I would still prefer to see adidas reconfigure the straps somehow or integrate a more elegant length adjustment. After a conversation with the folks at adidas, I was told that some early production shoes were fitted with improper length cords, so this may have been taken care of already.
Cleat fitment was pleasantly straightforward for a change, given the larger-than-average size of my Speedplay Frog cleats. The cleat pocket was generously sized and required no shaving and there was ample fore-aft adjustment in the SPD-style slots for proper positioning.
Okay, enough with the gibberish; on to the riding! First and foremost, getting in and out of my pedals was completely uneventful, as it should be. While the lugs clearly provide a healthy dose of traction, they don't interfere with pedal function which is a feat some other manufacturers still don't seem to fully understand. Once under way, the carbon midsoles make for an extremely stiff shoe and stand in stark contrast to the Sidi Dragons which I'd previously been using. Sole flex was simply a non-issue. As good as those superstiff soles are for pedaling, though, they do make walking more difficult (again, standing in stark contrast to my Sidis…). Then again, that's not the primary goal of these things anyway, and my local trails don't require you to get off the bike much.
The uppers proved to be quite comfortable on longer rides with very little intrusive stitching or pressure points to speak of. Ventilation on these things is among the best I've experienced. In fact, this review actually began during the winter months and I was caught off guard more than once during my morning commutes! Over the course of a few months, these shoes still look no worse for wear and I anticipate that they will last for several seasons of good use.
Finally, I should also mention that these shoes are black with just a hint of white and reflective silver in somewhat classically subdued adidas style. What, you don't care how shoes look, you say? Think I'm a bit of a poseur for even commenting about it? Right, I'm sure you would have still bought your current pair of shoes if they had pictures of Sponge Bob all over them. Yup, that's what I thought. Like I said, these shoes are black. Black is good.
Pull up on the lever
Photo ©: James Huang

…and push down on the same lever
Photo ©: James Huang
Ah, but all was not wholly peachy in adidasville. You see, to tighten down the main strap you pull up on the buckle lever as is usually the case . However, to release the strap, you simply push down on the same lever. This is very simple and clean from a mechanical standpoint, but the buckle is in a relatively exposed area of the shoe. This makes it is a little too easy to inadvertently loosen up the shoe's grip on your foot, occasionally at inopportune moments. A pretty small niggle, admittedly, but hey, that's my job. You'd be annoyed with me if I didn't tell you before you bought a pair.
Otherwise, though, I'd have to say that these are fine shoes. They serve their duty quietly and effectively with efficient power transfer and transparent comfort when pedaling, with at least passable utility when the going got a little too rough (or when the early season legs proved a bit too weak!). I almost hate to admit to myself that I like these shoes more than my precious old Shimano SH-M220's, which were sadly discontinued several years ago, but I guess time will tell for sure. It's tough to expect more from a pair of top-level shoes, but at US$210, they're quite reasonably priced as well.
Suggested retail price: US$210
Weight: 832g per pair (size 44).
Pro: Great fit, excellent power transfer, superb ventilation, pleasantly subdued styling.
Con: Buckle and strap length should be adjustable somehow to accommodate a wider variety of feet.
More information: www.adidas.com
Cyclingnews rating: