Tech News – May 26, 2005
Edited by John Stevenson
Got tech? Send press releases, news, and tech questions to the Cyclingnews tech desk.
Paolo Fornaciari

Paolo Fornaciari's Cannondale Six13

The brain

Testing Man: Forniciari frontline tester for Campagnolo
By Tim Maloney
Lampre-Cafitta's Paolo Forniciari is known as a "gregarone", one of the best team riders in the business. The 34 year old from Buggiano, west of Firenze started racing when he was 7 years old and as a pro, Forniciari learned his trade as a support rider for Mario Cipollini at Mercatone Uno & Saeco for six seasons, then as a member of the legendary Mapei team for four seasons until returning to Saeco in 2003.
Forna is one long, lean riding machine; he's a serious guy on the bike but friendly and funny off it. Besides his important role at Lampre-Cafitta as team road captain of the squad during the race, Paolo is also a key tester for team component supplier Campagnolo, which has the tall Tuscan testing its Electric gruppo. The latest version is on Fornaciari's race bike at the year's Giro d'Italia and he explained to Cyclingnews, "I've been using this [Campagnolo Electric] gruppo for about a year and a half. I also raced the Vuelta d'Espana last year on this gruppo and Campagnolo has been working on this constantly and the performance has really improved in that time. It's a very efficient system and something very interesting."
Forniaciari's hobby is restoration of classic motorcycles, so his awareness of mechanics is helpful to Campagnolo when the Lampre-Cafitta man provides input to the Italian bicycle components firm. "Testing work is important, because it is work for the future," he says. "We can help our sponsors create better products and no one can provide better testing conditions than a professional rider since we are on the bicycle all the time. But you have to know how to communicate the important points or else testing doesn't help [Campagnolo] develop better products."
Cyclingnews also spoke to Beppe Archetti and Enrico Pengo, team mechanics at Lampre-Cafitta about the testing process for the Campagnolo Electric group. Both Archetti and Pengo were positive about their experiences with this prototype. Pengo explained that "Yes, Fornaciari has been using this for over a year, and we've never had any problems. Actually, it works great and I'm always surprised how long the battery lasts."
More info: www.campagnolo.com
Shimano unveils new 105 and Deore
105 group

Shimano has confirmed that it will introduce two new groups for the 2006, trickling down features introduced over the few years to its mid-range Deore mountain bike group and 105 road components.
The new 105 group is very much a 'baby brother' to Dura-Ace and Ultegra, sharing features such as the Hollowtech II two-piece cranks and, of course, ten-speed rear cluster.
Shimano clains that despite the increase from nine to ten sprockets, the new 105 group is lighter than the previous incarnation. Most of the weight saving comes in the Hollowtech II chaniset, which is available in double and triple versions.
Shimano says the brakes have also been improved, with an adjustable toe-in brake shoe and bigger brake cable mounting bolt for easier assembly and adjustment. The brake shoes are 100 percent more durable and are 6mm thick (compared to 5mm in previous version).
The new 105 hubs get Shimano's internal grease sleeve system and improved external seals and O-rings, which Shimano says increases service life tremendously.
Shimano Deore group

On the mountain bike side, Deore has always been at the budget end of Shimano's range for 'serious' off-road use, but the new incarnation has all of the features of higher groups such as Deore XT and XTR. That includes Dual Control 'flipper' brake/shift levers, Rapid Rise rear derailleur and twin-piston hydraulic disk brakes with Center Lock hubs.
Because Deore is used on a wide variety of styles of bike, Shimano is offering a wide range of options in the new group, including a standard rear derailleur and 'classic' Rapidfire trigger shifters as well as 160, 180 and 203mm brake rotors and front derailleurs that will handle 44 and 48-tooth chainrings.
Both new groups will be available in September.
105 chainset
More Photographs of the new groups
More info: www.shimano.com
Fulcrum racing 1

Giro pivots on Fulcrum
Fulcrum wheels have been making their grand tour debut at the Giro d'Italia over the last few weeks, with the QuickStep, Saunier-Duval, and Cermica Panaria-Navigare teams all rolling through Italy on the new hoops.
More info: www.fulcrumwheels.com
Liquigas special edition Fizik Arione

Giro stars on custom Fizik
As is now qalmost a tradition, Italian saddle maker Fizik has equipped its Giro d'Italia teams with custom saddles and bar tape to match their team colours, and made a limited number of these sets available to the public.
Liquigas' Danilo Di Luca has been using the team special celeste and black Arione saddle shown here, with matching celeste tape, while the Lampre-Caffita team of Gilberto Simoni and Damiano Cunego have been using silver and black Ariones.
The titanium-railed special-edition Arione saddles with matching bar tape retail for $164.95. Only 1600 will be available in the US.
More info: www.bikemine.com (US distributor); www.fizik.it
Jaggad Quest vest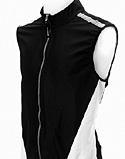 Jaggad Monsoon jacket

Jaggad Interval bib tights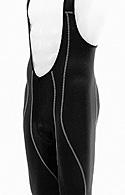 Jaggad for the winter
With winter very much upon us in Australia, cycling clothing maker Jaggad has announced three new pieces of clothing to make riding in the admittedly not-extremely-cold Australian winter a bit more bearable.
The Quest vest is made from water- and wind-repellent Repel-Tech fabric with 3M Scotchlite reflective piping for visibility, and can be folded compact enough to fit in a jersey pocket. The mesh back is designed to wick away moisture and there's a handy rear pocket. The men's version is available in Black/White, Gold, Blue, or Red in sizes from S to XXL, while the women's model comes in Black/White, Gold, or Sky and in sizes XS to XL.
When the weather gets bad enough that a vest isn't enough, Jaggad has the Monsoon jacket in Jaggad's exclusive four-way stretch AquaTech fabric. The Monsoon is waterproof, windproof, lightweight, and breathable - Jaggad's folks say they believe it's the ultimate winter jacket. Other features include 3M Scotchlite reflective piping and reflective logo and adjustable sides and hem to allow the rider to tweak the fit. The Monsoon is available in Red/Black and Silver/Black in a unisex cut in sizes XS to XXL.
Your legs aren't forgotten with Jaggad's Interval Cyclesuit winter bib tights. The main body is made from high-compression ThermalTech fabric, with an Italian Lycra core for comfort. Any colour you like as long as it's black and in sizes XS to XL.
More info: www.jaggad.com
Swobo returns
Clothing maker Swobo - famous back in the 90s for its combination of wool cycling jerseys, and way-cool San Fran attitude - is back. Swobo effectively vanished in 2001 when founder Tim Parr sold the company to Santa Cruz bicycles, but in truth it had been pretty quiet for a few years before that.
Since then Parr has been traveling, running a marketing consultancy and fishing. A meeting with Rob Roskopp, owner of Santa Cruz Bicycles, led to a discussion about the return of Swobo, and the deed was done.
More info: www.swobostore.com.
Columbus carbon goes custom
Columbus Mecano custom carbon kit

Italian frame tubing maker Columbus has announced the availability of its Mecano carbon fiber frame component kit. The company says Mecano is intended to provide a means for builders to make custom-fitted carbon fiber frames.
The Mecano kit consists of:
a monocoque front subframe which includes the top and down tube (available in the sizes S-M-L) and the BSA CNC machined integrated BB shell;
the head tube (in 5 sizes) supplied with internal aluminum cups for integrated ahead set;
35mm seat tube available in one length to be cut according to the frame size
seat tube connectors in two different types to vary the seat tube angle.
Thekit also includes Columbus' e Carve carbon rear stay (wishbone and single plug chain stay), aluminum CNC dropouts and Carve carbon monocoque front fork.
More info: www.velimpex.com (US distributor); www.columbustubi.com
Merlin fly fishing reel

New from Merlin
The guys at titanium (and now carbon) bike maker Merlin tell us they're working on some cool new bikes for 2006 - but having got us all excited they refused to say any more, mumbling something about having to kill us and more than their jobs were worth.
In a slightly desperate attempt to stop us bombarding him with pestering emails, though, Merlin's PR guy Herbert Krabel sent us this pic of a piece of kit for the Merlin owner who has everything - Merlin's own fly-fishing reel!
More info: www.merlinbike.com