Tech News – April 5, 2005
Edited by John Stevenson
Got tech? Send press releases, news, and tech questions to the Cyclingnews tech desk.
Eeckhout wins on Campagnolo Electric
By Tim Maloney and John Stevenson
Nico Eeckhout's Eddy Merckx
Photo ©: Luc Claessen

Campagnolo Electric rear derailleur
Photo ©: Luc Claessen

Campagnolo Electric transmission
Photo ©: Luc Claessen

Campagnolo Electric front derailleur
Photo ©: Luc Claessen

Campagnolo Electric rear derailleur
Photo ©: Luc Claessen

The Electric's control unit
Photo ©: Luc Claessen
Two years ago, CN editor Jeff Jones spotted a prototype version of Campagnolo's electric component group from the Cyclingnews blimp at the E3 Prijs Vlaanderen in Harelbeke, Belgium. Although there is no commercial launch slated, Campagnolo has continued to test and develop this technology and one of the teams that that has an Electric group is Chocolade Jacques. In last Wednesday's 60th edition of the Dwars door Vlaanderen, experienced Nico Eeckhout outsprinted Discovery Channel's Roger Hammond for the win, and in doing so made cycling history. Why? Although Chris Boardman won the 1994 Tour de France Prologue in Lille, France riding Mavic's ZAP electric rear derailleur, Eeckhout's win was the first ever for an electric shifter in a point to point pro road race.
The Campagnolo group is far more sophisticated and evolved than either of Mavic's groups, with a fully electric front derailleur as well as rear mech though our sources at Campagnolo recently told Cyclingnews that there are still no plans to bring the Electric group to market.
Given Campagnolo's strengths as a component maker, it's not very surprising that the company is taking a slow-and-steady approach to the development of the Electric group. As well as Mavic's two failed attempts at a switch-controlled shifting system, the Browning mountain bike transmission of the late 80s provides a great example of how well something can work in the lab but still be a disaster when you take it out and ride it. But anything that has 'Campagnolo' etched into it has to be reliable - that is, after all, what Vicenza is known for.
Making reliable electrical devices for bikes isn't trivial - consider how much more reliable brakes and shifting systems are than bike computers and lights, for example. The problems are multiple, but they boil down to maintaining electrical connections in a hostile environment. Even the stiffest bikes are flexible, which plays havoc with electrical connections; and there's the ever-present problem of water.
Bike equipment also has to be light in weight, which usually means the tricks used to make motor vehicle electrical systems reliable just aren't available: you can't use thick wires and hulking great plugs with rubber seals on bikes, they're just too heavy.
Will Electric ever ship? We hope so - the notion of pressing a button and having the solenoids and electronics do everything else for you has merit. Whatever happens it's encouraging to see Campagnolo apparently learning from the mistakes of others and not rushing to market with equipment that works fine on a test bench but not in the real world.
Merckx still on Merckx
Axel Merckx on his father's bike
Photo ©: CN

Axel "Eddy's son" Merckx rides for the Davitamon-Lotto team. Davitamon-Lotto's bike sponsor is Ridley. So what's Merckx Younger doing in this shot from last month's Paris-Nice aboard one of Merckx Elder's bikes?
According to Sandy Nicholls at Merckx's US distributor Gita, Axel has special permission from the team to continue using his famous father's bikes (Merckx bikes sponsored the 2004 Lotto - Domo team, which Axel rode for and which morphed into Davitamon-Lotto for 2005).
Merckx junior started the year aboard the new Premium model, and will also have the MXM Carbon and the new limited edition AXM 25th Anniversary Carbon in his quiver.
While Eddy Merckx isn't sponsoring a ProTour team for 2005, he remains very much involved with racing. The Chocolade Jacques - T Interim Continental pro team is riding Eddy Merckx bikes this season, while in the US the Colavita - Cooking Light women's team will ride Eddy Merckx Premium bikes in 2005 and the Vitamin Cottage elite team will compete on the new Eddy Merckx Racing bicycles.
Lance Armstrong's new clothes
The new 10//2 jersey and shorts
Photo ©: Nike Cycling

The 10//2 tee
Photo ©: Nike Cycling

Lance Armstrong and friends
Photo ©: Nike Cycling

Lance Armstrong models the 10//2 clothing
Photo ©: Nike Cycling
Nike Cycling - clothing sponsor of Lance Armstrong and the Discovery Channel team - has announced a new line of clothing that acknowledges a date Armstrong has always said was the turning point in his life: October 2, 1996.
That was the day Armstrong discovered that he wasn't just a bit under the weather, but in fact had testicular cancer that had metastasised through his body, and even with extensive treatment his chances of surviving were slim.
Armstrong did survive, and now puts a large amount of his time into the Lance Armstrong Foundation, which aims to help cancer research and cancer survivors. Nike Cycling's new 10//2 clothing range is named for that day in 1996, and a dollar from the price of each garment sold will go to the Lance Armstrong Foundation.
The range comprises: 10//2 Performance Jerseys in Short-sleeve, long-sleeve and sleeveless; 10//2 Performance Short; 10//2 Windfront Vest; and items such as cap, gloves, messenger bag, fleece hoodies, tees and a polo shirt.
More info: www.nikecycling.com
Hydrapak goes custom
A custom Hydrapak
Photo ©: Hydrapak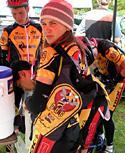 Bored with the usual custom jerseys, shorts and socks announcing your team's name to the world? Drinking system maker Hydrapak is offering customised versions of its Air Scoop Team, Steelo, and Sub-Steelo packs, with your choice of design printed on the pack's outer cover.
Hydrapak claims to be the first drinking system maker to offer this facility. Company owner Matt Lyon said the idea came from riders. "We heard many complaints that the packs often covered sponsor logos on a cyclist's jersey," said Lyon. "This led us to realise the need for custom hydration packs."
The design and ordering process is all available on-line through Hydrapak's new website, and delivery takes three to four weeks, according to the company.
Custom designs add $30-$40 per pack to the price, for orders of 50 packs, which makes custom packs most practical for larger clubs and teams. However, a single custom pack can be had for the pack price plus $90 if you're determined to get something completely unique.
More info: www.hydrapak.com
Italia Bici: Inside Colnago, Deda, Wilier and DeRosa
Every year Cyclingnews takes a virtual trip around the Italian bike industry in our Italia Bici section, and this year we're looking behind the doors of four of the most evocative names in Italian cycling: Colnago, Deda, Wilier and DeRosa.
First up, before we get irate emails accusing us of selling out, these features are advertorials, which is why we present them as 'special promotions'. But we hope we manage to put together more than just the usual marketing guff. In the past, for example, we've taken an exclusive look at Ernesto Colnago's historic bike collection. This year Colnago showed us some eye-opening cut-aways of his carbon frames and those from other manufacturers, which at the very least helps to explain just why buying a Colnago comes close to holing your bank balance below the waterline...
It's hard to imagine now the close ties that once existed between cycling and politics, but the post-war growth of Wilier Triestina was deeply associated with the irridentist movement that wanted to keep the Trieste area within Italy instead of allowing it to become part of Yugoslavia in the carve-up of Europe after WW2. Wilier Triestina is almost a century old and in that time the brand has seen more than a little political and military turmoil in its corner of Europe.
Ugo DeRosa founded the Milan bike company that bears his name in 1952, and is still deeply involved in the company's day-to-day work along with his sons Cristiano, Doriano and Danilo. Cristiano showed Cyclingnews around the company's factory, and let us have a peek at the rarely-seen Prototype1d carbon bike, while Ugo was proud to point out the DeRosa is one of the very few companies still making top-quality bikes in all four major materials, steel, carbon fiber, aluminium and titanium.
Tubing manufacturer Dedacciai has expanded dramatically in the last few years, spinning off component maker Dedaelementi a few years ago and last year launching tyre maker Dedatre. Dedaelementi's managing director Fulvio Acquati told us about Deda's approach to equipment development (which even involves paying attention to - gasp - journalists) and showed us the custom-made aerobar Lance Armstrong used in 2000 and 2001.
Titanium aerobar
Aero Sports Genesis aerobar
Photo ©: Aero Sports

Here's another sign, perhaps, of the rebirth of titanium as a material du jour: a titanium aerobar. To be launched May 15 by new company Aero Concepts, the new bar is the result of five years' work by its creator Steve Harad.
"I started with aluminium and just wasn't happy with the outcome. It was essentially a 'me too' product," Harad told Cyclingnews. "I began working with Scott [Mares of Sibex Sports] to produce a full titanium 1-piece aero bar. Titanium allows me to produce something that noone else has."
That "something", according to Harad, is the Genesis aerobar, an adjustable time trial bar and stem assembly that weighs just 950g in 100mm stem/42cm width version. "We want the Genesis to be easily customized to fit the rider's needs," says Harad. "We are offering both "S Bend" extensions, straight extensions, and the typical curved extensions. Our pads are fully adjustable both fore and aft and left and right by approx. 5cm in each direction. Our bar is swept forward 5 degrees and has internal cable routing for increased aerodynamics."
The tech desk has to admit that it's been a long time since time trialing was a big part of my riding (beyond 'how fast can I get to the office this morning?') but the Aero Concepts Genesis certainly looks to have all the bases covered.
More info: www.aero-concepts.com
Reba World Cup confirmed
Last week we took an exclusive look at RockShox 2006 Reba World Cup fork after James 'Angry Asian' Huang spotted a proto at the SRAM 2006 press launch. SRAM weren't confirming or denying anything at the time but the carbon-crown and steerer Reba has been confirmed as one of four Reba models for 2006: World Cup, Team, Race and SL, as detailed in some 2006 spec info sent to James by a reader of his suspension tech site angryasian.com.
Scott gets Canadian distribution
After re-entering the US market last year, Scott USA bikes will be available in Canada this year through Mica Sport Canada, which already handles Scott USA winter sports equipment. A limited supply of 2005 models will be available.