Tech News – January 4, 2005
Edited by John Stevenson
Got tech? Send press releases, news, and tech questions to the Cyclingnews tech-heads.
Passing on the torch - and the gear
By John Stevenson
Shimano 10mm pitch track gear
Photo ©: Shane Goss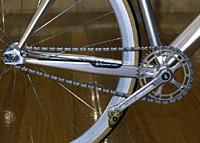 In between races at the recent Tasmanian Christmas Carnivals, Cyclingnews got chatting to young Ben Grenda after we noticed the rare and unusual rig he was riding. There's nothing extraordinary about Ben's frame - a very typical aluminium track frame of the sort sensible parents buy growing young trackies. But getting Ben's leg power to the rear wheel was a Shimano Dura-Ace 10 transmission from the 1980s.
In this case '10' doesn't signify ten gears, but 10mm - the pitch of the chain in this scaled-down design. Almost all bike chains are half-inch pitch, so the centres of the pins are half an inch, or 12.7mm, apart. Introduced in 1976, and discontinued some time in the 80s, Dura-Ace 10 used a smaller chain and therefore smaller chainrings and sprockets - the number of teeth was the same, but they were closer together. The big advantage was lower weight, and eventually, according to legend, the Japanese kierin federation banned the 10mm pitch equipment because it might give some riders an unfair advantage.
Ben and Michael Grenda
Photo ©: Shane Goss

So where did Ben get exotic components that were made before he was even born? They're hand-me-downs - or perhaps, given what this stuff now goes for on eBay, heirlooms. Ben's father Michael Grenda is the chief handicapper for Tasmania's wheelraces and in his own racing days was a member of the pursuit team that won gold in Los Angeles in 1984, along with Kevin Nichols, Michael Turtur and Dean Woods.
Alf Grenda
Photo ©: Mark Tyson

Michael Grenda picked up the Dura-Ace 10mm equipment when he was racing and recently dusted it off for Ben to use. Aside from the chains needing lubricating, it all still works perfectly, he told us.
Michael and Ben come from quite a cycling dynasty. Michael's great-grandfather Alf was a Six-day specialist in the USA, and Australia's first cycling world champion, winning the 1912 tandem championship with Walter de Maria in 1912. Two years later he partnered with fellow Australian Alf Goullet to win the December 1914 New York Six Day with a still current record distance of 2,759.2 miles. (Thanks to Mark Tyson for that last snippet and the accompanying pic.)
DeRosa gears up for 2005
By Tim Maloney, European editor
Ugo DeRosa and the all-carbon King.
Photo ©: Tim Maloney

Ugo DeRosa isn't mad; he's just serious. Cyclingnews recently stopped in for a visit with DeRosa in Cusano Milanino, just across the Tangenziale highway from Milano.
We asked Ugo to put down his welding torch long enough to show us his DeRosa King Xlight that Team Barloworld will race with in 2005. DeRosa's King Xlight has a full carbon fibre headtube for lighter weight. "We're sponsoring the Barloworld team next season with our King Xlight; the riders are getting their first bikes next week ", explained the Mr. DeRosa, who also told Cyclingnews that he was looking forward to the performance of Francesco Casagrande in next seasons Giro d'Italia.
Ugo's three sons Danilo, Doriano and Cristiano all work in the family business and after our chat with Ugo, Cristiano then offered Cyclingnews a quick tour of the factory.
"We are having a good year so far and our new Tango bicycle is having a very positive reaction, especially in the United States." Cristiano explained that "our new Tango has a moncoque front triangle in a revolutionary shape that offers a ride that is both lively and comfortable." Cristiano DeRosa also told Cyclingnews that the firm now has a new US distributor, Albabici in Oxnard, Californa (www.albabici.com).
Dedaelementi rolls out tyres and cranks
By Tim Maloney, European editor
Dedaelementi's striking take on the carbon crank notion
Photo ©: Dedaelementi

Dedaelementi Giro d'Italia tyre
Photo ©: Dedaelementi

As 2004 drew to a close, Cyclingnews met with Fulvio Acquati of Dedaelementi, who shared his insights with us on some of the Italian firms cutting edge products. "We had a very good year in 2004; we were very happy and proud to sponsor the US Postal team again for the fifth consecutive year and provide stems, handlebars and bar tape to Lance and his team" Dedaelementi also provided handlebars and stems to Olympic road and MTB champions Paolo Bettini and Julien Absalon. Paolo Bettini used 40mm Newton Anatomic bars with a Newton 130mm stem, while Absalon was equipped with a Newton stem and Big'N'Bar handlebars. In 2005, Dedaelementi will sponsor five ProTour teams with handlebars and stems: Quick.Step, Bouyges, Fassa Bortolo, Iles Balears and T-Mobile.
Acquati showed us Dedaelementi's new D-Power crankset, with crank arms constructed with multiple layers of carbon fiber and structural foam and bonded aluminum alloy inserts for pedal threads. D-Power has a unique visual appeal and the standard chainrings are in a compact configuration of 50/34, with 53/39 chainrings available. Deda mates the D-Power crankset to a new D-Power bottom bracket with a carbon fiber shell, with a forged and CNC-machined titanium ISIS Drive spindle for a 43.5 mm chain line. The D-Power bottom bracket rolls on high precision radial ball bearings in light alloy cups, available in Italian and English threading.
Acquati explained that Dedaelementi saw a need for a new line of high end tires so the company decided to create a line of rubber for discerning consumers. The tubulars are the handmade Olimpico, a 260g, 22mm tyre with diamond tread pattern and 300tpi fabric, the lightest and most flexible ever used for cycling tyre production according to Deda. The Mondiale is a more robust 23mm 290 gram all black, while DedaTRE's 'open tubular' (clincher) version of Olimpico is called Giro d'Italia and weighs 190 grams. The Milano-Sanremo is a high-tech 300tpi of a classic Criterium style tyre at 200 grams, while DedaTRE's slick model, Giro di Lombardia, is a 23mm, 270 gram, all black model. DedaTRE also offers a tire for tubeless wheels appropriately called Senza (without), a 205 gram tyre that doesn't use a regular tube.
Ljungskog and Melchers on Bontrager
Susanne Ljungskog (centre) and one of her new wheels
Photo ©: Susanne Ljungskog

Swedish-based Team Buitenpoort/Flexpoint, home in 2005 of top riders Susanne Ljungskog and Mirjam Melchers has signed a deal with wheel manufacturer Bontrager for 2005. Bontrager will provide the team with all the equipment it needs from aluminium and carbon wheels to complete finishing kits.
"It's great that Bontrager has decided to support a women's team so whole-hearted," said 2002 and 2003 World Champion, Susanne Ljungskog.
More Zipps get dimpled
Wheel maker Zipp has announced that for 2005 all its deep section wheels will have an airflow-improving dimpled surface, which, Zipp claims, saves between one and four watts in 90 percent of riding conditions. By way of illustration, Zipp claims that's the equivalent of shaving 340g off your bike if you're climbing an 8 percent grade.
Wheels that will be dimpled in 2004 include all those using Zipp's 58mm and 82mm rims, which Zipp uses in the 404, 606, 808, 909 and 999 wheels.