New Arrivals – December 14, 2005
By John Stevenson & Jeff Jones
Got Tech? Send press releases, news, and tech questions to the Cyclingnews tech-heads.
Welcome to New Arrivals, a section showcasing the latest equipment that's landed on the Cyclingnews tech desk. Look out for reviews over the next few months when we've clocked up some saddle time with this stuff.
Giant TCR Advanced LE

Giant Advanced LE
Dispensing with the overlap of seat tube and seat post is an obvious way of saving weight that's been used for one-off specials in the past, but the issue of adjusting the fit has prevented it from ever becoming a feature of mainstream bike. Giant's Advanced LE is one of the first production frames to dispense with a frame clamp and seat post, instead mounting the saddle in a special bracket on top of an extended seat post.
The seat tube

It certainly saves some weight. Our size M-L Advanced LE weighs 6.92kg without pedals. For a bike with Mavic Ksyrium wheels and a Shimano Dura-Ace group, that's an impressive weight. Lightweight tubular tyres and wheels would pull the bike down to around the UCI-legal 6.8kg lower limit.
An obvious potential problem is reselling the bike after the seat tube has been trimmed to fit you. Giant solves the problem by offering a selection of saddle mount units in different lengths.
The Advanced LE is available in six sizes: XS, S, M, M-L, L./JS
More info: www.giantbicycle.com
RRP: AU$8499

Scott Plasma Pro

Scott Plasma Pro
Well, you know how it is with integrated seat post bikes: you wait years for one, then two arrive at once. ScottUSA is going down the integrated seat post path with its new Plasma time trial bike, which uses the same construction technique as the CR-1 road bike used in 2005 by the Saunier Duval road team.
The seat tube

The CR-1 is one of the lightest road bikes around; Saunier Duval's mechanics had to resort to adding lead weights to keep the bike of diminutive climber Leonardo Piepoli over the UCI's 6.8kg limit in 2005. It's therefore no surprise that the Plasma is also fairly light. Our Ultegra-equipped Plasma Pro with Profile T2 wing and Carbon Stryke handlebar tips the scale at 8.41kg without pedals. Not feathery, but not bad at all for a TT bike.
The Plasma's most striking features are its aero tubes and that integrated seat post. ScottUSA says the seat post design saves weight and, more importantly for a TT bike, improves aerodynamics. A slight fairing on the seat tube is also claimed to improve air flow, and the seat tube is shaped to follow the rear tyre but still leave room for tyres up to 28mm for training./JS
More info: www.scottusa.com
RRP: AU$5199.95

Showers Pass Century Elite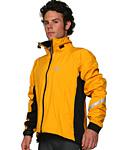 Showers Pass Century Elite
You know something is up when you get emails out of the blue about a rain jacket. Showers Pass jackets are one of the very few pieces of kit for which Cyclingnews has ever had unsolicited fan mail from our readers, along the lines of "these are great you guys need to check them out." We're therefore very happy to be checking one out.
Showers Pass is in Seattle, where they know a thing or two about rain (Seattle's reputation as a rainy city is only partly deserved, it seems: the city averages 226 cloudy days per year and 140 of measurable rain, but plenty of places get far more total inches of rainfall). The Century Elite is the heavier of Showers Pass' three models of jacket, though it's still fairly light and rolls up into a cylinder that will fit easily in a hydration pack or inside a medium-large saddle pouch.
The Century Elite is made from eVent, a breathable waterproof fabric that's claimed to have 50 percent increased vapor transmission compared to standard Gore-Tex. The jacket features a waterproof front zip with two-way slider; fully taped seams; waterproof armpit zippers; a large, covered back mesh vent; elastic drawcords at collar and hem; a large back pocket; plenty of reflective; and a fleece-lined collar./JS
More info: www.showerspass.com
RRP: $170

Sheila Moon 3/4-length tights

Sheila Moon 3/4 tights
San Francisco clothing designer and cyclocross racer Sheila Moon offers a wide range of well-thought-out cycling clothing for women, including these 3/4-length winter leggings. They're made from a Meryl/Lycra fabric that has a softer handle that regular Nylon/Lycra and there's a seamless, multi-thickness liner for comfort and padding.
Sheila Moon jersey and tights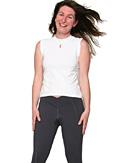 A clever feature is a broad V-shaped waist band with a front overlap that snugs the shorts round your waist and over your hips without the need for constricting (and, let's face it, often unflattering) elastic.
Moon also offers eight-panel shorts in Meryl/Lycra that use the same design of waistband, and address a common complaint many women riders have about cycling shorts: in many cases the legs are just too darn long. Moon's eight-panel shorts are therefore available in two lengths: 8in and 5 1/2in./JS
More info: www.sheilamoon.com

Sheila Moon sleeveless jersey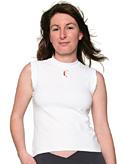 Sheila Moon sleeveless jersey
Also in Meryl/Lycra, this sleeveless jersey fits and feels more like a tailored t-shirt than a cycling top, but still has a high collar to keep the sun off the back of your neck, and a long back to overlap your cycling shorts./JS
More info: www.sheilamoon.com

Sheila Moon arm warmers

Sheila Moon armwarmers
When things get chilly, these armwarmers in Drifit fabric are pretty in pink – and also in baby blue, royal blue, black, red, carbon and orange, so they'll stop you turning blue, and hide whatever colour you do turn with a splash of something cheerful to ward off the winter blahs.
Moon also offers a vast range of accessories, including knee warmers, legwarmers and hats, plus a wide selection of jerseys and crop tops in colours from just a little outrageous to completely wild. Her mission, she says, is to add "a splash of colour in a black and white world." /JS
More info: www.sheilamoon.com

Mountain Bike Maintenance

Mountain Bike Maintenance by Guy Andrews
This 168-page book has been designed as a workshop reference for the amateur mechanic, and therefore features a spiral binding so its pages lay flat on a bench. And if that sounds like a trivial feature, you'd obviously never ruined a normally-bound 'how-to' book by fighting it flat with grease-stained fingers.
Written by British mountain bike journalist and mechanic Guy Andrews, this is the successor to a 1990s MTB maintenance guide from the same publisher, written by Brant Richards and, er, me. On first impression, Andrews looks to have done an excellent job of updating that early work, and this edition really just shares part of a name with the earlier incarnation (as do about a billion other books, as a search of Amazon for 'mountain bike maintenance' will reveal!).
Andrews covers all the mechanical bases with sections on braking systems, gear systems, wheels, contact points and frames, though there are one or two odd organizational choices, such as dropping the instructions on crank maintenance into the chapter on frames. There's also advice on bike set-up, workshop set-up and choosing equipment. /JS
More info: www.acblack.com; Amazon UK
RRP: UKP16.99

Amstel Gold Race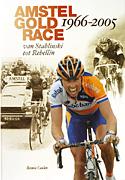 Amstel Gold Race 1966-2005, van Stablinski tot Rebellin by Bennie Ceulen
This year's 40th edition of the Amstel Gold Race, The Netherlands' biggest classic, was celebrated by a 128-page hardback authored by Bennie Ceulen, a Dutch journalist who is involved with the organisation of the race. Amstel Gold Race 1966-2005, van Stablinski tot Rebellin (in Dutch only) is a well illustrated history of the race, starting with organiser Herman Krott's idea to stage the Amstel in 1966, and finishing with Davide Rebellin's victory in the 2004 edition.
The book details every single Amstel Gold Race with a brief race report, top 10 results, and plenty of photos. Mixed in among them are interviews with former winners, team directors, commentators, officials, as well as little stories that add plenty of colour and richness to the book. Included is the tale of Hennie Kuiper in 1982, who took a shortcut to rejoin the race after he punctured in the finale. He was spotted by the commissaires, but not disqualified, and ended 6th. However, the lane (Wolfsdriesweg) that he cut through off the descent of the Barakkenberg was rechristened "Hennie Kuiper-allee" by the mayor of Valkenburg, Constant Nuytens. Priceless.
It's all classic stuff, and gives the reader a real insight into the Dutch classic. As mentioned, it's in Dutch only, but non-Dutch readers can still appreciate the photos./JJ
More info: www.mgl.nl