New Arrivals – December 1, 2005
By John Stevenson & Mark Zalewski
Got Tech? Send press releases, news, and tech questions to the Cyclingnews tech-heads.
Welcome to New Arrivals, a section showcasing the latest equipment that's landed on the Cyclingnews tech desk. Look out for reviews over the next few months when we've clocked up some saddle time with this stuff.
Cateye Double Shot

Cateye Double Shot & Triple Shot
Cateye revolutionized mountain bike lighting a few years ago with the Stadium, the first ever HID mountain bike headlamp. With a beam equivalent to an 80 Watt halogen bulb from its 20 Watt Xenon lamps, the Stadium put out more light than just about anyone could actually use and quickly found itself competing with less powerful but substantially lighter HID systems, usually based on 12 Watt HID systems.
The Triple Shot and Double Shot are effectively Cateye's replacements for the Stadium. Instead of going for ultimate power this time, Cateye has tried to strike a balance between light output and weight, so the Shots use rapidly emerging white LED technology to put out the light, powered by NiMH battery packs. Double Shot has two three Watt LEDs and is intended for helmet of handlebar mounting, while Triple Shot has three LEDs and no helmet mount in the pack. Both units come with the same 2700mAh battery pack which gives a claimed run time of just over three hours for the Triple Shot and five for the Double.
Cateye Triple Shot

In our 'point the light at your colleagues' tests in the office, both Shots produce significant spots before your eyes and throw a bright beam that's easily seen even under strong indoor lighting. We like the look of construction details such as the locking plug and socket connecting battery and lamp, and the universal charger that will run off just about anything and charge the battery in three hours. More when we've had some night-time trail time.
More info: www.cateye.com

Carnac M5 shoes

Carnac M5
The top model of Carnac's 2005 range, the M5 features a carbon fiber sole with just a standard three-bolt Look pattern cleat mount, rather than Carnac's versatile but heavy sole insert system of a couple of years ago. As a result, it's shed a big chunk of weight. The Carnac Quartz we tested a couple of years ago were 810g for a pair in size 43 - these M5s are a size 45 and weigh 690g.
Carnac says its carbon sole features 'differentiated rigidity', so it's stiff where it needs to be but a little more forgiving elsewhere to absorb vibration. The upper is microfiber mesh with leather reinforcement and the three-strap closure is cushioned by a neoprene tongue.
More info: www.carnac-sport.com; US importer - www.sinclairimports.com

adidas adistar ultra
adidas adistar ultra
And while we're on the subject of high-end shoes, here's adidas' techno-styled offering, the adistar ultra. Like the Carnac M5s the main closure is a ratchet buckle, but where the Carnacs have conventional Velcro for the other two straps, adidas uses a design it calls 'fast strap'. This uses a Velcro anchor but the straps themselves are lightweight cords. These effectively pull the shoe closed at four points instead of two, which should help spread the pressure across the top of your foot.
Other features include a full carbon fiber sole, drilled for Look plates; mesh polyester/polyamide upper with polyamide reinforcement; Climacool lining and carbon heel counter.
More info: www.adidas.com

MSS Exotex Base Layer

Bergamo MSS Winter Jacket

MSS Bib Knicker

Bergamo's winter wear
Upland Sports Group, U.S. importer of Bergamo clothing, has sent us the latest cool weather riding gear from the top Italian clothing manufacturer. Included in our test package are pieces from the new Marcello Signature Series (MSS).
MSS Winter Jacket
The MSS Winter Jacket is quite stylish, made from Windtex Dri-Lex« Fabric, Husky SwissPile« and Super Roubaix« Fabric. There are two rear pouches and a unique zippered center compartment that is MP3 player or mobile phone ready (though Cyclingnews does not advocate using these while riding in traffic.) The front has a two-way zipper with draft flap and Bergamo silicone gel waist gripper to keep a snug fit.
MSS Bib Knicker
The bib knicker features 245g Super Roubaix fabric and 220g Windtex Topazio elastic fabric with the same Bergamo silicone gel leg grippers. The chamois is a large, thick MLD4 Elastic I.T. insert. It's available in sizes S-XXXL in black/black, navy/black, and red/black
MSS Exotex Base Layer
The MSS Exotex base layer is a dual-layer, polypropylene knit shirt that provides the foundation to the Bergamo cool weather package. Made from Exotex« Fabric, there is an extra-wide 3cm collar and comes in short sleeve and sleeveless styles.
Now that the weather in the upper-midwest is finally cooling off, a complete review of the MSS line from Bergamo should be on the way soon!
More info: www.uplandsg.com

The Complete Bike Book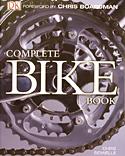 The Complete Bike Book by Chris Sidwells
British publisher Dorling Kindersley practically invented the lavishly-illustrated full-colour 'all about something' style of book, so it's no surprise that this is a lavishly-illustrated, full-colour book that covers every aspect of bikes and cycling.
Written by Chris Sidwells, The Complete Bike Book takes the reader through the basics of bikes types and buying a bike, and covers touring, racing, riding techniques and maintenance. Apparently aimed more at beginners than experienced cyclists, it's nevertheless a comprehensive introduction to everything on two wheels
More info: Amazon UK, Amazon worldwide

Lance Armstrong 2006 calendar

Lance Armstrong 2006 calendar
The perfect Christmas present for Lancaholics, the Lance Armstrong 2006 calendar features 12 images by photographer Graham Watson from Armstrong's seven Tour de France victories. Lance Armstrong in yellow became the iconic image of the Tour for most of the last decade, and these pictures cover the period from a maillot jaune-clad US Postal leader crossing the Passage du Gois in 1999 to a similarly dressed Armstrong toasting victory number seven with Johan Bruyneel in 2005.
Acknowledging Armstrong's great rivals along the way, Watson has selected pictures that feature Armstrong attacking Alex Zulle, climbing with Joseba Beloki, dropping Iban Mayo and tussling with Jan Ullrich and Ivan Basso.
More info: shop.cyclingnews.com