New Arrivals – November 4, 2005
By John Stevenson
Got Tech? Send press releases, news, and tech questions to the Cyclingnews tech-heads.
Welcome to New Arrivals, a section showcasing the latest equipment that's landed on the Cyclingnews tech desk. Look out for reviews over the next few months when we've clocked up some saddle time with this stuff.
De Marchi Unita jersey

De Marchi Unita jersey
De Marchi's line of retro-styled clothing includes one of the nicest wool/acrylic jerseys we've seen in this replica of a 1950s racing jersey. Made in Italy from a soft-handling fabric, it features a short neck zip and three rear pockets with buttons to keep them closed.
Wool aficionados won't need telling of the fabric's advantages for cycling clothing: It takes far longer than synthetics to get smelly, is still warm when wet and doesn't have the 'plasticky' feel of some modern fabrics on hot days. Of course, it needs a bit more careful washing than, say, polyester, but De Marchi's use of acrylic in the mix of this jersey should help with that.
More info: www.demarchi.com; in the USA - www.worldcycling.com. Australasian readers can obtain this jersey through the Cyclingnews shop.


De Marchi Contour Plus Pro bib shorts

De Marchi Contour Plus Pro bib shorts
The 2006 incarnation of De Marchi's top-of-the-line shorts is bristling with features intended to help keep you comfortable for those long days in the saddle. They're made from a high grade pro quality Lycra that provides compression to aid muscle function, with the latest four-way stretch liner by Cytech.
The upper section is made from a soft elastic microfiber and there's an unusual mesh panel under the crotch for ventilation which De Marchi says is intended to work with the latest channel-design saddles. Other features include external leg grippers with silicone and reflective inserts for evening visibility.
Like all the very best shorts, the De Marchi Contour Plus Pros are not cheap, but our experience is that the comfort of really good shorts is well worth the money.
More info: www.demarchi.com; in the USA - www.worldcycling.com


Gravity Zero wheels

Gravity Zero wheels
Gravity Zero is a new Australian company with what an improved take on an old idea - a rear hub that uses a clutch instead of a pawl-and-tooth freewheel mechanism. The advantage of such a mechanism is that there is no rotational take-up as you start pedaling, which is a 'feel' some riders prefer. The problem, historically, is that clutch mechanisms put forces into the hub shell that lightweight bike hubs have trouble handling, and as a result there have been reliability problems with previous designs.
Gravity Zero's Kevin Hancett admitted to Cyclingnews that his early prototypes had indeed suffered reliability issues, but several years of development later he feels the X one hub is finally ready for prime time. Our sample wheels came with the hubs built into carbon fiber tubular rims, and will get some racetrack testing over the next few weeks. We'll let you know how we get on!
More info: www.gravity-zero.com.au


Qoleum antifriction 'O'

Qoleum antifriction 'O'
The Qoleum body care range has been popular in Europe for several years, and lists the Davitamon-Lotto and Chocolade Jacques teams among its high-profile users. The range, which includes warming embrocations and oils, washes and shower gel, is now becoming available again outside Europe; the new Australian importer, Everest Sports, sold out its first batch by the simple but clever trick of setting up a booth halfway round Melbourne's annual 220km 'Around The Bay in a Day' ride!
Antifriction 'O' chamois cream is an anti-bacterial, antiseptic and anti-fungal cream for cycling shorts that helps prevent saddle sores and associated infections. It's made from a 100 percent natural non-animal base cream with organic tea tree oil and vitamin E.
More info: www.qoleum.be. Australasian readers can obtain Qoleum products through the Cyclingnews shop.


Giant Australia clothing
Giant jersey & shorts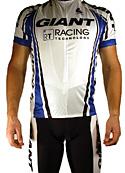 Giant's long-sleeve jersey and vest

Giant's Australian subsidiary has commissioned this line of custom gear from popular Australian clothing maker Cannibal, whose Bullet Proof Tactel shorts are a long-time Cyclingnews favourite.
Giant Ironman singlet

Giant undershirt

The range includes sleeveless, short and long-sleeved jerseys, shorts and bib shorts, a windproof gilet or vest, arm warmers, undershirt, and triathlon gear such as Cannibal's Ironman singlet.
The bib shorts feature a Lycra lower section with the Giant logo across the back, leg grippers and Tactel bibs, while the jersey is made from Airlite fabric, a soft, comfortable polyester with a semi-loose knit that helps it breathe.
The Ironman singlet is intended for triathletes who want a very snug-fitting upper body garment that nevertheless has pockets (gotta show off those swimming muscles and make pure cyclists look weedy eh?). Like the jersey it's also made from Airlite.
The vest features a mesh back for ventilation with a windproof polyester front and Lycra cuffs. It weighs just 135g and can be easily stuffed into a pocket, making it just the thing for cold morning starts or as back-up if the ride is likely to go into the cool of the evening.
Finally, the Coolmax undershirt wicks away sweat to help keep you warm in winter and dry in summer.
More info: www.giant-bicycles.com