New Arrivals – October 17, 2005
By John Stevenson
Got Tech? Send press releases, news, and tech questions to the Cyclingnews tech-heads.
Welcome to New Arrivals, a section showcasing the latest equipment that's landed on the Cyclingnews tech desk. Look out for reviews over the next few months when we've clocked up some saddle time with this stuff.
Cateye MSC-HR200

Cateye MSC-HR100

Cateye MSC-HR100 & MSC-HR200
Cateye expands off your handlebars and on to your wrist with this pair of heart rate monitor (HRM) watches. Both have the expected basic HRM functions - current, average and maximum heart rate, plus target zones, exercise profiles (three on the MSC-HR200); alarms; exercise time; calories burned; percentage of Calories from fat and clock functions such as stop watch and, of course, telling the time.
The MSC-HR200 adds up to 44 laps of recorded data and a lap data review function.
More info: www.cateye.com

Assos summer 2006
Assos equipeJersey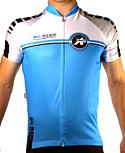 Assos Intermediate Evo jersey

Summer 2006 feels like a long way away as we approach the end of 2005, but if you're a clothing maker it's already here when it comes to getting ready to make new gear that will hit the shops in late winter. Here's three new items from Assos for summer 2006, the FI.equipe shorts, equipe jersey, and Intermediate Evo jersey.
Assos FI.equipe shorts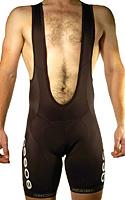 We've always thought that if you're going to spend big on an item of cycling clothing, the place to do it is with shorts, and Assos seems to agree as it offers plenty of highly tailored, ultra-comfy shorts options, none of which are exactly cheap. But this is an area where it makes no sense to skimp, and Assos certainly hasn't skimped on the FI.equipe shorts which feature a more anatomical cut than Assos' FI.Uno shorts, a six-panel Advanced Ergonomic Pattern Design cut and Assos very clever elastic shorts insert.
To go with the shorts, Assos is introducing the equipe jersey, which features Assos MicroCell fabric with mesh underarms and Spandex shoulders. There's a full-length zip so you can cool off in the heat of summer, a rear gripper to stop it riding up and the usual trio of rear pockets is joined by a diddy zippered compartment for your keys and change.
If the weather's a bit cooler, Assos suggests the Intermediate Evo jersey which combines a windproof front panel with long sleeves and lighter fabric in the back. Assos recommends this jersey for temperatures from 10 to 20 Celsius, and for mountain bike rides where the conditions change a lot as you climb and descend.
More info: www.assos.com

Met Stradivarius II

Met Stradivarius 2
This successor to Met's popular Stradivarius boasts full in-mould construction; 17 big, scoopy vents; moulded-in strap anchors; washable Coolmax pads; an anti-pinch buckle and a ratchet-adjusting occipital cradle.
The claimed weight is a light 270g, but that's probably for the size M (54-57cm) - our size L (58-61 cm) tipped the scales at a still-reasonable 320g.
The Stradivarius II has a three-year warranty and is available in white, red, blue, yellow and grey.
More info: www.met-helmets.com

Prendas Molteni jersey

Just like Eddy
Made by Italian clothing company Santini for British retro-meisters Prendas Ciclismo, here's a reproduction of perhaps the most famous orange jersey ever - the Molteni shirt worn by Eddy Merckx.
Molteni cap

To go with the jersey, Prendas is also offering a Molteni cap with world championship stripes. You might not be as quick as the cannibal is his heyday, but you can sure look like him - all you need now is a period Colnago or De Rosa...
More info: www.prendas.co.uk

St Raphael jersey

Simpson & Anquetil's shirt
Following the retro theme, this Santini shirt from Prendas Ciclismo carries the logo of the St Raphael team, home to sixties superstars Tom Simpson and Jacques Anquetil. Like the Molteni shirt, it's made from a two-layer fabric with Tactel on the inside to wick away sweat and a polyester outer layer for good looks and colours.
More info: www.prendas.co.uk

Prendas Ciclismo arm warmers

Toasty toes and arms
Also from Prendas, these arm warmers are made from Merkalon, a thermal underwear material that's lightweight, wicks effectively and dries quickly. Prendas also offers shoe covers made from the same material to add an extra layer of warmth on cold days.
More info: www.prendas.co.uk

Solo St Neith jersey

Solo St Neith jersey
From New Zealand - but available everywhere through the magic of Interweb mail order - comes the solo range of retro-styled clothing. This St Neith jersey is Solo's tribute to the French cycling clubs that started so many pro careers back in the day.
Solos jerseys are made from moisture-wicking Sport X Dry fabric (with an anti-bacterial treatment to stop it getting smelly) with soft polycotton cuffs, a rear gripper and a zipped keys-and-change pocket on the outside of the usual rear pocket trio.
More info: www.solocc.com

Canari custom jersey

Custom by Canari
Here's a few examples of the latest custom clothing from US manufacturer Canari (note to clothing makers - as vain and self-important journos, we're complete suckers for anything with our site name on it!).
Made in the US from soft-handling DryCore polyester fabric for the jerseys and high-quality flat-stitched Nylon/Lycra for the shorts, the range this year also includes a looser-fitting mountain bike jersey.
Canari MTB jersey

We've been seeing this style of garment a lot in the last few months as 'event t-shirts' at endurance races. Made from DryCore, so it's comfortable on hot days, Canari's MTB jersey is looser cut than a traditional road jersey and has a high round neck with no zip to keep the sun out on hot days. As well as our very simple shirt here, the non-custom range also includes shirts with pockets and zipped necks.
More info: www.canari.com