New Arrivals – June 3, 2005
By John Stevenson & James Huang
Got Tech? Send press releases, news, and tech questions to the Cyclingnews tech-heads.
Welcome to New Arrivals, a section showcasing the latest equipment that's landed on the Cyclingnews tech desk. Look out for reviews over the next few months when we've clocked up some saddle time with this stuff.
Spiuk Nexion

Spiuk Nexion helmet
The top of the line helmet from this Basque country clothing manufacturer has an unusual internal mesh cradle, 22 vents, an in-mold shell, and a micro-adjust occipital cradle. A peak (aka visor) is also included to keep the sun out of your eyes. It's removable if you don't want to go for the mountain bike-style look, and Spiuk even includes a couple of plastic covers to plug the attachment points so it doesn't look like there's something missing.
The helmet of the Illes Balears and Kaiku pro teams, the Nexion is available in ten colour schemes.
More info: www.spiuk.com; US importer: www.dpmsports.com
Price: US$139.99

Spiuk Top Ten

Spiuk Top Ten Bib Shorts
Spiuk's extensive range of clothing is topped by these high-quality bib shorts, with flat-stitched seams, a four-panel pad lined with Confortemp to regulate temperature and extensive use of mesh to keep you cool in the heat of a Pyrenean summer.
First impressions are of a very unostentatious black item, but when you look closer you start to notice details such as the large slabs of relective fabric down the back of each leg for visibility, the way the mesh at the back extends to just above the pad for ventilation, and the soft 'zig-zag' leg grippers.
More info: www.spiuk.com; US importer: www.dpmsports.com
Price: US$119.99

Spiuk Dual jersey

Spiuk Dual bib shorts

Spiuk Dual jersey & bib shorts
Spiuk offers an extensive range of matching jersey and shorts combinations and for the most part the matching comes from colour highlights in the shorts synching with the jerseys, which means that there's a degree of subtlety about the designs - just the thing if you don't want to look like a pro wannabe.
The Dual combination is shown here in blue and is also available in yellow and grey/pink. Jersey features include a hidden zip that comes almost to the bottom of the jesey; a silicone gripper at the back of the waist to keep it from riding up; an extra zip pocket at the back (as well as the usual trio) and reflective tape for night-time visibility. The fabric is a lightweight polyester with a partially open weave to let fresh air in and perspiration out.
The Dual bib shorts have a Spiuk 3DZ pad made from in Coolmax and Elastize fabrics, which appears tobe identical to the pad in the Top Ten shorts above; mesh braces for cooling, and reflective logos.
More info: www.spiuk.com; US importer: www.dpmsports.com
Prices: Jersey - US$79.99; bib shorts - US$99.99

| | |
| --- | --- |
| Spiuk Country jersey | Spiuk Country bib shorts |
Spiuk Country jersey & shorts
Spiuk's Country jersey is slightly more casually styled, with a chunky regular zip edged with reflective material for visibility. In a nice detail, the neck extends into a pocket to cover the top of the zip when it's fully done up. Like the dual, the Country has a silicone waist grip, and reflective on the pockets, but it lack's the Dual's zipped rear pocket.
A blue colourway is also available, along with red and the very bright yellow shown here. The matching bib shorts have mesh side panels for ventilation, a moulded, four-panel pad, silicone leg grips, and mesh braces.
More info: www.spiuk.com; US importer: www.dpmsports.com
Prices: Jersey - $US84.99; bib shorts - US$104.99

American Classic magnesium wheels

American Classic Magnesium Road Wheelset
As the name suggests, in these wheels American Classic mates its novel ultralight RD 205 cassette hub and Micro 58 front hub to a pair of unique 325g magnesium hoops. Magnesium is lighter than aluminium but also stiffer, allowing American Classic to make a metallic clincher rim that rivals carbon fiber in weight without compromising much in order to shave some grams. These rims and hubs are built up in a rather conventional fashion and add up to a clincher wheelset that weighs a measly 1288g a pair without skewers.
More info: www.amclassic.com
Price: US$995.95

Stan's NoTubes ZTR Olympic Disc Wheels

Stan's NoTubes ZTR Olympic Disc Wheelset
Stan Koziatek continues on his never-ending quest to minimize rotating weight. The ZTR Olympic Disc is his latest rim design and offers UST tubeless compatibility (or, of course, you can use his sealant with standard tires if you wish) at only 347g per rim. (For riders who find that a scary-light weight even for a cross-country rim, a 385g version is also available) The ZTR Olympic Disc rim promises easier inflation, less burping of air, and fewer pinch flats as a result of some innovative rim geometry. These rims are matched up to a pair of WTB Laserlite Disc hubs and DT Revolution spokes, making for an IS disc-compatible tubeless 26in wheelset that weighs only 1401g for the pair without skewers.
More info: www.notubes.com
Price: US$535.00

Stan's NoTubes Coated Aluminum Disc Rotors

Stan's NoTubes Coated Aluminum Disc Rotors
Stan's revised rotors now have a specially coated brake track to allow the use of standard organic disc brake pads, unlike his first-generation aluminum rotors which were only anodized. These 160mm diameter rotors are made of aircraft aluminum, cutting their weight to roughly half that of standard stainless steel rotors. Stan has clearly has kept his Cannondale customers in mind with the unique 6-bolt/4-bolt hybrid drilling, too. Clearly these rotors are not an ideal choice for heavier riders (in fact they're specifically not recommended for riders over 170lb) or for more extreme applications such as trials but should work just fine for regular-duty cross-country riding.
More info: www.notubes.com
Price: US$95.00 each

Rotor RS4X mountain bike cranks

Rotor RS4X mountain bike cranks
Rotor cranks incorporate a very unconventional cam arrangement to eliminate the dead spot in your pedal stroke. This is accomplished by accelerating the backstroke so that your pedals are never perfectly aligned at the 12 and 6 o'clock position and ensuring that you're always on the power. Rotor's updated RS4X MTB cranks shed some heft and gain some rigidity over the previous RS4 with some clever machine work and an integrated bottom bracket arrangement. They're still not "light" at a rather hefty 1200g for the complete set, but the performance advantages may be well worth it.
We reviewed an earlier road bike version of the Rotor crank here.
More info: www.rotorcranks.com
Price: US$729.00

Ultimate Support Systems Pro-Elite Repair Stand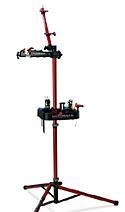 Ultimate Support Systems Pro-Elite Repair Stand
The folks at Ultimate Support Systems have revised and updated their venerable Bicycle Repair Station to produce the new Pro-Elite Repair Stand. This new workstand utilizes the same sturdy and stable collapsible tripod base and telescoping aluminum alloy construction but with a thoroughly reworked clamp head incorporating an outstanding push button release function. Available accessories include the new Pro Truing Station, handlebar holder, attaching toolbox and tool tray, as well as a carrying case to transport the whole 15 pound package. And it's anodized red!
More info: www.ultimatesupport.com
Prices: Pro-Elite Repair Stand - US$229.99; Pro Truing Station - US$74.99; Handlebar holder - US$15.99; Attaching toolbox - US$34.99; Attaching tool tray - US$24.99