New Arrivals – February 23, 2005
Edited by John Stevenson
Got Tech? Send press releases, news, and tech questions to the Cyclingnews tech-heads.
Welcome to New Arrivals, a section showcasing the latest equipment that's landed on the Cyclingnews tech desk. Look out for reviews over the next few months when we've clocked up some saddle time with this stuff.
Wilier le Roi Cofidis team issue

Wilier le Roi Cofidis
After providing Gerolsteiner and Davide Rebellin with bikes in 2004, this year Italian bike maker Wilier Triestina is supporting the French Cofidis outfit that includes sprinter Stuart O'Grady and rising French hope Sylvain Chavanel. They'll be riding two bikes: a Scandium-framed machine with carbon stays, and the bike Wilier has sent us to test, the le Roi.
Developed from the all-carbon frame Rebellin was riding last year, the Cofidis le Roi bikes will have Campagnolo Record equipment with FSA cranks, Selcof seatposts and Selle Italia saddles.
More info: www.wilier.it or US importer www.veloimports.com

| | |
| --- | --- |
| Smith Optics Frontline Max | Smith Optics Theory Max |
| Smith Optics Axis | Smith Optics Frontline |
Smith Optics eyewear
Here's four of Smith's new range of sunnies aimed at road cyclists. Smith Optics glasses have long been popular with mountain bikers because not only do they allow you to swap lenses for different light conditions (handy if you ride in open country one day and woods the next, or if it's just overcast) but they come with three sets of lenses. Plenty of other eyewear makers provide interchangeability, but once you've dropped big bucks on high-zoot shades it hurts to have to spend even more to change the lens colour. It hasn't hurt that Smith's mountain bike glasses have been good-looking and comfortable too.
For road riders, Smith's glasses have no lower rim - the lenses clip easily and quickly into the frame and there's no distracting frame at the bottom of your field of view.
More info: www.smithsport.com

Park Tool BBB-1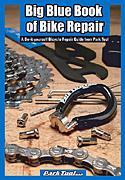 Park Tool Big Blue Book of Bike Repair
Park Tool has long been the dominant name in bike fixing equipment, and has backed up its expertise in making tools by providing mechanics to USA Cycling teams for numerous world championships. Those teams of mechanics are headed by Park Tool's Calvin Jones and Jones' experience in all things mechanical is distilled into this 226-page book.
The book - part number BBB-1 in Park's usual style - covers everything from tool selection and basic skills through fixing punctures and adjusting brakes, to servicing hydraulic systems in brakes and suspension forks.
More info: www.parktool.com

Fast Freddy Turbo Blend

Fast Freddy Turbo Blend coffee
The Cyclingnews office is very much a coffee-fuelled zone, so when we heard that 'Fast' Fred Rodriguez had come up with his own coffee blend we had to get hold of some. On his website Rodriguez tells the story of how he moved to San Francisco, became enmeshed in the city's coffee culture and eventually learnt enough to come up with his own blend, a dark roast based on Sumatran beans that, he says, presents a full-bodied and deeply flavoured coffee with a smooth, berry finish.
We've yet to grind and brew any of the bag that just landed but the smell is making me salivate. If you want to beat us to it, you can get yours from online retailer Wrench Science or your local bike shop.
More info: www.fredrodriguez.com

Soma steel core levers

Soma Fabrications steel core tyre levers
Ever had tyres that just will not shift off the rim? There's a bit of leeway in tyre and rim manufacturing and if you combine tyres that are a bit small round the bead and rims that are a bit big and also have a shallow channel, you can find that conventional plastic tyre levers just bend or snap long before you can get enough force to remove them. Soma to the rescue with these steel-cored tyre levers that should be tough enough to shift even the most stubborn combination.
More info: www.somafab.com

Soma polypro bottle

Soma Fabrications Crystal Polypropylene water bottle
The folks at Soma Fabrications aren't fans of the slightly plasticky taste of some waterbottles, and this is their answer: a bottle made from food-grade polypropylene that won't change the taste of your drink. An added benefit is that it's clear, so you can see how much of your preferred beverage you have left.
More info: www.somafab.com

IRD CD front derailleur

Interloc Racing Design CD front derailleur
IRD's CD front derailleur is aimed at a very specific niche: compact (50/34) chainsets on Shimano-equipped bikes. Shimano's front derailleurs aren't quite perfect for the job; they have a shallow curve intended for 52 and bigger rings and their rated capacity is 15T - one tooth too few for most compact set-ups. (In fairness, Shimano's ratings are always very conservative and every gear tinkerer knows you can push the limits a bit.)
IRD's braze-on front derailleur is designed to work perfectly with a 50/34 or smaller rings , driven by Shimano shifters, and IRD says it works well with 48/36 cyclocross systems too.
More info: www.interlocracing.com

Sampson Stratics brake

Sampson Stratics brakes
At 315g/pair, Eric Sampson's Stratics carbon fiber road brakes tip the scales at almost exactly the same as Shimano's Dura-Ace calipers, but they're actually cheaper than Shimano's brakes as Sampson has just been able to drop the price after increasing production. That means, if you're putting together a bike that's intended to be light but not insanely so, you can get Dura-Ace weight for a bit more than Ultegra price and a chunk of carbon chi-chi into the bargain.
The Stratics brakes are constructed with carbon lay-up over an aluminium core, which Sampson says gives excellent stiffness and therefore stopping power. He also points out that there are areas of the brake where he hasn't gone all-out to lose grams. "The all condition brake pads are beefy for long wear, and are easily adjusted," he says. "We could have made the pads thinner and shaved up to 20 additional grams," but preferred to provide longer wear.
More info: www.sampsonsports.com

Selle Italia SLR XC

Selle Italia SLK carbonio

Selle Italia Signo

Selle Italia saddles
Here are three of Selle Italia's latest salvos in the ongoing saddle war: the SLK Carbonio; SLR XC VX A.M. and Signo GG A.M. seats.
The SLR XC VX A.M. is the lightest of the three at 185g. A mountain bike member of the super-light SLR family, it's clearly aimed at racing applications with a carbon fibre-reinforced hull, Vanox rails and Kevlar reinforcement around the tail to ward off damage in the inevitable spills. The padding is a bit thicker and denser than you find with the regular SLR, which might also make this a viable alternative for those riders who want a light saddle but find the ultra-minimalism of the SLR just a bit too severe
Next up the weight scale, but still no heavyweight, the 210g SLK Carbonio takes Selle Italia's unusual split-hull SLK and drops some grams by using carbon fibre rails. Like the regular SLK, the carbon version has shock-absorbing elastomer bumpers under the nose and tail, and Selle Italia says the divided design moves with you as you pedal.
Finally, the 255g Signo GG A.M. has an unusual design that brings the rails back together under the tail to attach to a carbon fiber plate. The plate supports the rear of the hull via elastomer bumpers to provide suspension and the ability to move from side to side as you pedal.
More info: www.selleitalia.com