New Arrivals – January 7, 2005
Edited by John Stevenson
Got Tech? Send press releases, news, and tech questions to the Cyclingnews tech-heads.
Welcome to New Arrivals, a section showcasing the latest equipment that's landed on the Cyclingnews tech desk. Look out for reviews over the next few months when we've clocked up some saddle time with this stuff.
Time RXS carbon pedals
Photo ©: John Stevenson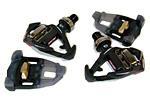 Time RXS Carbon pedals
The Pedal Wars of the last few years have seen just about every major manufacturer of road bike clipless pedals introduce new models in an effort to appeal to increasing weight-conscious riders. The latest salvo comes from Time, one of the earliest makers of clipless pedals, with the carbon-bodied RXS pedal. Time popularized the idea that pedals should have some rotational free movement, or 'float', to reduce the stress on riders' knees. Time pedals have also been popular in recent years because they have one of the lowest 'stack heights' - the distance between the pedal axle and sole of the shoe - of any pedal.
At 260g/pair (with 120g of cleats and mounting hardware) the RXS Carbon is certainly in the low-weight ballpark. The new design resembles a lightened version of 2003's Time Impact pedals, with a composite body replacing the previous metal body. The old red Impact cleats look similar, but are not generally compatible with the RXS pedals, unless they have shoulders next to the nose of the cleat. The black RXS cleat is compatible with the Impact pedals.
Other features of the RXS Carbon pedals include a facility to adjust the Q-factor by 2.5mm (swapping the cleats right to left changes your position on the pedals); ±5 degrees of float; a 15 degree release angle and a stack height of 8mm.
More info: www.timesportusa.com

Time RXS carbon shoes
Photo ©: John Stevenson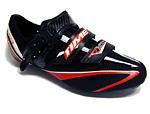 Time RXS Carbon shoes
Time's RXS Carbon shoes are among the lightest we've seen at just 600g per pair in a 42.5 (unusually, that's lighter than the claimed weight of 614g/pair for size 42). Despite this, they're as full-featured modern road racing shoe with a carbon fiber sole (made by DMT of Italy, though the shoes are made on Time's own lasts), a ratchet buckle (also by DMT) with carbon fiber-reinforced strap, and two more Velcro straps over the forefoot.
The upper is entirely synthetic, which is one place these shoes get their low gram count - by and large mesh and synthetic leather fabrics are lighter than natural leather.
More info: www.time-sport.com

Specialized Mondo S-Works tyre
Photo ©: John Stevenson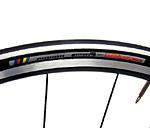 Specialized Mondo S-Works tyres
The Mondo S-Works is the top of the line tyre from Specialized, incorporating a dual-density rubber compound for adhesion on corners over the top of a 127 tpi casing for low rolling resistance. Nobody wants their ride interrupted by fixing flats, so the Mondo S-Works also includes Specialized's Flak Jacket puncture prevention. Our two samples weighed an average of 230g each in 23mm width, which is about what we'd expect for a high-end clincher (actual weights for tyres always seem to be more than claimed weights - if you're comparing claimed weights, Specialized says the Mondo S-Works 23mm is 205g).
The Mondo S-Works is also available in 21mm and 25mm widths. The 21mm is available any colour you like as long as it's black, while the 23mm and 25mm also come in black/silver and black/red.
More info: www.specialized.com

Specialized All Conditions Pro tyre
Photo ©: John Stevenson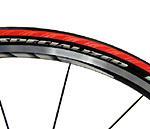 Specialized All Conditions Pro tyres
The All Conditions Pro tyres use slightly softer rubber compounds than the Mondo S-Works, with 120psi casing and a siped tread for those who can't quite convince themselves that slicks still stick in the wet.
All Conditions pros also boast Flak Jacket puncture prevention. The 21mm and 25mm versions are only available in black while the 23mm size comes in black/red, black/silver and black/blue.
More info: www.specialized.com

Vision by FSA TT Mini Clip-on
Photo ©: John Stevenson
Vision by FSA TT Mini clip-on bar
Aero handlebar specialist Vision Tech has been a part of the FSA family since early 2003 and in the last couple of years has continued to expand its line of aero handlebars for time trialists and triathletes. The Vision by FSA TT Mini clip-on bar is aimed at use in hill-climb time trials and draft-legal triathlons and by performance-minded fitness riders, so it's light (just 420g) and compact because you're not expected to be resting on it all the time.
These are the bars used by Ivan Basso and Carlos Sastre of the CSC team on Alpe d'Huez in the 2004 Tour de France. They have double-butted alloy extensions to save weight; thin armrest pads made from dense foam that can be easily removed for cleaning (they're attached by Velcro); an aero front bridge for rigidity and fit 31.8mm bars or 26.0mm with the included shims.
More info: www.fullspeedahead.com

Louis Garneau M-Vents gloves
Photo ©: John Stevenson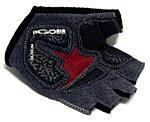 Louis Garneau M-Vents gloves
Louis Garneau's latest gloves use a patch of patch of mesh in the palm to increase ventilation on hot days, combined with a back panel that incorporates two more types of mesh - an open weave on the back of the fingers and tighter-weave 'mini-mesh' on the back of the hand.
There's also a reflective stripe on the back for night-time signaling and three different thickness of gel in the palm for comfort.
M-Vents are available in men's and women's models. Both sexes are offered an all-black design, and there are black/red and black/grey versions for men and black/pink, black/lime and black/cornflower colourways in the women's version.
More info: www.louisgarneau.com