Tech feature: Andy Jaques-Maynes' Specialized TriCross frameset, October 8, 2005
Working weekends - every weekend
By Steve Medcroft
Andy Jaques-Maynes
Photo ©: Steve Medcroft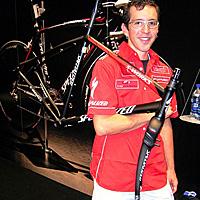 For the 21,000 attendees and media, Interbike is a bike-geek's Disneyland. We cruise the aisles oohing and aahing and compiling mental lists of all the neat new things we just have to try next year. But behind the scenes are a couple thousand workers, the industry employed, there to serve and sell us. Everyone from cycling dignitaries (Eddy Merckx), company presidents (Gary Erickson; Clif Bar) and sales people (David Agapito, DT Swiss) spend a tiring week talking, demonstrating, hyping and entertaining.
Among the two-score contingent of red-shirted Specialized workers was road-bike product manager and Webcor pro cycling team-member Andy Jaques-Maynes. We pulled the California-based cyclocross specialist aside to talk about his new S-Works Tricross frameset, life on the US cyclocross circuit and his job at Specialized.
Cyclingnews: Where did the inspiration for the Tricross come from?
Andy Jaques-Maynes: Chris Dalusio (a fellow Specialized product manager) and I developed the design of the frame and fork. We both spent most of last winter racing 'cross; travelling all over doing the USGP (US Gran Prix of Cyclocross) series. We've known each other since I was racing on the Clif Bar pro cyclocross team. His wife, (Carmen Dalusio) and I were teammates, so he'd come along with us, do the master's races then pit for us afterwards. Between the two of us we have years of experience. Last season, we won almost ten races trying to develop the bike.
CN: What are some of the race-inspired features that made it into the final frame?
AJM: We put in a lot of features you can only get by looking at design from a rider's perspective. The tube shaping is flattened out. The top tube, for example, has a straight top and a smooth, steady arc on the bottom. We also shaped the down tube so when you put the bike on your shoulder and grab the handlebar, every part of the bike you touch is smoothed out. It eliminates injury and bruising. My girlfriend has a ('cross) bike with a standard round top tube. I put it on my shoulder just to bring it up the stairs to our apartment and it dug in; I'm so used to riding with a flattened top tube now.
CN: The stays look widened?
AJM: We wanted to increase the mud clearance to maximum so the seat stays look more like a mountain bike than a road bike and can fit up to 38mm tyres. We also wanted to place the extra width at just the right spot - outside where the edge of the tyre ends, where the mud is going to be.
CN: The fork looks up to the job?
The 2006 TriCross frame
Photo ©: Specialized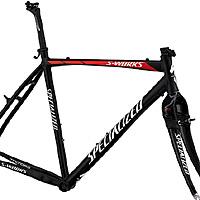 AJM: The fork is our signature piece. It's custom made for Specialized, has carbon legs, an aluminum steerer and a huge crown. With a good-sized cyclocross tyre in here, you still have a huge amount of clearance. We use Speed Zertz (vibration-dampers) on the fork legs. They're the same thing you see on our Tarmac and Transition bikes; a rubber bumper wound tightly around the carbon fibre leg. The whole idea around the Zertz is that it's a material that doesn't like to vibrate; a soft, elastic rubber. Any surface that it's touching also doesn't vibrate. All the bumps and vibrations coming through the fork from the wheel are minimised. Also placing the Zertz right at the brake bosses eliminates the chatter you can get in a cyclocross fork.
CN: This bike is sold as a frame, how do you build yours up for racing?
AJM: For the 'cross season, I'll put on Dura-Ace 10-speed, Shimano brakes and I'll probably be running the FACT Classique Rapide wheels you see on our Tarmac SL bike.
CN: Webcor doesn't field a cyclocross team. Who are you racing for in the USGP?
AJM: California Giant Strawberries; a local dairy producer based in Watsonville, California. I ride past them every day when I go from my home in Capitola to Morgan Hill. They've had an amateur powerhouse road team for several years now. They came to me and said they were doing a 'cross program. I've raced against them, knew the team management and knew they would take care of me.
CN: How ambitious is your 2005 'cross program?
AJM: I'm doing all the USGP's. I'm leaving directly from Interbike for Star Crossed (in Seattle, October 1st). I might do a double-race weekend in Salt Lake City. I may also go out to Massachusetts for another race weekend. Then I'll be doing Nationals in December.
CN: How long have you been working at Specialized?
AJM: About two years now. I originally interviewed for an engineering position and they said I could have the job but there was this other job in product management for road bikes. It made a lot of sense to me. I have the engineering degree so I can geek out with everybody - I can talk in his or her language - but I like to think of myself as a rider's proponent. Any bike that I put out there, and any component that I put on one, I've ridden. We put our bikes together the way we do not only because I think it's a great product because of the weight, the price and the features, but I personally like how it rides.
CN: Sounds like a dream job. Have a great season.
Specialized S-Works Tricross frameset
Frame: S-Works E5 SLX, fully manipulated tubing, semi-compact cyclo-cross race design
Fork: Specialized FACT carbon cyclocross, carbon legs, aluminum steerer, Speed Zertz inserts
Headset: S-Works Mindset, 1 1/8" integrated threadless, sealed stainless steel cartridge bearings, carbon 20mm cone with two 5mm carbon spacers
Seatpost: Specialized Pavé, FACT carbon seatpost with Zertz insert, 27.2mm
Seat Binder: Specialized CNC, alloy
MSRP: US$1,100