Tech feature - March 31, 2005
2006 tech: SRAM empire unveils huge range, part 2
SRAM: More carbon, less weight, more adjustability
SRAM's RockShox equipment may currently account for more of the company's presence on bike shop floors, but as it carves a place alongside Shimano and Campagnolo as a serious supplier of transmission and braking components, then it's the SRAM and Avid brands that are coming to the fore. In part 2 of our look at the SRAM empire's 2006 equipment, James Huang examines the offerings in going and stopping. (Part 1 looked at 2006 RockShox)
X.0 rear derailleur
Photo ©: SRAM

Mmmmmm… carbon
Photo ©: James Huang

One of the most exciting and innovative products to come out of SRAM's eponymous drivetrain division was the X.0 rear derailleur. SRAM has raised that bar even higher for '06, having added a new carbon fiber cage assembly as well as a true short-cage option directed at the single-chainring crowd. The carbon cage will appear only on short and mid-cage versions, with the long cage currently slated to remain as an aluminum bit for now. As expected, the exchange of aluminum for carbon has reduced the overall weight a bit, but the main benefits of the carbon cage construction are greater rigidity and improved impact resistance. The X-9 and X-7 rear derailleurs are largely carried over from this year, but SRAM has trickled down the X-Gen design theme to new SX5 and SX4 models. These offer similar functionality to their higher-end siblings, but at more wallet-friendly price points for those on a tighter budget or for those situations where rear derailleurs are considered to be more 'expendable' items. Somewhat to my surprise is the carryover X-Gen front derailleur. Given its already proven reliability and functionality, I was expecting an X-0 level model for this year. Unfortunately, it looks like we will have to wait a bit longer but rest assured that things are in the works.
SRAM's new X.O level trigger
Photo ©: SRAM

MMMmmmm…. More carbon
Photo ©: SRAM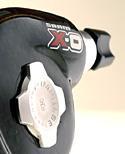 As expected, however, SRAM has introduced an X.0 trigger shifter, which offers an astonishingly huge leap in performance over the X-9 trigger of last year. Shifter construction, like the matching rear derailleur, is top-notch. Of course, there is the now-requisite carbon fiber construction for reduced weight and additional casing rigidity, but the main spindle now rotates on four cartridge bearings for added precision and reduced friction. The new X.0 shifter weighs in at a scant 225g, resulting in a loss of nearly 40g vs. the X-9.
Hmm… there are no adjustments visible on this rider's hands.
Photo ©: SRAM

The shifter clamp can be moved
Photo ©: SRAM

Main lever can be rotated
Photo ©: SRAM

The three real key features of this new shifter, though, are its adjustable ergonomics, 'Zero Loss Travel', and equalized front shifting. As a whole, it seems that bicycle and component manufacturers have realized that equipment should be made to adapt to a rider's particular physiology, and not the other way around. Trigger shifters, however, have somehow managed to buck the trend. Other than the two degrees of freedom offered by rotating or sliding the clamp on the bar, there's not much you can do to customize the fit of most shifters. SRAM's X.0 trigger offers a host of adjustments, including a two-position clamp to further customize shifter and brake lever fit along with a rotationally adjustable main pull lever. These new adjustments, combined with the ones that already existed, provide a virtually guaranteed perfect fit for your particular hands.
The Zero-Loss system is the most striking improvement from a performance aspect. With every other trigger shifter (including SRAM's own X-9, and so on), the pull lever must rotate nearly twenty degrees before it actually starts to pull the cable. SRAM has managed to drop that figure down to a single degree. While this may not seem significant on paper, the improved precision and feel are amazing. On test rides, I actually found myself downshifting one or two gears more than I intended before my brain adjusted to the reduced amount of lever throw required to initiate a shift. An equal amount of attention has been given to the front shifter. Normally, shifting from the inner to middle chainring requires more lever throw than the shift from middle to outer ring. Additionally, shifting up to the outer chainring generally requires significantly more force than shifting up to the middle. A new front derailleur cable cradle addresses this imbalance by equalizing the amount of lever throw between both shifts as well as eliminating the difference in effort. As with the rear derailleurs, the X-9 and X-7 versions are largely unchanged, but there is a new lower price point SX4 trigger-style shifter using a one-piece wishbone lever. Twist shifters are largely carryovers as well.
The new aluminum spider
Photo ©: James Huang

Stout spider design
Photo ©: James Huang

Sorry, no carbon here
Photo ©: SRAM

Cassettes and chains have not been ignored, either, with the introduction of two new nine-speed MTB cassettes and tweaks to the Power Chain II line that SRAM introduced last year. SRAM's new top-end PG-990 cassette uses a new six-cog aluminum spider for reduced weight and increased stiffness over the older composite spider-equipped model. The drop in weight offers obvious benefits, but the increased cog rigidity seemed to yield more precise shifts during test rides. In addition, SRAM seems to have officially adopted red as their company color, with the alloy spider and aluminum lockring both anodized in the bright hue .
PC970 chain
Photo ©: SRAM

The next Juicy 7 lever.
Photo ©: SRAM

The less expensive PG-980 cassette uses an aluminum spider on the three largest cogs where the spider benefits are most noticeable (sorry, it's anodized in plain old black). The PG-980 aims directly at Shimano's all-steel LX cassette by offering a 60g drop in weight and improved shifting at approximately the same cost. One less subtle change on both the PG-990 and PG-980 is the elimination of the gigantic 28-34T jump on last year's mountain cassettes. This has been replaced with a far more agreeable 4-tooth gap. SRAM's Power Chain II line continues with their Shimano-esque bulged side plates but now use a slightly modified profile in order to better mesh with chainrings produced by the new family member, Truvativ. A new top-level PCII chain equipped with hollow pins will be introduced as well.
Avid - stopping power
Not much to go over here officially, other than some minor revisions in their disc brakes. The Juicy 7 now is equipped with a split clamp for easier installation and removal, and the lower cost BB5 mechanical disc brake has a larger, easier to turn inboard pad adjuster knob. Unofficially, however, expect to see an SL version of the Juicy hydraulic brake in the near future. At the very least, this will include a lightweight hardware kit, but don't be surprised to see some revisions to the lever and caliper castings. There is also some talk internally of a lightweight version of the extremely popular mechanical disc brake. Given the development costs and potentially small market for a high-end mechanical disc, this is certainly a less likely development than a Juicy SL, but that didn't stop Avid from producing the CNCed Arch Supreme wonderbrake of yesteryear.
James Huang is chief guru at mountain bike suspension site www.angryasian.com.