Review - September 2, 2004
Topolino 700c Clincher Wheelset
A novel lightweight set of clinchers
Topolino's rear clincher
Photo ©: Cyclingnews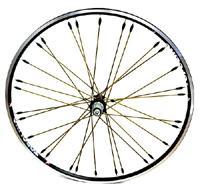 A new player in the very competitive wheel market is Topolino Technology, whose carbon/kevlar spoked 700c clincher wheels are claimed to be among the lightest available. Cyclingnews' chief bike part destroyer Jeff Jones took these wheels for an extended test ride, and here is the result.
Background
In my mind, Topolino Technology conjures up that song Mistadobalina by Del Tha Funkee Homosapien, but I'm fairly sure that the Connecticut, USA based company bears only a passing resemblance to the once popular rapper. The company started life approximately four years ago (but only selling to the public from August 2002) and is now trying to carve its own niche in the specialised wheels market.
At the moment Topolino is concentrating on just a couple of products: a 700c Clincher Wheelset and a 700c Carbon Tubular Wheelset. Both are aimed at road racers who desire light weight, superior comfort and performance.
Specs
The front wheel
Photo ©: Cyclingnews

The front hub
Photo ©: Cyclingnews

A close up of the rear hub:
Photo ©: Cyclingnews

Topolinos
Photo ©: Cyclingnews

Cyclingnews tested Topolino's descriptively named 700c Clincher Wheelset. The rims are made of heat treated aluminum with a machined braking surface. They are box section in style with a slight aero profile, measuring 19mm wide by 19mm deep. The Carbon CoreTM spokes are rather more novel: made of a carbon fibre core with a kevlar outer and a clear thermo-plastic resin coating, each spoke is bladed for improved aerodynamic performance. In addition, instead of having the spokes attached to both the hub and the rim, each spoke starts near the rim and passes through the outer shell of the hub, finishing near the opposite side of the rim, i.e. one spoke is doing the job of two standard spokes. Topolino claims that this "eliminates concentrated stress points and spoke fatigue associated with virtually all other wheel designs."
The hubs are constructed of hard anodised 7075-T6 aluminium with a heat treated chrome-moly 3 pawl mechanism. The bearings are sealed precision cartridge bearings, and the hub shell is made of long fibre carbon composite. The use of carbon/kevlar in the spokes and the hub shell is primarily to save weight in those areas. Topolino claims a 40-45% reduction in weight for these parts compared to standard steel spokes/aluminium hub shells.
The front wheel features 24 (well, 12 really) spokes, while the rear wheel has 18 spokes on the drive side and 12 on the non-drive side. The extra spokes on the drive side are meant to "increase strength and lateral stiffness," say Topolino.
The front wheel is claimed to weigh 590g, while the rear is 800g for a total of 1390g per pair. We measured them at 600g and 812g respectively for a total of 1412g per pair. That's one hell of a light set of clinchers.
Testing and performance
The testing was carried out in wet and dry conditions over a period of 6 months (approximately 10,000 km). In fact, once the wheels were on, they weren't removed or swapped for the entire duration of the test. I took them off road once (semi-deliberately, while trying to find an alternative road down a hill) and rode and raced them over a lot of cobbles and rough roads. As with most of the parts on my bike, the Topolinos definitely weren't given the cotton wool treatment.
On the whole, these wheels performed admirably. A little more aero and about 400g lighter than my standard Mavic Cosmos wheels, the biggest thing I noted about the Topolinos was their soft ride. Riding over cobbles is not high on the list of life's great pleasures, but it's practically unavoidable in Belgium if you want to get to interesting places. One of the first rides I did on the wheels was the 150 km wielertoerist Ronde van Vlaanderen, and although I opted to skip the cobbles at Mater (Why? Because I could), there were plenty of other cobbled sections and hills later on in the ride.
At the end of the day, I did not have the usual sore forearms that usually accompany prolonged efforts on cobbles. Part of this was due to the Specialized Bar Phat (see earlier review) but part of it was due to the wheels. Instead of rattling, the Topolinos made a nice muted thudding sound as I navigated the Haaghoek and the Steenbeekdries. Maybe my imagination was running wild, but I did feel that these wheels had some decent shock absorbing properties.
As far as stiffness and rigidity are concerned, my admittedly non-scientific test criteria were a) how do the wheels feel when you stomp on the pedals? and b) how do they feel cornering? I find that stiff wheels, such as Mavic Ksyriums, take more concentration and effort to corner at high speeds, and they can also skip on rough corners if you're not used to them. On the other hand, stiff wheels tend to feel a little more responsive when starting a sprint.
I did not find the Topolinos to be much stiffer than my normal 32 spoked wheels. As the majority of the races I do contain a lot of corners, this was actually advantageous. At no time did the wheels slip or skip when under a lot of load. As for sprinting, well that's another story... I'm not going to blame my wheels for the fact that I sprint like a strijkijzer*.
Wear and tear
The wheels had a rough start in life after they, together with the rest of my bike, were lost en route from Australia to Belgium. When I finally recovered my dearly beloved velocipede, I noticed that one of the spokes on the Topolinos had been broken, presumably by some aggressive baggage handling. Unfortunately the only way to repair the spoke was to send it back to the US and get the entire half-side of spokes replaced - it's not such a simple task. Fortunately, the guys at Topolino were very quick in sending me a new wheel so I could start riding on them as soon as possible. After that the wheels stayed true for the next six months with no more problems.
Towards the end of the test period, I did have some problems with the sealed cartridge bearings coming loose in both wheels. This didn't surprise me, given the number of kilometres I'd ridden on them. Bearing replacement is a fairly simple procedure, providing your local bike shop has the bearings...
Conclusions
Over an extended testing period that included all weather conditions and varying quality road surfaces, the Topolino 700c clincher wheelset performed extremely well. Even after 10,000 km, truing wasn't necessary, although the bearings in both hubs had come loose by that stage. These are a great set of racing wheels, particularly for technical and/or hilly courses.
Recommended retail price: US$899 (2005 model, with skewers)
Claimed weight (bare wheel w/o skewer): 800g (rear), 590g (front)
Measured weight (bare wheel w/o skewer): 812g (rear), 600g (front)
Colour: Black
Rims: Enhanced 6000 series aluminum alloy, 19x19mm (aero profile)
Spokes: Carbon fibre/Kevlar
Hub shell: Thermoplastic Carbon Fiber Composite
Hub body: Aluminium alloy 7075-T6
Axles: Aluminium alloy 7075-T6 (front), Chrome-moly (rear)
Pro: Lightweight, comfortable
Con: Spoke replacement difficult
More information: Topolino's website
Cyclingnews Rating:

*Strijkijzer is the Dutch word for (flat) iron. In cycling parlance, it means someone who can't sprint.