Tech review - November 2, 2004
Specialized Pro Carbon Road shoes
By John Stevenson
Specialized's Pro carbon road shoe
Photo ©: Paul Mirtschin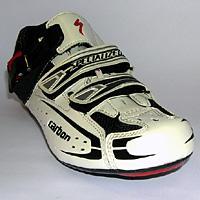 Specialized's number two road shoes offer a wealth of high-end features for a very reasonable price. The carbon fiber sole has mesh-covered vents fore and aft of the cleat and is threaded for Look, SPD and SPD-SL cleats (though not SPD-R). A couple of rubber bumpers under the toe and heel make walking a bit less precarious and as we've come to expect from carbon fiber, the sole is as stiff as a very stiff thing that's been dipped in stiffening fluid and hung out to dry in a stiff breeze.
The upper is a combination of synthetic leather and mesh, with soft padding under the tongue and around the heel. A moulded plastic heel cup cradles the back of your foot and there's a reflective patch for visibility on evening rides - though the white leather of our samples was pretty darn visible on its own. Black is also available for those whose tastes run to the more subdued end of the spectrum.
Two Velcro straps and a buckle provide the attachment to your feet - almost the mandatory system for high-end shoes, and Specialized's buckle and strap is easily replaced if it wears out or gets chewed by a puppy.
The moulded Body Geometry Performance Footbed insole is Specialized's secret weapon in raising these shoes above the herd. It features three different materials with different densities to tailor the feel at different parts of the foot. There's a medium-firmness foam that makes up most of the insole, a stiffer material around the heel and midfoot and blobs of a softer, rubbery foam under the ball and heel. To complete the picture the centre of the midfoot is gently raised to support your ach.
A supportive heel cup
Photo ©: Paul Mirtschin

Plenty of cushioning
Photo ©: Paul Mirtschin

The carbon sole
Photo ©: Paul Mirtschin

The buckle and strap
Photo ©: Paul Mirtschin

Built into the shape of the Pro Carbon Roads - and all Specialized shoes except some BMX models - is what Specialized calls its Varus Wedge feature. This is a shaping of the sole so that your foot is angled slightly downward in the shoe; that is, your big toe is slightly higher than your little toe. Specialized claims this is a more natural foot position.
The overall fit and finish is good, though without quite the attention to detail you find in very spendy shoes. On our sample, there's a bit more overlap between the toecap leather and the main body on one shoe than the other, for example, and a slight wiggle in the trim of one sole - but these are tiny imperfections and irrelevant from a functional point of view.
Fit on the Stevenson feet was snug but comfortable. Our sample was a 42, and I typically vary between 42 and 43 depending on the manufacturer - in a perfect world I'd probably give myself a tiny bit more room in the Pro Carbon Roads and go for a 42.5. Half sizes are available.
I've yet to find a carbon-soled shoe that gives anything to complain about in the sole stiffness department and the Carbon Pro Roads are no exception. They're very, very stiff with all the good things that implies - you push down, you go forward. They're also extremely comfortable. I experienced no rub spots, heat or other niggles even on long rides. In fact I'd almost rank them with my gold standard for shoe comfort, Carnac. Given the price difference and use of synthetic rather than natural materials in the Specializeds that's a pretty staggering achievement.
I'm ambivalent about the Varus Wedge feature. On the one hand, it doesn't seem to be causing me any discomfort. On the other hand, I am aware that my feet are differently positioned in these shoes compared to every other pair I own. And it's not just a matter of quitting with the Imelda Marcos complex and sticking to one pair of shoes as I am stone certain the Pro Carbon Roads will not be ideal for mountain biking. (Yes, I know Specialized makes plenty of MTB shoes; it was a joke, son!)
As with any significant change to the fit and ergonomics of a bike, it pays to be cautious. If you have any known fit-related joint issues, a shoe that changes the angle of your foot might not be for you. On the other hand, for some riders it may be exactly what you need
Overall, though, I'm impressed. The Specialized Pro Carbon Road shoes are among the most comfortable road shoes I've used and have proven to be durable and tough. In 2004 these were Specialized's top shoes. In 2005 that role is taken by the S-Works Road with BOA closure, and the Pro Carbon Road is unchanged, and still excellent value.
Recommended retail price: US$199.95
Weight: 610g
Pro: Comfortable, excellent value
Con: Varus Wedge may not suit everyone
More information: Specialized's website
Cyclingnews Rating: