Review - November 8, 2004
SaddleCo Flow CrMo
Is there such a thing as a saddle that is comfortable, eliminates saddle sores, but is light enough to use on a road racing bike? Cyclingnews' Chief Online Editor Jeff Jones and European online editor Hedwig Kröner had a ride on the novel SaddleCo Flow CrMo, which tries to meet all these specifications, as well as rhyming with 'O'.
The SaddleCo Flow
Photo ©: CN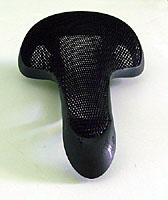 In the age where saddles with large chunks carved out of them are considered the next big thing, U.S. company SaddleCo has taken a different approach to the ultimate quest of creating the perfect road saddle. Instead of building the thing out of some sort of cover, padding, a hard shell and metal rails, SaddleCo has developed its Flow saddles with a suspended seating surface - sort of like an inverted, molded hammock for your bum.
It looks radical and it is, but SaddleCo claims that its design is more than just aesthetic in nature. The inverted hammock, for want of a better description, is designed to be both comfortable and reduce saddle sores by keeping the area where you sit dry. The seating area is open to the air which SaddleCo claims "allows moisture to be wicked away from the body." As long as it's not raining of course...
Specs
SaddleCo currently makes two versions of its Flow saddle: one with chromoly and one with titanium rails. The only discernible difference between the two is 35 grams and $US20. Cyclingnews tested the slightly heavier and cheaper CrMo version for a couple of months on Belgian roads, cobbles included.
The Flow CrMo weighs 290 grams, which is in the mid- to upper-range of racing saddle weights. For example, a San Marco Rolls weighs about 370 grams, while a Fizik Aliante is 175 grams, and if you're heavily into carbon fibre S&M, you can get as low as 45 grams for a Tune Concorde. But for most people, an extra 100-150 grams for a saddle, provided it's comfy, is not an issue. The seating area is also quite large (overall length 279.4mm), with a wide base (max width 152.4mm) but a narrow nose. The rails have a maximum adjustability of 85mm, which gives you plenty of scope to shift the saddle forwards or backwards.
From the top:
Photo ©: CN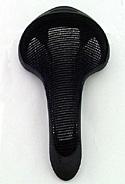 Flow's Cromoly rails
Photo ©: CN

A close up
Photo ©: CN

The soft underbelly
Photo ©: CN

It's the design of the seating area itself which is the most interesting thing about the Flow. In SaddleCo's own words, the design, "involves encapsulation molding a nylon thermoplastic perimeter around an elastomeric monofilament textile, and then stretching this onto an insert-molded frame to create a suspended seating surface. It's even harder to do than to say, which is why no one's done it before."
The photos show things a little more clearly. "Monofilament textile" means that the fibres used to construct the seating surface are singular and solid, a bit like very thick fishing line.
Importantly, SaddleCo specifies that "use by riders over 90kg/200lbs voids all warranties" as does "use for extreme riding...Severe injury may result from use for extreme riding." Although I'm a good 20kg below the weight limit, I hope that riding on Belgian cobbles doesn't count as extreme riding. Otherwise I could be in for a painful shock one of these days.
On the bike
Replacing my existing saddle with the Flow CrMo wasn't too difficult. Adjusting it to the right height and fore/aft position took a bit of time. The Flow has a lot more give in it than a conventional saddle, so I took SaddleCo's recommendations and raised my seatpost a few millimetres. Getting the fore/aft position right took a little longer, because the Flow was much bigger than my original saddle. Basically it was a matter of riding and adjusting things until it felt 'right' again.
The first impression I had when sat on the Flow was how squashy it was compared to any other saddle I had used. I was a little concerned about this, as I thought it might mess with the whole pedaling action with the result that my power was reduced. What a disaster that would be. It took me a week or so to get used to it - to the extent that jumping back on a normal saddle felt equally as odd. Even though I couldn't measure it properly, the good thing was that my training speeds were not affected by the switch in saddles. I actually got faster, but that was probably because I started using the saddle at the beginning of a two month training block that was designed to get me to a decent level of base fitness by the end of October.
When I ventured onto cobbled roads, the Flow was a boon. It definitely made life easier on my unforgiving aluminium frame, and the extra cushioning was welcomed. It didn't eliminate all numbness on long rides, but things were significantly improved. SaddleCo claims that its design "eliminates hotspots as it distributes your weight around the entire saddle perimeter."
Probably the best thing I found about the SaddleCo Flow was the reduction of saddle sores to a level of zero, once I had adjusted it correctly. In 15 years of riding, I have never found a saddle that has done this, and just accepted saddle sores as par for the course. After a week on the Flow, I had them no more, and only reluctantly rode on a normal saddle again. Whether this was due to the airflow around the "target region", the extra cushioning that the Flow offers, or a combination of both, I don't know. But I was pleasantly surprised to find that it did what it promised.
Further on n the comfort issue, the Saddleco Flow was tested by female Sunday cyclist Hedwig Kröner, who shares the author's opinion that it is the most comfortable saddle that she has ever tried.
The only downside to having your saddle and bum more exposed to the air is that when it rains, you get very wet in that area. Not good. But that's what clip-on mudguards were invented for. Also, Flow inventor John Neugent told us that water doesn't degrade the saddle, unlike a leather saddle.
Updated: On the wear and tear issue, after using it pretty much every day for two months, I didn't notice any significant signs of wear. Unfortunately, after another couple of months use, the saddle rim broke - not catastrophically, but enough to make it unusable. I have requested another saddle, and will put it through the same test as the first.
The good thing is that in case of a breakage, Saddleco offer a 100% money back guarantee and will replace all defects immediately, without any questions. "It hasn't been a big issue with our customers," Neugent told us.
Conclusions
SaddleCo's Flow CrMo saddle is an interesting piece of architecture in the chock-full saddle market. SaddleCo takes an unconventional approach that seems to improve comfort without a big weight penalty or loss of pedaling efficiency. Its strength and durability are its downsides, even given the maximum rider weight recommendation of 90kg.
Recommended retail price: US$130
Weight: 290g
Cover material: Proprietary elastomeric monofilament textile
Fabric color: Black
Frame material: Proprietary thermoplastic; nylon.
Frame Colour: Gray
Rail Material: Hollow CrMo
Rail adjustability: 85mm
Length: 279.4mm
Maximum Width: 152.4mm
Recommended maximum rider weight: 90kg
Pro: Very comfortable; eliminates saddle sores
Con: Maximum weight recommendation; more 'exposure to the elements', durability questionable
More information: www.saddleco.com
Cyclingnews Rating:

(pending review of a second saddle)
(if the second saddle lasts as long as the first)