Tech review - August 24, 2004
Bontrager X-Lite seat post
A fan of easy saddle adjustment, Martin Hardie finds a lot to like in Bontrager's unique clamp design.
Bontrager X-Lite seat post
Photo ©: Paul Mirtschin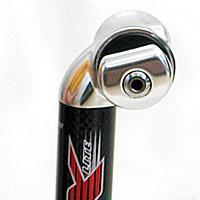 At 185g, Bontrager's carbon fiber-shafted Race X Lite seatpost is one of the lighter ways you can connect your saddle to your frame, but while everyone likes light stuff, the low weight wasn't the most interesting feature to me, when this post landed on my desk.
Given the body I possess, large and old, with various joints that suffer from a childhood of rugby union on a saturday and rugby league on a Sunday, I am partial to a bit of an ability to adjust my seat to cater for the most prominent ache and pain of the moment. For this reason over the last few years I have become a fan of seat posts that use a two-bolt clamp to provide a good degree of adjustment. Two-bolt designs give the ability to get the seat level in pretty close to the position you want it, without having to fiddle about too much undoing the one bolt and holding down the nose of the seat as you tighten.
Bontrager claims that the Race X-Lite's clamp provides one with infinite adjustment to get that position you want. At first glance this clamp has a little of a retro look to me. It reminds me of my old 10 speed bikes and their seat posts that had the big 14 mm (or so) nut tightened with a spanner. Now they were hard to get right but not so the Bontrager. Once on the bike with saddle attached the bolt through the side is the easiest and finest adjuster I have ever dealt with. In a jiffy I can move the nose of the seat up or down to suit my body. No fiddling with loosening one bolt under the saddle and then playing with the second "adjuster" bolt. No, this one works and is easy for a tech gumby like me.
Rear view
Photo ©: Paul Mirtschin

So too is moving the seat back and forth. If you're aging and a little blind like me you hate fiddling with Allen keys under the saddle. Especially if you have your saddle pouch there with your tube and other goodies inside. With the Bontrager no more are you subjected to such a clumsy routine. Moving the seat back and forward again is done in a jiffy. Loosen the single clamp bolt a bit, move saddle, retighten and by jingo all set to go. I put this to the test last weekend in one of the weekly ciclo-tourist rides that populate the calendar here in the Basque Country. It is a ride my friends told me was 'suave', a soft one. I didn't agree after 1700 metres of climbing and 110km, but during the ride at the top of the Alto de Morga my seat just didn't feel right, so I hopped off, pulled out the Allen key and adjusted it 'un poco', lifting the nose just a tad. No problems and I am sure the act of getting the key out of the bag and putting back took twice as long as the adjustment.
For me adjustment is what you want from a seat post - the rest is just show. To tell the truth I can't tell the difference on the bike if this one is lighter or heavier. I know it is lighter, but it is not my bike that needs the weight shaving exercise. [The Race X Lite is one of the lighter posts available, especially when you ignore designs that don't provide the Race X Lite's 20mm of saddle position setback - Ed]. With a bike equipped with carbon stays and carbon forks I don't notice any damping of the ride but I do know how much my carbon seat stays help me after spending four months on an alu frame without carbon stays. But I do know this seat post looks nice and with its ability to be adjusted easily this is a good bonus. It's black and shiny and looks real nice with my EE orange Orbea. Both the metal and the carbon shine I love to ride along and sing to myself a tune dedicated to it which I have adapted from Lou Reed and the Velvet Undergound - "shiny, shiny threads of carbon ....".
So in the end if you want a seat post that's easy to adjust with good looks to match this is one for you. [Singing as you use it is, we're assured, not mandatory - Ed] If weight's not important to you, there's a version for $US50, just dubbed Race, and if weight really matters, the $140 Race XXX Lite model saves another few grams by using OCLV 120 carbon for the shaft.
Recommended retail price: US$100
Weight: 185g
Pro: Very easy adjustment, good looks, low weight
Con: None
More information: Bontrager's website
Cyclingnews Rating: