Recently on Cyclingnews.com
Tech review - February 17, 2004
Bergamo's Pro Bib shorts are comfortable - after a while
Photo: © Cyclingnews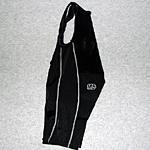 Bergamo Pro Bib short
By John Stevenson
Marcello Bergamo is an Italian former pro who, when he hung up his wheels some twenty years ago, turned his experience to the manufacture of cycling clothing, with the aim, according to Gary Vasconi at US importer Upland Sports Group, of "total comfort".
All the ingredients to achieve that aim are certainly there in Bergamo's Pro bib short. Constructed from ten-ounce Lycra in a six-panel configuration, the Pro shorts feature close-stitched, flat seams, a mesh back, leg grips, and a moulded, one-piece synthetic chamois lining with a toweling front pad.
Construction and features are only half the story. How's the fit and the ride? Spot on. The Pro bib shorts fit like a second skin: no saggy bits, no pinching, no bunching. The cut and shape is snug and accurate, and in the current style, they're quite long in the leg, with the grips reaching down to the bottom third of my thighs.
The lining
Photo: © Cyclingnews

First riding impressions were not so good. The lining just didn't seem very comfortable, as if the surface was very slightly rough, or the tiny perforations had sharp edges. I persevered (and got generous with the chamois cream) and after a few rides and a few goes through the washing machine, the lining softened up. The Pro Bibs are now very comfortable - or my recent increase in kilometres has toughened me up!
One thing we have found, in using both these shorts and some other Bergamo clothing, is that Bergamo's sizing is on the small side. I usually run L shorts and XL jerseys (I'm built for comfort not for speed) but I need XL Bergamo shorts and Bergamo's XL jerseys are not flattering. Not an issue if you're able to try before you buy, but something mail-order buyers need to be aware of.
Finally a confession. These are my first pair of bib shorts, and I am kicking myself for taking so long to try something other than standard shorts. Without a waistband, bib shorts are substantially more comfortable, especially if you are, ahem, not as skinny as you once were. Toilet breaks are a bit more hassle but that inconvenience is hugely compensated by being more comfortable on the bike.
Recommended retail price: US$119.95
Pro: Comfortable, well-made.
Con: Lining took a short while to soften up.
More information: Upland Sports Group's website
Cyclingnews Rating: