Tech News – November 30, 2004
Edited by John Stevenson
Got tech? Send press releases, news, and tech questions to the Cyclingnews tech-heads.
Custom titanium at sane prices
Setavento custom titanium
Photo ©: Setavento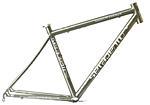 Are we seeing a titanium renaissance? Last week we mentioned Canada's Epic Cycles and the return of Litespeed as a road racing sponsor with British-based Continental team Recycling.co.uk/MG X-Power, and now comes word of Setavento, a new British company specializing in affordable custom titanium.
'Affordable titanium' isn't quite the oxymoron it might first seem, though 'affordable' is rather relative. Florida's Habanero Cycles has been offering sub-US$1000 titanium frames for several years and Britain's On-one has titanium cyclocross and mountain bike frames at sane prices.
However, Setavento is the first company we've come across to offer a custom-made titanium frame for less than a thousand Euros. The company is the brainchild of James Laurence, who describes himself as a lifelong cyclist and technology company entrepreneur. Laurence couldn't find a custom titanium bike at an acceptable price so he decided to do something about it and Setavento is the result.
Setavento offers road, track, time trial and MTB frames through its website, which allows the potential buyer to input their measurements or the measurements of their current bike. Setavento creates a drawing of the proposed frame and this gets final approval from the customer before cutting and welding starts, with a delivery time of four to six weeks.
"Titanium bicycle frames have legendary ride qualities, longevity, and catastrophic prices. We wanted to change this by bringing the price down to the level of a high end aluminium frame," said Laurence.
A custom Setavento road frame, without fork, costs UKP695 (Euro 999 or about US$1300 at current exchange rates). Setavento is based in London, England and Almere, Holland, and its frames are distributed in Finland through Life-Cycle of Suodenniemi. The company doesn't currently sell to the US, though we imagine that would change fairl quickly if there was a decent level of interest.
More info: www.setavento.com
Vicious at last
Vicious Power's long-awaited lighting system
Photo ©: Vicious Power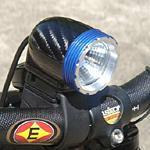 Australian company Vicious Power has finally unveiled its long-awaited lighting system, designed for off-road night riding and especially 24-hour MTB racing.
Designer Dave Bastians started talking about a better lighting system a couple of years ago but, as is so often the case with these things, it took rather longer than anyone expected for a device to become reality. Now Bastians has unveiled what he claims in the world's lightest 12W HID lighting system, offering 2.5 or 5 hours of run time from its two battery options and claiming more light output than Cateye's 17W Stadium HID.
Like many other HID light manufacturers, Vicous Power starts with a Welch Allyn Solarc 10W HID lamp. However, instead of just slapping a housing round the ballast and lamp and hooking up a battery, Vicious Power makes its own electronics, separating the various electronics functions so that the lamp is light enough to easily mount on a helmet, and, Bastians says, better quality components can be used for power management, making for a more efficient system.
With a 2.5 hour runtime battery, the base model Vicious Power system weighs just 400g, according to Bastians - and in low power mode that'll give you 4.5 hours of light.
Reigning Australian solo 24 hour champion Josh Steet used a Vicious Power system at the recent Mont 24 Australian Hour and long-time top Australian solo 24 hour guy Saul Britton has been testing prototypes for some time, clocking up a few victories on the way.
At the moment, Vicious Power lights are only available in Australia, pending testing formalities for US sale.
More info: www.viciouspower.com
Colnago teams up with Shimano to sponsor new pro squad
Ernesto Colnago (center)
Photo ©: Tim Maloney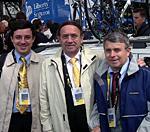 Japanese cycling components giant Shimano has teamed up with Italian bicycle legend Ernesto Colnago for 2005. For the first time, Shimano will be the lead sponsor of a European pro road racing squad. Team Shimano-Van Keulen-Imabo Van Buren will race as a Continental pro team, managed by Dutchman Arend Scheppink. The team will have a mix of young, talented Japanese and Dutch riders; Scheppink has always supported young, talented riders while Shimano has the primary goal of developing Japanese road cycling.
The new Shimano-Van Keulen-Imabo Van Buren team will also enable emerging Japanese riders to experience European pro cycling and gain experience with the 2008 Olympic Games in Beijing, China in mind. "I'm proud to be associated with Shimano's new team and to be able to help young riders develop by providing the best material for them", explained Ernesto Colnago. "We are the only bicycle company that has two ProTour teams (Rabobank & Domina Vacanze) and now with the new Shimano team, five Continental Pro teams. (Panaria-Italy / Navigators-USA / Action-Poland / Landbouwkrediet-Belgium / Shimano-Netherlands)."
Team Shimano-Van Keulen-Imabo Van Buren will use Colnago C50 frames with Shimano Dura-Ace groups and wheels.
Oakley rocks out
Oakley Thump combined eyewear/MP3 player/wallet-emptier
Photo ©: Tim Maloney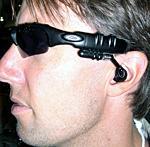 Oakley's new Thump glasses are the first eyewear to integrate an MP3 player for ultimately portable music on the move. Two models are available - with 128MB or 256MB of storage, the latter having polarized lenses - in seven colours and the internal, rechargeable lithium-ion battery provides a claimed 6 hours of playback. The whole package weighs just 52g and transferring tracks from your computer to the Thump is by the almost-ubiquitous USB 2.0 connection.
It's a pretty damn impressive exercise in miniaturization and what tech journalists call 'convergence' - which usually means glomming together vaguely-related devices into pocket-sized lumps that assume everyone has enormous pockets. That certainly doesn't seem to be the case here, though and the gadget world is going suitably gaga over Thump, which includes features like flip-up lenses so you can continue listening while you're indoors and don't need sunglasses.
However, while Cyclingnews hates to come on like your mom, we do have to wonder two things: is it such a great idea to reduce your awareness of ambient noise while you're, say, riding in traffic; and do you really want to be able to lose your MP3 player and your sunglasses in one go? Ten out of ten for a cool idea, but for the price of a 256MB Thump you could get a 20GB iPod, just about any non-metal Oakleys, come out with change and not look like an extra from a Vin Diesel movie.
More info: www.oakley.com
Fausto Pinarello
Photo ©: Tim Maloney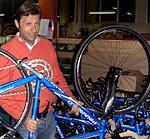 Fassa Bortolo's training bikes for 2005
Photo ©: Tim Maloney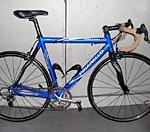 The Paris uses hydrormed tubes
Photo ©: Tim Maloney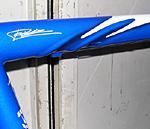 Fassa ready to ride in 2005
By Tim Maloney
Cyclingnews dropped in on the Cicli Pinarello factory in Treviso, Italy the other day to see the first Fassa Bortolo bikes being prepared for the 2005 season. Fausto Pinarello told us, "we're relaunching our Paris model, and for the first bikes we provide to Fassa for training, they get the Paris. This model has unique tube shapes that come from a process called Hydroforming."
Pinarello explained further that the Paris uses Pinarello's new oversize M.O.st bottom bracket, which has been well-received by Fassa's riders. Each member of the team will get a Paris as a training bike, plus three Dogma FP bikes for racing, all equipped with Campagnolo Record 10speed groups.
More info: www.pinarello.com
Images by Tim Maloney/Cyclingnews
Suspension guru McAndrews joins Trek
By Tim Maloney
Trek Bicycles has added a key player to its bike development team, announcing that Mike McAndrews has come on board as Director of Suspension Technologies. McAndrews is one of the top suspension engineers in the bicycle industry and has worked with Rock Shox, Specialized, Fox and Maverick. Trek's Director of Product Development Joe Vadeboncoeur, explained that McAndrews will play a key role for the future of Trek's suspension expertise. "We believe that the full suspension market will continue to expand, with new categories and new usages of the product. I've known Mike for many years, and could not pass up the opportunity to enhance our future abilities with his addition to Trek's already strong roster of designers and engineers. Between Trek, Gary Fisher and Klein we already have some class leading products. With this key addition, the bicycle industry has yet to see what Trek is truly capable of in the future. With Mike's help, the future of Trek's suspension expertise is without limits."
McAndrews started his two-wheeled career as a factory motocross mechanic in the late 70's, and explained that coming to work at Trek is an opportunity to realize some major goals. "Trek is the only bicycle brand I know of that has the capacity to optimizing suspension systems under the same roof that the bike is designed and manufactured at. I've already come up with some new design ideas for Trek and I'm most excited about is to combine a level of high suspension performance while providing good value to the Trek, Gary Fisher and Klein consumer."
Campagnolo spares on line
It's well-known that Campagnolo makes available just about ever conceivable spare part for its range of bike components, but how do you know what part number to ask for if you're in Joe's Bikes and there's no 1999 spare parts catalogue handy. Well, the Interweb to the rescue, or rather Campagnolo's website, which includes a complete set of Campagnolo spare parts catalogues back to 1998.
Campagnolo has just updated the section with 2005 spares catalogues, so if you've been holding off buying Record T cranks because you wanted to have the spares codes to hand when the time came to replace the rings, wait no more!
More info: www.campagnolo.com
Zipp's new site
Photo ©: Zipp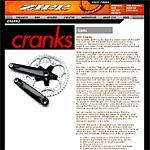 Zipp.com gets a facelift
Wheel and component maker Zipp has revamped its website, improving navigation, cleaning up the look of the site, and getting the content up to date with 2005 new products such as Zipp's sub-400g carbon fiber crank. A quick surf around reveals that Zipp's wealth of information on its wheels and other equipment is well laid-out and easy to find.
More info: www.zipp.com
Felt supports ADT velodrome
Bike maker Felt Racing and AEG, owners and operators of the ADT Event Center velodrome in Carson, California have announced that Felt will be the venue's official bike for the next two years. Felt will make available a fleet of Felt TK2 track bikes for classes, demonstrations, loaners and other riding and racing opportunities at the velodrome, the only indoor track in the USA and one of just two in North America.
In a statement announcing the sponsorship, Felt president Bill Duehring said, "The [ADT Event Center velodrome] is absolutely spectacular and we are looking forward to supporting it and all that it will do for cycling and cycling awareness. Track racing is a high-voltage sport and we are looking forward to having some fun with this."
The ADT Event Center will hosting the next round of the UCI Track World Cup, December 10-12, 2004.
More info: www.feltracing.com