Reviews
Wilier Trestina Galibier
By Rob Karman
One rider who worked hard to secure a spot on the Italian team for the World Championships is Francesco Casagrande (Lampre) whose victories in the Trofeo Melinda and the Coppa Agostoni went a long way toward securing his place. Cyclingnews had the chance to ride his bike, the Wilier Trestina Galibier.
Climb every mountain
Photo: © Rob Karman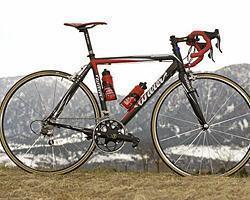 While we would have loved to take Casagrande's personal ride out for a spin, that just was not going to happen and so the US distributor for Wilier lent his personal bike, outfitted with a Record Carbon group and svelte carbon parts all around, for a chance to put the Galibier frame through its paces. Touted as Wilier's top of the line model, the Galibier tips the scales at a scant 1.12kg for the frame (16.9lb/7.6kg built as tested) making it an ideal companion on steep climbs, no surprise given Casagrande's climbing exploits.
As a sprinter, I was pleased to find that it is equally at home during out of the saddle efforts on the flats; thanks in no small part to a massive monocoque construction around the bottom bracket and an abundantly oversized downtube matched with oversized tubes all around. The frame also features an integrated headset with matching Wilier carbon fork. As expected on a high-end Italian frame, craftsmanship and aesthetics are in abundance on the Galibier.
These are a few of my favorite things
Photo: © Rob Karman

The smooth transitions at the tube junctures, the attention to detail in placement of the cable guides, the way the front derailleur cable is routed under the bottom bracket are all evidence that the hands putting the frame together are true artisans who trade pride in their craft. The state of the art moulding process required to manufacture the frame limits its production to six per week. This intensive labour comes with a high price tag, but what you get is a no-holds-barred racing frame with the attention to detail you would expect from the world's best custom builders.
On high-speed descents, the bike was both stable and predictable. I pushed it up to about 50mph (80km/h), and experienced no hint of speed wobble or shuttering. In all, the bike was a joy to ride and I wished I could have had the chance to race on it myself, as it was both lighter and stiffer than my own bike. For those of you familiar with my bike reviews, you will be surprised to hear that I cannot find one thing wrong with this bike, except that I cannot afford it on my cycling journalists' salary.
Photos
Images by Rob Karman/roadbikephotos.com
Recommended retail price: US$3,807
Pro: Super light, super stiff, with incredible build quality and attention to detail
Con: Did you see the price?
More information: US distributor | Italian site in English as well.
Cyclingnews Rating:

What do you think of the Wilier Trestina Galibier? Let us know