Easily mounted
Photo ©: Cyclingnews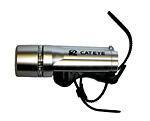 On the bike
Photo ©: Cyclingnews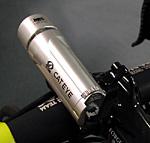 It's waterproof
Photo ©: Cyclingnews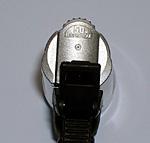 Three bright LEDs
Photo ©: Cyclingnews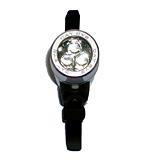 The side ring
Photo ©: Cyclingnews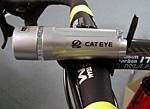 The white Compact Safety Light
Photo ©: Cyclingnews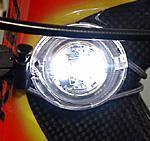 Also in red
Photo ©: Cyclingnews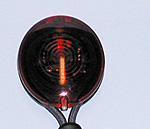 Tech review - December 3, 2003
Cateye Opticube EL400 Head Lamp and Compact Safety Lights
Novel LED-based lights
Cateye's latest releases, the Compact Opticube Head Lamp and Compact Safety Lights, give a new twist to LED bicycle lights, writes Jeff Jones.
Japanese accessory company Cateye has had a long association with bicycle light design, and its halogen lamps have helped me find my way home in the dark on many occasions. Cateye's latest offerings, the Compact Opticube EL400 Head Lamp and Compact Safety Lights are both intended for on-the-bike use, but they are not limited to that. According to the illustration on the packet, it's possible to use them while diving, provided you don't go deeper than 50 metres!
I tested the lights for a period of approximately three weeks, which provided me with a good idea of how they worked and performed, but this was not one of my usual "test until product falls apart or is irreparably damaged" jobs. Give me six months...
Compact Opticube Head Lamp
The Compact Opticube Head Lamp is intended for use as a front light. It's cylindrical, approximately 9.5 cm long with a diameter of 2.5 cm. It mounts to the handlebar using a rubber strap, which you can rotate 90 degrees for mounting on the stem. Given that a cyclo-computer plus a heart rate monitor or a power meter can rapidly use up spare handlebar 'dashboard' space, this stem mounting option can be quite handy.
The Opticube features three bright, white LEDs (light emitting diodes) and is powered by three AAA or LR-03 batteries. This extra battery power is necessary for LED-powered lights to be bright enough to be used effectively as front lights. Cateye claims its luminous intensity to be 90 Candlepower in constant mode (see below) with a battery life of 15 hours, which can be extended to 160 hours by using flashing mode.
The Opticube has a narrow, forward pointing beam, as well as a 5mm ring near the head of the lamp for side visibility. The light is turned on via a sliding magnetic switch and has two modes, flashing and constant, which you cycle through by sliding the switch. The constant mode is certainly the more useful for night riding, as unless you know the road extremely well, it's important to be able to see what lies ahead. But I did find although it was quite bright for an LED light, the Opticube was less effective at lighting the way than (say) a standard Cateye halogen light.
Perhaps the most important feature of the Opticube as far as long term use goes, is a waterproof rating of up to 50 metres, hence the diving illustration. It's probably a good idea to take the light off the bike before you go diving with it though.
Finally, the Opticube also looks pretty cool. A pity it doesn't come with sound effects.
Compact Safety Light
The first word that comes to mind about the LED powered Compact Safety Light is "nifty". The second word is "small". Weighing just 22 grams (including two CR-2032 batteries), it is disc shaped with a diameter of 4 cm. Like the Opticube, it relies on a magnetic switch to turn it on, but instead of a sliding switch, you use a small magnet to press against the face of the light to access the three different modes: flashing, constant and alternating. It's certainly novel, but it works. In flashing mode, Cateye claims the batteries will last 100 hours, 150 hours in alternating mode and 50 hours in constant mode.
The Compact Safety Light comes in either a red or a white LED version, and is bright enough to be used as a rear light. It can be attached pretty much anywhere on your bike or your person via an elastic cord. The "on/off magnet" is fixed to the end of the cord, so there is no danger of losing this rather vital part of the light.
Like the Opticube, the Compact Safety Light is rated as being waterproof to 50m in case you want to venture out into a heavy downpour or scare a few fish.
Conclusions
The Compact Opticube Head Lamp is a user-friendly, efficient front light that looks to be robust enough to withstand plenty of abuse. I would recommend it for riding in well-lit areas to allow you to be seen by others, rather than navigating your way across a desolate moor at midnight.
The red or white Compact Safety Light functions well as an easy to attach rear light, and can be quite effectively used for this purpose. Its light weight and versatility are a plus, and the magnetic switch is kind of cool too.
Weight (with batteries): Opticube Head Lamp: 84g, Compact Safety Light: 22g
Battery types: 3 x AAA/LR-03 (Opticube), 2 x CR-2032 (Compact Safety Light)
Pros: Light, efficient, easy to use, quite bright (for LED lights), looks cool
Cons: The Opticube is not really bright enough to light up the road
Recommended retail price: US$34.95 (Opticube), US$12.99 (Red Compact Safety Light), US$16.99 (White Compact Safety Light)
More information: Cateye's website
Cyclingnews Rating: