Tech News – September 25, 2003
Edited by Paul Mirtschin
Got tech? Send press releases, news, and tech questions to the Cyclingnews tech-heads.
T-Mobile and Health Net on Giant
Giant's TCR Composite Team in T-Mobile colours
Photo ©: Luc Claessen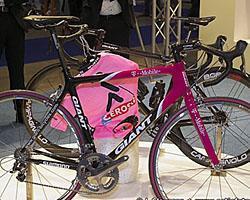 It's official that T-Mobile (the Team Formerly Known As Telekom) will be riding on Giant bikes next year. The announcement was made by Giant at Interbike in Las Vegas on Monday. "We are delighted that one of the most successful teams in road cycling has selected Giant to be their weapon of choice for the coming years," said Tony Lo, President of Giant, Inc..
"During the last few years we have made a reputation with our time trial bike where we have won many stages at the leading tours," added Mr. Lo. "We are therefore very excited and looking forward to see that leading time trial specialists like Jan Ullrich and Santiago Botero will be riding our time trial bikes."
As well as officially confirming rumours that T-Mobile will ride Giant bikes in 2004, Giant sources have told Cyclingnews that they expect to announce in the next two or three weeks a deal for the revamped Health Net team to ride the company's bikes in 2004.
Health Net is expected to be one of the two strongest teams on the US domestic scene in 2004, benefiting both from previous expansion plans and the high-caliber riders released by the recent demise of the Saturn and 7Up teams.
Two details not previously reported are that both teams will use all or mostly Shimano components, a change for T-Mobile/Telekom from Campagnolo, and the T-Mobile bikes will carry Giant's logo on the down tube. The team's previous Pinarello bikes had Telekom decals.
Giant's involvement with Health Net will be the first time the company has sponsored a US team since 2001, and is part of a marketing and product development strategy that sees a strong racing presence in both the US and Europe.
Cannondale culls staff
Cannondale recently announced the sacking of 55 staff members; including the son of company founder Joe Montgomery, Scott Montgomery. Other high-ranking staff members to be given their marching orders were Dan Alloway, who had been vice president of sales, and Len Konecny, vice president of purchasing.
The decision was based on a joint four-month project between Cannondale senior management and Synergetics Installations Worldwide. "Our parent company, Pegasus Capital Advisors, L.P., recognized significant opportunities to improve production efficiencies when they acquired Cannondale last May," said John Doerr, Cannondale's Chief Operating Officer and President of Operations. "As we focused solely on bicycle production and learned the full extent of those opportunities, we owed it to our 650+ employees worldwide to make the right, albeit painful, decisions necessary to maximize our competitiveness."
Other changes being made included changes to the factory layout to improved materials flow, as well as new manufacturing systems, and consolidated CNC operations.
"Cannondale is the only major bike company that produces all of its bicycles here in America, and we're very proud of that fact," added Larry Sarver, Cannondale's Vice President of Manufacturing. "Because we're paying U.S. workers U.S. wages, and our competitors are using cheap foreign labour, we absolutely have to keep our operations as lean and efficient as possible. Maximizing efficiencies and flexibility is critical to our competitiveness, and it's in the long-term best interests of our dealers, vendors and overall employee base."
Cannondale has also announced that it will outsource it's cycling apparel and accessories production next year, a move that will result in the loss of 50 more jobs.
fi'zi:k's Arione in World Cup garb
Photo ©: fi'zi:k
Igor's new saddle
Winner of the 2004 Road World Championship title, Igor Astarloa, recently took part in the Giro Di Lombardia aboard a special limited edition fi'zi:k Arione.
The bendy Arione was made from white leather complete with a rainbow stripe down the centre.
Astarloa was one of two riders to help in the development of the Arione, with the winner of the Giro d'Italia, Gilberto Simoni, being the other.
Pumps recalled
CPSC and Park Tool USA have announced the recall of approximately 4,000 PFP-2 Professional Mechanic Floor Pumps. The pumps, manufactured before August, 2002, can become over-pressurized with air, forcing the handle to quickly and unexpectedly rise upward, possibly injuring the user.
Only units manufactured prior to August 2002 with a black indicator on the pressure gauge are included in the recall. Pumps with blue indicators on the pressure gauge that are manufactured after August 2002 are not included.
If you have one of the affected PFP-2 pumps:
Immediately stop using your PFP-2 Floor Pump.
Contact Park Tool by email at pump@parktool.com, or by phone, toll free, at 888-568-4959.
Shocks recalled
Romic Mfg. has also recalled approximately 200 shocks with a defective Bottom Eyelet Assembly. The problem affects the oil seals located on the compression adjuster, causing the shock to loose oil.
If you feel that you have an affected shock, contact Romic on (760) 244-4478.
Breezing back in
One of the grandfathers of mountain biking, Joe Breeze, is back in action. But instead of mountain bikes, Joe's new company, SimpliCity Cycle, has released a range of 11 street-worthy commuter bikes.
Based on the European concept of transport bikes, Joe has designed the range from the ground up for transportation. The Town and Range models include fenders, chain guards, kickstands, utility racks, built-in locks, reflective sidewall tires, bells, and integrated lighting systems.
Three folding bikes also make up the range, perfect for those with no room for a full sized bike.
SimpliCity has committed at least 5% of its annual profits to support the work of cycling advocacy organizations, as well as donating bicycles to nationally prominent advocacy groups in Marin County, San Francisco, Washington State, and Washington, D.C.
Tom Ritchey and Joe Murray build a folding bike
Dahon's Zero G folding mountain bike
Photo ©: Dahon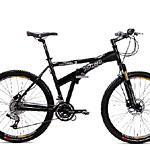 Dahon California, has unveiled two high performance portable bikes, the Allegro road bike designed with Tom Ritchey, and the Zero G mountain bike designed with Joe Murray. Both bikes are aimed at people who want the ultimate portable road or mountain bike.
"Tom Ritchey and Joe Murray are two of the finest minds in the bike business," said Joshua Hon vice president, sales and marketing. "Tom's a guy who still puts in over 10,000 miles a year on his bike and Joe's a legendary mountain bike racer - talk about a dream team. We know folding bikes better than anyone out there but to design the absolute best portable road and mountain bikes it was awesome to work with two guys who are at the top of the game."
The Allegro is designed for fast training rides or long tours but is also suitable for the occasional criterium. It features a Ritchey Break-Away frame hand-welded from Ritchey WCS steel tubing equipped with a Shimano Ultegra drive train, an American Classic 350 wheels, and a healthy dose of Ritchey components. The bike will be available in 48, 50, 52, 54, 56, 58, and 60 cm frame sizes and comes in at 8 kg.
Dahon's Allegro all boxed up
Photo ©: Dahon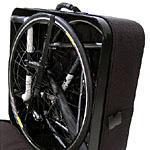 Unlike other Dahon bikes, the Allegro's frame does not fold but instead separates into two sections and packs into a custom suitcase measuring only 23 x 66 x 73.5 cm (9" x 26" x 29") .
Joe Murray designed the Zero G hardtail frame from the ground up and incorporated his signature geometry and design details. The frame features proprietary Puro U6 aluminium tubing, a Manitou Skareb fork, Hayes hydraulic disc brakes, a SRAM X.9 drive train, and American Classic Ultra Lite disc hubs. Total weight for the bike is 12.2 kg.
Featuring patented Dahon ViseGrip folding technology, the Zero G folds in 5 seconds to half its size. Dahon will also offer three other lower-priced models based on the same frame. The frame is available in 15", 17" and 19" sizes.
Both bikes will be available in January 2004, with the Allegro priced around US$1500 and the Zero G at around US$1200.
MRP gets a new home
Eko Sport, parent company of White Brothers Cycling, Englund Total Air and Kreitler Rollers, recently purchased Mountain Speed, maker of Mountain Racing Products (MRP).
Josh Paris, Mountain Speed's founder and president, will continue with the company in development of the MRP line of chain retention devices and cranks. Mountain Speed's manufacturing is to be moved from Portland, Oregon to Grand Junction, home of Eko Sport.
£40,000 of Giant bikes stolen
Giant UK was recently relieved of £40,000 of Giant bikes of bikes, including some pre-production models, after a break-in at its Nottingham HQ. The thieves descended from skylights on ropes before making a getaway with a number of high-end MTBs, including some demo-only bikes that could prove dangerous if used.
This is not the first time that thieves have stolen unsafe pre-production bikes, with GT Bicycles suffering the same fate back in March.
The full list of the missing bikes is:
TCR 2 Red/Silver 50cm
TCR 1 Red 50cm
TCR Zero White 50cm
TCR Composite 1 Black 50cm
TCR frame Black/Yellow 50cm
Boulder FS Black 17"
Boulder DS Blue 18.5"
Terrago FS2 Black/Orange 19"
Terrago FS2 Black/Green 19"
Terrago FS1 Black 19"
FSR AluxX FS Blue 17"
Sedona Gts White 17"
Sedona FS LDS Lilac/Silver 17"
Rincon Dreamsilver 17"
X-Road Lds Charcoal 50cm
X-Sport Lds Silver 50cm
XTC 3 Charcoal 19"
XTC 2 Blue 19"
XTC Zero Black 19"
NRS 3 Black 18.5"
NRS 2 Red 18.5"
NRS 1 Blue 18.5"
NRS Composite 2 Black 18.5"
NRS Composite 1 Black 18.5"
Warp Dark Blue 18.5"
Sedona DX Gts Grey/Blue 19"
Cypress DX Gts Silver/Blue 19"
VT2 Silver 18.5"
VT1 Blue/Silver 18.5"
AC2 Grey 18"
DH Team Blue 18"
Acid Black 13.8"
Suxes 3 Gts Silver/Black 58cm
Escaper FS 21 Gts Silver/Blue 54cm
Explorer FS 21 Lds Silver 50cm
Little Tricycle Pink Pink 10"
Little Tricycle Silver Silver 10"
Animator 12" Black 12"
Animator 16" Black 16"
Taffy 125 FS Pink 20"
MTX 225 Plum 24"
Modem G Grey
Revive 21 Blue
Revive DX N7 Silver
Style Silver 16"
Simple Seven Gts Blue/Silver 18"
Simple Seven Lds Red/Silver 17"
Source Bikebiz.com
Photos
Images by fi'zi:k
Images by Luc Claessen/actiefotos.be
Images by Dahon