Tech News – August 21, 2003
Edited by Paul Mirtschin
Got tech? Send press releases, news, and tech questions to the Cyclingnews tech-heads.
Well linked
Photo: © Specialized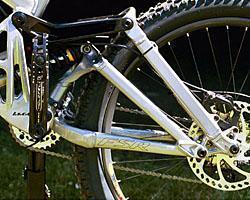 Specialized turns a dirty thirty
Last week we brought you the new road rides from Specialized for their thirtieth birthday. This week we head off-road to see what Specialized have planned for the mountain bike world.
2004 will see one new model added to the Specialized range, the Demo 9. An "Aggro category" bike aimed at the big-drop crowd, the Demo 9 is claimed to be the only nine-inch travel bike to come with a front derailleur. Yes, it is theoretically possible to ride this bike up a hill, if one were masochistically inclined.
The nine inches of rear wheel travel works via what Specialized have dubbed a "six bar linkage", a Horst link based four-bar design with separate shock linkages activating an Manitou SPV rear shock. The rear is matched up with Marzocchi's new 200mm travel Bomber 888 fork.
Take that, BRAIN
Photo: © Specialized

For those who like a little less pain when climbing, the new Enduro S-Works may be the bike for you. Borrowing the BRAIN inertia valve from the 2003 Epic, Fox and Specialized have come up with a remote reservoir shock with the reservoir housing the BRAIN inertia valve. This locks out the 130mm of travel until it is really needed.
The 2004 Stumpjumper has had a major overhaul, with a sloping top tube and a split seat tube running all the way from the seat clamp to the bottom bracket and split either side of the shock not unlike the a Cannondale Jekyll. Specialized claim that the frame and shock weighs in at just 2.54kg, just a little less than the original Stumpjumper frame weighed. The rear shock is the new Fox Triad, exclusive to Specialized, which features three shock settings; fully open, fully locked, and a partially locked mode called "Pro Pedal", similar to the BRAIN's inertia valve.
New and improved
Photo: © Specialized

Specialized's race-ready Epic gets a little make-over this year, with the S-Works Epic frame dropping 240 grams thanks to a carbon shock link and some frame tweaking. The Specialized engineers say that if they could save some weight on a part, it was re-designed.
The Fox BRAIN shock on the Epic has also been re-worked, allowing the rider to tune the inertia valve from 50 percent to 125 percent of the 2003 BRAIN's sensitivity, something that many Epic owners have been asking for. The shock can now be set for any condition, from rough trail rides to fat-boy crits.
And more Shimano newness
By John Stevenson
Between ten-speed Dura-Ace, a complete new Deore XT group and the Saint semi-group, I don't think we've seen this much new stuff from Shimano in one year since the early 90s, when it seemed that Shimano had three new mountain bike groups every year. As if in search of a record for most new products, Shimano has just announced yet more tweaks and changes to other items in the range. Here's a very quick run-down.
Pedals: There are four new pedals in the 2004 Shimano range. The first two are budget versions of the PD-M959 mountain bike pedal, PD-M540 and PD-M520. The main difference between the two is that the PD-M540 has a lighter axle and no spanner flats - mounting is by an 8mm hex key. A new inexpensive road pedal brings 'Lance pedal' technology right down to the entry level. This replaces the R535 SPD-R and completes Shimano's switch to the 'Lance pedal' design across all its road pedals. On the mountain bike side we can expect a resin-bodied replacement for the beefy PD-M646 mountain bike pedal that will use the same engagement mechanism as the M959/M540/M520 series.
Deore LX: No major technical improvements (it's a safe prediction those will come next year) but good old LX gets an option of a black and silver colour scheme.
Cantilever brakes: Touring cyclists and cyclo-cross riders will be pleased to see the BR-R550 cantilever brake, designed for use with road STO levers and the BL-R440 flat bar lever.
Wheels: For mountain bikes the new WH-M765 wheels sit between XTR and the LX-grade M575/M540 wheels. Both use 24 spokes in a paired pattern, 400g rims and are compatible with tubeless and regular tyres. Claimed weight is 1766g per pair.
Eight-speed STI levers: If you have an older Ultegra or 105 eight-speed rig you've been a bit stuck recently if you needed to replace your STI units but didn't want to jump to nine-speed. The ST-R500 levers plug this gap in Shimano's range, with a decent-quality eight-speed brifter.
Hub dynamos: Beyond its MTB and road racing groups, Shimano makes a vast range of components for what are variously termed trekking bikes, comfort bikes, commuting bikes and so on - flat handlebar bikes whose purpose is to get around, but not necessarily at maximum flog. Bridging the gap between these styles of cycling are two new front wheel hub dynamos with Ultegra-grade bearings and seals and bulbs designed to cope with the extra power produced at road bike speeds. The DH-3N70 is a regular quick release front hub with a dynamo built in, while the DH-3D70 has mountings for a Center Lock disc brake rotor. Purists might sneer, but we can see a use on commuting-orientated road bikes.
Pedalling back in time
Bike tech geeks will not be the only people who will be interested to find out just what the clipless pedal has evolved from, with Speedplay offering a history of the bicycle pedal on its website.
Dozens of pedals, dating from the 1860s to the present, are on show, including the first commercial clipless pedal, early toe clips and some pedals that are best forgotten.
Speedplay designer and CEO Richard Bryne began collecting bicycle pedals more than a decade ago, acquiring them from bike shops, other collectors and by auction. "I've been fascinated with pedal designs even before I began working on the Speedplay X-Series pedal," he said.
His collection includes:
The first bicycle pedal to receive a U.S. patent, invented by Pierre Lallement in the 1860s.
An 1895 Columbia "woman's" pedal with hearts stamped into the cage
A Ramsey Swing pedal from 1898 which in an advertisement boasts: "automatic ankle action, no dead center . . . money refunded if Ramsey pedals do not enable you to ascend hills with 25% less energy."
A 1930s Oppy toe clip named after the Australian "dynamo of human energy" Sir Hubert Opperman
The Cinelli M71. The first commercial clipless pedal, produced in 1973, and sporting a manual lock and unlock lever.
The pictorial history not only includes photographs of the pedals, but also information such as designer's names, how the pedal works and other anecdotal facts.
Redline goes disc for cyclocross
The folks at Redline think that discs are the way to go for 'cross bikes, and have decided to make their 2004 Redline Conquest Pro both rim brake and disc brake ready.
The U6 aluminium framed Conquest Pro also comes with replaceable rear drop-outs, curved seatstays, and accepts 130mm rear spaced hubs. The fork, also made from U6 aluminium, will also take disc brakes.
A complete 2004 Conquest Pro will set you back US$1,399 plus the cost of the disc brakes.
Stolen rides
Expensive mountain bikes seem to need a 24/7 security guard these days, with a number of bikes going missing.
Orange Cycles have had a prototype Sub-5 stolen while out testing. The lightweight full suspension bike was stolen from Ullswater in the UK last week, and Orange really would like it back. The bike was the first prototype of a new design, with lower pivot point, revised geometry and a new radiused downtube.
The Sub-5 is painted matt black, and comes fitted with Manitou Black forks, Deore discs and the swingarm is filed away above the cranks to allow a front derailleur to be mounted.
Freeriders at Whistler's Gravity Fest also bore the brunt of bike thievery with a plethora of bouncy bikes being nicked. Four of Randy Spangler's bikes were stolen, including his translucent red Santa Cruz Bullit, translucent blue Santa Cruz Heckler and his original "Kawasaki" green Santa Cruz Super 8. All bikes were set up with Marazocchi forks, Mavic wheels, MRP cranks and chain guides and Magura brakes.
Fellow freeriders who also lost bikes were;
Cody Swansborough, who lost his 2003/04 red Brodie Demon with Hope M4 binders and a Rock Shock Boxxer team fork.
Gareth Dyer, who is missing a metallic brown Santa Cruz Bullit with 2004 Marazocchi z150 forks
Darren Berrecloth, who is minus a pair of Specialized rigs.
Photos