New Arrivals – December 19, 2003
Edited by John Stevenson
Got Tech? Send press releases, news, and tech questions to the Cyclingnews tech-heads.
Welcome to New Arrivals, a section showcasing the latest equipment that's landed on the Cyclingnews tech desk. Look out for reviews over the next few months when we've clocked up some saddle time with this stuff.
Seems like we've had a bumper crop of new gear in the last few days as makers rush samples out to us before the Christmas break - and of course plenty of the stuff that's landed lately is very winter-orientated.

Campagnolo's Metal Series gloves
Photo ©: Campagnolo
Campagnolo Metal Series glove
Part of Campagnolo's extensive new collection of winter clothing, these gloves are waterproof, breathable and insulated, according to Campagnolo. Triple layer construction keeps the water out, with two waterproof layers and a micropile inner glove that's claimed to give "an incredible sensation of well-being". You have to love that 'Campagnolo spoken here' marketing!
Price: 56 Euro

Campagnolo's Metal Series jacket
Photo ©: Campagnolo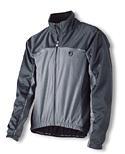 Campagnolo Metal Series jacket
Like the gloves, Campagnolo's Metal Series jacket uses a Textran outer layer for waterproofness and breathability and boasts waterproof zips to keep the elements out of a common leak point. The lining of the shell is treated with silver to reduce bacterial growth, and a micropile inner jacket keeps you warm. It can be removed, making this two jackets in one - a micropile jacket for dry days and a waterproof for the wet.
Reflective piping aids visibility
Price: 240 euros

Campagnolo's Metal Series winter jersey
Photo ©: Campagnolo
Campagnolo Metal Series jersey
Many old-school riders swear by wool jerseys for their ability to keep you warm without getting clammy when you're sweating, and for their resistance to getting smelly. The Metal Series jersey is made from Sportwool, an up-to-date version of this age-old fabric that's claimed to improve sweat transfer.
The Metal Series jersey incorporates Silver fiber inserts at the neck and shoulders to further enhance the fabric's anti-bacterial abilities.
Price: 85 euros

Campagnolo's Metal Series pants
Photo ©: Campagnolo

Campagnolo Metal Series bib pants
Rounding out the collection is perhaps the most high-tech bib tights we've ever seen. These tights are made from breathable, elastic, waterproof Textran with a Lycra inner layer for comfort. The chamois lining is removable, being incorporated into an inner short that attaches by means of popper buttons.
Price: 190euros

Giro's Xen helmet
Photo ©: Cyclingnews

Giro Xen helmet
Giro's new top-of-the-line MTB helmet combines trail-riding ventilation with protection that wraps round the back of your head like a skate helmet - and the ventilation is designed for the more upright position of current mountain bikes.
We don't usually comment on how a piece of kit works at this stage, but we've now had the Xen in use for a week or so and we're impressed - it's comfortable and well-ventilated.

Bontrager's Race X Lite seatpost
Photo ©: Cyclingnews

Bontrager Race X-Lite seatpost
Troubling the scales barely at all, at 185 grams, Bontrager's Race X-Lite post uses an glass-reinforced carbon fiber shaft with a forged single-bolt clamp. Available in 5mm and 20mm offset, the Race X Lite post's unique clamp provides infinite adjustment of the saddle angle so you can get your position just right.
Price: $100

Bontrager's Race X Lite fork
Photo ©: Cyclingnews

Bontrager Race X Lite fork
The Race X Lite fork combines carbon fiber legs for light weight with an 1 1/8in aluminium steerer so that a standard star nut can be used with theheadset, rather than the heavy expander systems necessary with carbon steerers.
Available in 40mm and 45mm offset, the Race X Lite tips the scales at 462g with an untrimmed steerer.
Price: $350

Look's KG 486
Photo ©: Chris Henry

Look KG 486
The team bike of Credit Agricole and Kelme in 2004, Look's all-carbon KG 486 uses high modulus carbon fiber in a monocoque construction for a frame that's claimed to weigh 1,895g with a headset and 4SL carbon fork.
Price: 2,500-3,000 euros

Topolino's wheels
Photo ©: Cyclingnews

Topolino Technology 700C wheels
Topolino Technology's 700C clincher wheels tip the scales at just 812g for a rear and 600g for a front, despite having eminently sensible 30/24 spoking. The low weight is achieved by using carbon/Kevlar composite spokes that pass through the hub on their way from rim to rim.
Available in Campagnolo and Shimano-compatible versions.