California dreaming: Specialized turns thirty
By Kristy Scrymgeour
Specialized Bicycles is celebrating its thirtieth birthday this year. Kristy Scrymgeour went along to the company's combined 2004 product launch and birthday party to find out what makes the big red S company tick.
Doing it old school
Photo: © Cyclingnews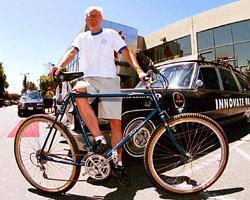 Specialized founder and chairman Mike Sinyard has always had a passion for riding bikes, and like many people in the bike industry he has turned that passion into a profession. For Sinyard, it started in 1974 when he kicked off Specialized by importing cycling products from Italy. Sinyard told Cyclingnews during a ride along the California coast, "Basically, I couldn't find a job. I had travelled through Europe and was taken by the passion Europeans had for high tech bike equipment. There was demand in the states and the products were scarce so I made the decision to import bike components and accessories." The name Specialized was decided on because at the time it was how riders referred to high-end components.
Initially, Sinyard worked out of the trailer in which he lived, storing the products under the trailer during the night. He had the chitzpah to convince retailers to pay in advance for the products thus enabling him to afford to run the business. Before long he had moved into a new workspace, which he shared with a more experienced entrepreneur and worked at a desk made of wooden crates.In 1976, Specialized began making its own products and has since become oneof the bike industry's design leaders. "The key to innovative product development is a synthesis of spirit, vision and energy," says Sinyard. Specialised's first component was a touring tyre and now at Specialized you will find everything from high-end racing bikes to clothing, helmets, shoes, bidons, locks, lights, tubes, computers, bike tools and more. Things have come a long way from the packing crate desk.
Just chillin'
Photo: © Cyclingnews

"It has been fun," says Sinyard. "I suppose it is like anything in life, if it is going well then it's fun. We have a great group of people working here and we all really just enjoy getting out on our bikes and designing the best possible bike to ride."
Today Specialized Bicycles is run from a classy headquarters with a staff of over 120. As you walk in the main doors, you see a gigantic picture of the world champion Mario Cipollini on his Specialized bike as he crosses the line in victory salute. As you venture forward, you come across the shop, which displays all the latest accessories, and the recently added museum, which takes you on a ride (no pun intended) through the past 30 years.
My dream too
Photo: © Cyclingnews

Specialized likes to display its history thoughout its headquarters. The range of bikes from serious and purposeful production models to outlandish concept makes makes for an amusing tour. In the museum, you can feast your eyes on Specialized's very first Sequoia touring frame, Allez racing frame or the famous Stumpjumper mountain bike, only to see the very latest editions of these bikes in the next room and even future models of these bikes and others in the works.
Life's a beach
Photo: © Cyclingnews

The very enthusiastic staff at Specialized pride themselves on being bike crazy and managed to run through a plethora of information on new bikes and equipment in a very short amount of time, leaving us all with plenty of time to get out there and try them out for real.
With Mike, the staff and long time ambassador for the company, Ned Overend, leading the way, the rest of the day was spent out riding the trails or the road with beautiful views along the California coast. Riding was followed by a very cool beach party at which most people spent their time practicing their Italian trying to figure out exactly what Giovanni Lombardi thought of s'mores (for all of us non-Americans, s'mores are marshmallows toasted over the bonfire and sandwiched between chocolate and graham crackers). Funnily enough, no words were needed, as his upturned nose was enough - not as good as Italian desserts? Or maybe he just needed to watch his weight for the Vuelta!
Photos
Images by Kristy Scrymgeour/Cyclingnews