The two new Specialized bikes at the Vuelta
By Hernán B. Alvarez Macías
Michele Scarponi and his Roubaix
Photo: © Hernán Alvarez Macías/Cyclingnews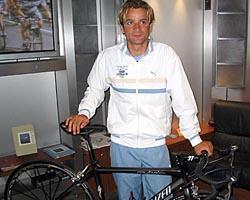 Domina Vacanze riders are campaigning this year's Vuelta aboard two new bikes that Specialized is about to introduce to bike shops everywhere. Giovanni Lombardi is aboard the S-Works Tarmac Road, while his team-mates Michele Scarponi and Miguel Martín Perdiguero are on the new Roubaix pro machine.
Cyclingnews talked with Miguel Rojo, manager of Specialized for Spain and Portugal about the new rigs. Rojo said, "These are two models for the 2004 season and they have a very curious construction process, they are very different from each other".
The Tarmac model, Rojo says, is "made of very rigid aluminium E5, made especially for Specialized. This material is used to give strength to the bike. However, it also has carbon fibre, so it is a mixture of aluminium and carbon fibre. The carbon makes the bicycle more comfortable without wasting the capacity to sprint well. Consequently, the Tarmac is a very comfortable and fast bike."
Giovanni Lombardi and his Tarmac
Photo: © H.A.M./Cyclingnews

The Roubaix is more of a bike for the long-haul than an untimate go-faster machine. According to Rojo, "this model has a more relaxed form in terms of geometry compared with the Tarmac. It has a special capacity to absorb the whole vibrations of the rider's body. As a result, the rider does not suffer much with the vibrations. It has a special material called "Zertz" to retain the vibrations produced by the bicycle's movements."
Looking forward to the Vuelta
Lombardi and Scarponi are optimistic about the Vuelta despite DV's early problems with the arrival and then departure of Cipollini. Giovanni Lombardi told Cyclingnews, "after the Giro d'Italia, I started thinking about the Vuelta and I have done specific training sessions for the Vuelta. I hope I can ride a good race; this is to say to win at least one stage. I also want to be selected for the World Championship."
Specialized Tarmac
Photo: © H.A.M./Cyclingnews

The Vuelta is Lombardi's adopted home race as he now lives in Spain. "I live in Madrid with my girlfriend and I feel very comfortable there," he said. "I'm delighted with the city. I live in the downtown, in an area called Chueca and I have also opened a gift shop." He loves the area, "because it's the warmest country in Europe and that's a good point."
About the problems Domina Vacanze had getting into the Vuelta, Lombardi said, "I didn't like it because I had done a lot of preparation for this race and being unable to race for reasons out of my reach would have been very upsetting for me; that would have been very stressful."
Specialized Roubaix
Photo: © H.A.M./Cyclingnews

Michele Scarponi hopes to have a good run in the Vuelta. "I raced the Giro and other competitions. Actually, I did not race much for the Vuelta, but I hope I can do a good race. I want to win one stage; I will try to see where I am, to see what my real possibilities are."
Photos
Images by Hernán Alvarez Macías/Cyclingnews