Bikes of the MTB Worlds
By Paul Mirtschin
Towards the end of each year, not only does the Mountain Bike Worlds take place, but also a number of riders wheel out what will become the next year's models. Kristy Scrymgeour had a wander around the pits to see just who was riding what. Will you be on one of these bikes next year?
AC's bike (and legs)
Photo: © Cyclingnews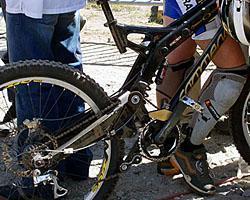 Anne-Caroline Chausson
Anne-Caroline Chausson, the current World Champion, and almost every other title she has a go at, wheeled out her new Commencal downhill bike at the worlds. Looking a lot like some of the bikes Nicolas Vouilloz rode to victory, and sharing a lot of that heritage, AC's Commencal had the best of the old and the new on board.
Runing the same BOS Engineering forks that Nicolas Vouilloz won on last year; the frame has design input from the guys at BOS, something that shouldn't hurt AC's chances at another Worlds jersey next year. A 5th Element shock allows a soft ride while letting AC pedal her heart out, and a set of Hope brakes provide the stopping power.
4X Gold winner
Photo: © Cyclingnews
AC also took rainbow jersey in the Four-Cross on her 2004 Commencal Pasta Power. A four-bar linkage based freeride frame, it has also had some tweaking done by BOS. A 5th Element air shock gives the bounce at the rear while a set of Fox Forx do the duties up front.
Both of AC's bikes run '03 XTR cranks and 545 pedals.
Fionn Griffiths
Fionn's Foes
Photo: © Cyclingnews

Placing fifth in the Women'd Downhill was Fionn Griffiths on her Foes DHS-Mono. Sporting a Curnutt rear shock down the back and Rock Shox Boxxers up the front, Fionn's Foes did all it was asked of it, with Griffiths 5th place being put down to rider error.
Sam Hill
Go Sam!
Photo: © Cyclingnews

Aussie Sam "Who The" Hill won gold, clocking a time of 4'39", a huge 11 seconds faster than second place despite crashing early in the run. Built around Iron Horse's SGS Team DH frame, with a strange looking "non-standard" shock linkage, Hill's SGS was yet another running 5th Element shocks down the back and a Boxxer up front.
Hill's bike also ran an FSA V-Drive Xtreme crankset mounted to an E-Thirteen chain-device, and an SRAM X-0 group.
Alison Sydor
Lightweight legend
Photo: © Cyclingnews

Alison Sydor's Trek 9.8 was one of the lighter bikes on the XC course, thanks to its OCLV frame, full XTR group and RockShox World Cup SID forks. Alison chose to run the XTR V-Brakes over the discs to drop a little more weight; course conditions didn't really warrant the wet-weather benefits the discs give.
Sydor was also running Time ATAC Carbon pedals and lightweight IRC tyres.
Photos
Images by Kristy Scrymgeour/Cyclingnews