On test: Zoot CompressRx recovery tight, May 15, 2009
Tight makes right
Cyclists will find the most benefit from the tights
Photo ©: Marty Caivano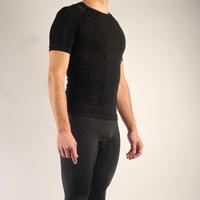 True compression gear offers a wealth of benefits, most notably quicker recovery times and enhanced circulation. Cyclingnews technical editor James Huang squeezes himself into a pair of Zoot Sports' CompressRx recovery tights and finds their 'tighter is better' philosophy to be surprisingly effective.
We've tried a number of compression garments in the past and none provide quite as much squeeze as Zoot Sports' CompressRx recovery tight. In fact, Zoot claims their graduated and zone-specific weave offers as much as double the compressive force as some other so-called 'compression' gear. As a result, whereas we'd sometimes only noticed some mild benefits on other recovery tights, the effects of the CompressRx are quite obvious.
Toss them on before going to bed and get treated to fresher-feeling legs come morning, or put them on shortly after finishing a workout to stave off soreness. We also wore them underneath our pants on trans-oceanic flights to prevent that dreaded 'dead legs' feeling that usually accompanies long periods in a plane seat and in all cases, we were rather pleased with the results.
Zoot varys the weave in key areas
Photo ©: Marty Caivano

'Wrestle them on' is perhaps more accurate, though, as the incredibly tight fit isn't exactly the easiest to get into. Zoot uses limb circumference to calculate the proper size for your body instead of the more general height vs. weight metric and it's a good thing they do - though very compressive, the material doesn't actually stretch that much so it'd be easy to choose incorrectly otherwise.
As such, the generous five-size range is accurate but limited - measure carefully and be sure to take seasonable weight/size fluctuations into account if applicable. If nothing else, come holiday season the CompressRx's spendy US$150 price tag might also provide a little extra motivation to skip that second helping of stuffing lest you won't fit into the things anymore.
That extra level of compression does come at the expense of rather heavyweight fabric, though, plus it's notably thicker and warmer than usual, too. We were awfully toasty when wearing them under pants unless the ambient temperature was rather cool, and most legs' slightly tapered shape (Gene Faes: you may just be the exception to the rule) means the CompressRx tends to creep down over time - so get used to the occasional tug.
The foot sections feel a bit strange
Photo ©: Marty Caivano

The material is impressive stoutly as a result but the seams that join the panels and the finishing stitches on the edges unfortunately don't match up as well. We've blown out the side seams in a number of locations (like we said, they're very hard to put on) and the edging has started to unravel on the foot sections from walking. The edges also tend to roll under your feet if you wear the tights under socks, too, leaving an uncomfortable lump to walk on.
Zoot Sports' Chris Bohanan says that newer models thankfully now have stronger seams but the bunching problem might be addressed by using a full toe with a less compressive weave at the end so as to not crunch your little piggies. Alternatively, those seeking those higher compression levels can also opt for the CompressRx active tight or knickers, both of which skip the feet altogether.
A tad more room in one particular 'key area' might be nice to have, too - no need for lots of compression there, thankyouverymuch.
Overall, the Zoot CompressRx recovery tight would still be a good item to add to your cycling wardrobe, caveats and all. True, it seems strange to recommend dropping US$150 on a garment that will never be used on the bike - Zoot's range is geared more towards running - but anything that can simultaneously decrease down time and improve the quality of our workouts is a worthwhile investment in our book.
Just be sure to exercise case when handling it to maximize the lifespan.
Price: US$150
Pros: Ultra-tight fit is more compressive than most competing garments, faster recovery time means more training and better racing
Cons: Ultra-tight fit is hard to put on, seams are prone to blowouts, foot sections bunch up under socks, tights gradually creep down over time, thick fabric is rather warm, expensive
Cyclingnews rating:


More information: www.zootsports.com
Photography
For a thumbnail gallery of these images, click here
Images by Marty Caivano