On test: Suunto t6c heart rate monitor, June 1, 2009
Ba-bump… Ba-bump… Ba-bump
Conveniently, the Suunto t6c
Photo ©: John Stevenson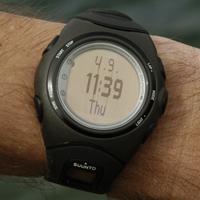 Power meters are the new must-have training tool but heart rate monitors can still provide very useful information to help improve your fitness. Paul Verkuylen tries on Suunto's t6c and finds it to be a worthy training partner.
Suunto's top-end t6c builds upon a conventional heart rate monitor's usefulness with two key features: Training Effect and Excess Post-exercise Oxygen Consumption (EPOC).
Training Effect is a quantified measure - ranging between 1 and 5 in 0.1 increments - that can be constantly displayed and represents the accumulated fatigue caused by the stress of your workout. The figure is calculated using personal data such as resting and maximum heart rate, age, weight, height, and gender. Though Training Effect - and all such algorithms - provides only an estimation of what a power meter would tell you more directly, it can still be very useful in guiding your workouts; for example, by telling you whether you went hard enough during an interval session for it to be worthwhile or if you're going too hard on a recovery day.
Similarly, EPOC uses those same personal details in combination with your exercise history and current fitness level to quantify the increased rate of oxygen intake following exercise - another indicator of how useful a workout was but also a way to monitor how well you're recovering from the effort. As a side benefit, as the t6c uses exercise history as one of the parameters for the algorithm, this means accuracy should improve with continued use as it collects more information.
Accumulated data can be easily transferred to a PC using the included USB dongle and then analysed with Suunto's own Training Manager software (sorry, there is no Mac compatibility unless you're running a Windows emulator). Coupled with some basic understanding of training principles you can quickly track your progress using the many graphing functions provided
The Suunto t6c heart rate monitor
Photo ©: John Stevenson

Of course, the t6c includes all of the usual cyclo-computer functions such as speed, distance, and cadence provided you've either purchased the appropriate combo pack or the individual wireless transmitter 'POD' accessories - which conveniently can also interface with other popular consoles such as from SRM.

In addition, the t6c also integrates a thermometer and barometric altimeter as well. Current altitude, total ascent/descent and total calories can thus be displayed as well but temperature is only accessible post-ride via the software. Moreover, it's important to calibrate the altimeter regularly for accurate readings.
Setup and calibration is a breeze and it wasn't long before we were using all of the t6c's features. The watch has three separate displays, which can be easily scrolled through and two of these can be customized to show only those functions the user deems most important - a handy feature for those planning to use the watch for multiple purposes.
The Training Effect and EPOC functions were also easy to learn and the unit seemed to quickly 'figure us out' and adapt the readings to suit. Ultimately, Training Effect became our default screen and was akin to having a coach with you on the ride, either telling us to go harder or to back off depending on the intended plan. Different readings on similar rides also provided good supporting data to the notion that we were either getting better or were still tired from a previous session and needed to ease up. Being subjective of our own performance can be hard at the best of times so having an indicator right on the computer was a big advantage.
The included chest strap
Photo ©: John Stevenson

As an on the bike cycle computer the t6c is rather average, providing all the basic measurements but with a small screen designed more to be worn on your wrist than displayed on the bars. Moreover, the included handlebar mount doesn't fit oversize bars. The t6c is an outstanding standalone heart rate monitor though with not a single instance of interference.
Swapping a battery is refreshingly straightforward and easily done at home with no special tools required - just twist the battery cover and remove and replace the battery, and the t6c even retains stored settings during the swap.
Overall the t6c is an excellent training tool for those that just aren't totally ready to make the jump into the power meter pool. It's markedly less expensive than any direct power meter currently on the market yet still provides usable guidelines for the quality of a workout and the effectiveness of recovery time, while also doubling as a wristwatch, too. All in all a very solid unit worth considering.
Price: US$429 (t6c w/ chest strap and PC interface); US$79.99 (Road Bike POD Wireless Transmitter); US$69.90 (cadence POD); US$549 (complete Suunto t6c Cycling Pack)
Pros: Provides useful and reliable information to improve your riding, clever Training Effect and EPOC functions, interference-free HRM
Cons: Expensive as compared to other heart rate monitors
Cyclingnews rating:


More information: www.suunto.com
Photography
For a thumbnail gallery of these images, click here
Images by John Stevenson