On test: Prologo Scratch Pro T1.4 saddle, May 19, 2009
Comfy perch for those that like 'saddle-shaped' saddles
The Prologo Scratch Pro T1.4 offers a comfortable perch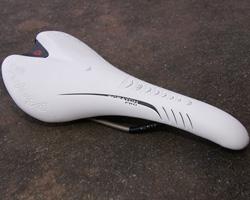 Prologo saddles have quickly gained favour in the pro peloton under such notable riders as Fabian Cancellara and Stuart O'Grady. After spending a few months on the company's popular Scratch shape, Cyclingnews technical editor James Huang can see why.
Prologo's Scratch Pro T1.4 is an excellent example of a 'saddle-shaped' saddle - that is, one with a well-defined seating position front-to-back plus a slightly domed profile from side to side as opposed to ones that are flatter across the top in both directions like Selle Italia's SLR or fi'zi:k's new Antares. The contour is decidedly traditional in spite of the modern materials used and riders accustomed to shapes such as the Selle San Marco Regal or Concor are likely to find it rather agreeable.
The Scratch Pro doesn't use a conventional cutout

In contrast to those flatter saddles that tend to concentrate pressure on the sit bones, the Scratch's more rounded shape tends to distribute pressure a little more evenly across the entire surface of your bum. As long as your hips aren't too wide (the shell measures a fairly narrow 134mm across), pressure on your soft bits isn't excessive, although some riders will certainly still prefer less.
Pressure issues aside, the rather stiff composite shell and firm foam padding towards the rear provides good support for long days on the road and progressively softer padding rear-to-front also means the Scratch is still fairly comfortable when you're on the rivet, too. Though there is no cutout in the nose, Prologo does perforate the shell to soften things up even more.
Other nice details include reflective detailing across the saddle's rear edge, graduated rails for easy positioning, and a rear accessory port for bags and lights.
Reflective details at the rear provide additional visibility

A few oversights mar the otherwise superb saddle though. Even with titanium rails, our sample was surprisingly heavy at 243g (32g over the claimed weight) and while we appreciate the commodiously long 'sweet spot' offered by the modest fore-aft dip, the synthetic cover is so slippery that it was sometimes hard to maintain the position we wanted.
Aside from that, the Prologo Scratch Pro T1.4saddle is a very good choice for riders seeking a more modern interpretation of a classic shape and the US$149.99 retail cost is fairly reasonable, too.
Price: US$149.99
Weight: 243g
Pros: Comfortable and supportive multi-density foam padding, traditional shell shape, sensibly light solid titanium rails, reflective details, accessory port, appealing aesthetics
Cons: Traditional shape still puts more pressure on sensitive tissue than flatter models, heavier than advertised, slippery cover
Cyclingnews rating:


More information: www.prologotouch.com
Photography
For a thumbnail gallery of these images, click here
Images by James Huang/Cyclingnews.com