On test: Cyfac Absolu, May 25, 2009
Hand made jewellery
The Cyfac Absolu
Photo ©: Ben Atkins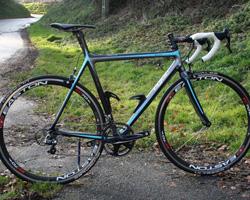 With the majority of carbon frames available as off-the-rack and Asian-made modular monocoques, Cyfac buck the trend with fully custom rigs still hand made in France, discovers Cyclingnews' Ben Atkins.
Smooth and composed
On the mixed terrain of our usual training routes Cyfac's Absolu flagship proved to be one of the nicest overall frames we've ridden with an excellent balance of ride quality and stiffness for riders seeking an all-around fast machine capable of handling both racing, the occasional sportive, or just logging long miles in the countryside.
The Absolu is by no means the stiffest bike that we have ridden recently but is still pleasantly responsive with just moderate flex from the rear end while climbing the myriad of short, sharp climbs we threw it up. In exchange for the slightly less snappy feel however comes a brilliantly refined ride quality thanks in part to forgiving seat stays that glided over the broken asphalt that peppers southern England - despite the integrated seat tube - and took the sting out of the surface without ever feeling soft or spongy.
Handling is also reassuringly middle-of-the-road with classic 73.5 and 72.5-degree head and seat tube angles - neither 'comfort bike' languid nor criterium bike-quick. With the spacers removed from under the stem we were able to get the bars as low as we needed for a nice, aggressive position and we confidently pushed hard through fast corners even in wet winter conditions with both wheels tracking superbly well.
Though admittedly not as edgy as some more tech-heavy machines, the Absolu is a good companion for short, fast rides or long winter endurance miles alike,
Fait à la main - sur mesure or prêt a porter
The Absolu's carbon wrapped tubes are relatively slender
Photo ©: Ben Atkins

The Absolu sits at the top of the company's model range and some of its versatility can be tracked to its do-everything construction. The multi-shape top tube and down are a bit narrower than some newer offerings from the likes of Cannondale and Specialized but subtle ribs in its T800H IM carbon fibre tubes - at the head tube for the seat tube and the bottom bracket for the down tube - serve to add a bit more stiffness side-to-side. The seat tube, on the other hand, stays round until it morphs into a more elliptical profile at the integrated seatmast.
Instead of the usual hourglass or wishbone-style seat stay shaping, the Absolu's are arrow-straight but with two bridges joining the left and right sides and fully separate tubes running all the way to the seat tube. Cyfac claim this arrangement makes for a more comfortable rear end than monostays that tend to transmit vibration right into the seat tube and based on our test rides, we would tend to agree.
Cyfac claim their arrow-straight seat stays
Photo ©: Ben Atkins

Our standard large frame fit quite well but its tube-to-tube construction also means that Cyfac can build the Absolu with custom geometry if needed. In that case, the Cyfac Postural System fitting methodology - developed in conjunction with France's Lyon Center of Sports Medicine - then comes into play and appears impressively thorough. A generous fifteen different paint schemes are available as well.
The fine details are where a handbuilt frame can score over a mass-produced one and the Absolu is no exception. Instead of riveted-on housing stops, the rear brake cable is neatly routed through the top tube and the derailleur housings meet the frame at molded-in guides on either side of the head tube - tidy-looking for sure but they do thus require in-line adjusters lest you go without the ability to tweak the cable tension while on the bike.
Moreover, the carbon rear dropouts are also sandwiched by thin aluminum plates on either side to prevent damage from serrated quick-release skewers or axle ends and overall finish quality is superb.
The build kit
The Selle Italia SLR saddle
Photo ©: Ben Atkins

Our test bike had already been built up for the Cyfac showroom and thus came equipped with last year's Campagnolo Record 10-speed groupset. Despite since being eclipsed by the new 11-speed version, this previous generation still provided the same precise shifting, predictable braking, and quiet running we'd come to expect - no complaints here whatsoever and budget-minded shoppers can likely find some sweet bargains if they're willing to forego the extra cog and new lever shape.
Subbing in for Campagnolo's silky-smooth Ultra Torque chainset however was a Stronglight X-Wing Activ Link unit with a massive carbon fibre chainring spider and curiously angular arms. Though claimed to be stiffer than Record - we couldn't tell an appreciable difference without having the Campagnolo bit on hand for comparison - the outer ring's proprietary 146mm BCD and the bottom bracket's unusually narrow-and-thin bearings may cause some difficulties down the road when it comes time for replacements.
The matching Cyfac ForkNox 3C fork has a gentle rake.
Photo ©: Ben Atkins
The Absolu was fitted with an Easton EC70 SL carbon-and-aluminium clincher wheelset, which aren't the lightest around at 1695g per pair but offer superb stiffness and a reasonably aero 38mm-deep rim section in return for good straight-line speed and a reassuringly solid feel. Wrapped around them were Schwalbe Ultremo Evo clinchers that offered a good balance of speed, weight, grip and durability throughout the test period.
Easton also supplied their EC90 carbon stem and EC90 SLX bars. The former was impressively stiff - and equipped with replaceable steel hardware to guard against stripped threads - but the bars were somewhat surprisingly soft. Easton refer to this as "intelligent flexibility" for a more forgiving ride over longer distances but sprinters and general powerhouses may wish to look for something a little more stout.
Finally, the titanium-railed Selle Italia SLR offered a now-classic shape that fit our rear ends rather well though its flat surface won't suit riders that prefer more of a 'saddle-shaped' perch. Saddle choice though - like pedals and bars - is best left to the individual…
A noble French vintage
Schalbe Ultremo Evo tyres performed
Photo ©: Ben Atkins

The Cyfac name may not appeal to those seeking the designer label kudos of the ProTour but those who prefer to look beyond the decals to the product beneath will find much to like. The Absolu oozes handbuilt quality and manages to exhibit a certain je ne sais quoi that is not often found on more mass-produced frames but you certainly have to pay to get it. Our stock tester was already well into the upper end of the pricing spectrum but having one made to your own requirements - including virtually any colour scheme you desire - will add almost half again to the bottom line.
For the (very) well-heeled seeking a true hand built rarity though, the Cyfac Absolu presents a compelling option. As if the price alone wasn't suggestive enough of the intended clientele, the company even offers a two-night package - that includes a stay in a chateau and tours of local wine cellars - for customers who'd like to collect their dream machine in person.
Sip and enjoy an Absolu if you have the funds but mere mortals will likely have to look elsewhere.
Price: US$4980-6900/€2900-4200/£2950-£4100 (frame only, depending on custom options) Weight: 7.15kg (15.76lbs) w/o pedals
Pros: Modern carbon frame handmade with traditional old-world craftsmanship, clever frame details, reasonably stiff yet sublimely comfortable, undeniable cachet, available full-custom service
Cons: Extremely expensive, not as light or stiff as more tech-heavy options, love-'em-or-hate-'em chainset looks, usual integrated seatpost packing and resale issues
Cyclingnews rating:


More information: www.cyfac.fr, www.veloeuropa.com
Photography
For a thumbnail gallery of these images, click here
Images by Ben Atkins/Cyclingnews.com
Frame: Cyfac Absolu
Available sizes: 650, XS, S, M, L (tested), XL and full custom
Fork: Cyfac ForkNox 3C
Headset: Stronglight Light' in "CA" integrated with Cyfac branding
Stem: Easton EC90
Handlebars: Easton EC90 SLX3
Tape/grips: Easton
Front brake: Campagnolo Record D-Skeleton
Rear brake: Campagnolo Record D-Skeleton
Brake levers: Campagnolo Record Ergopower 10s
Front derailleur: Campagnolo Record 10s
Rear derailleur: Campagnolo Record


Shift levers: Campagnolo Record QS Ergopower 10s
Cassette: Campagnolo Record UD 10s steel+titanium, 11-25T
Chain: Campagnolo Record Ultra Narrow
Crankset: Stronglight X-Wing Activ Link, 39/52T
Bottom bracket: Stronglight Activ Link integrated
Pedals: none
Wheelset: Easton EC70 SL
Front tire: Schwalbe Ultremo Evo, 700x23mm
Rear tire: Schwalbe Ultremo Evo, 700x23mm
Saddle: Selle Italia SLR
Seat post: integrated
Bottle Cages: Cyfac Carbon