On test: Cannondale Six Carbon 3 Compact, June 10, 2009
A sheep in wolf's clothing
The Cannondale Six Carbon 3 definitely has the look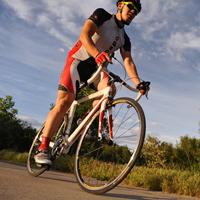 Cannondale's Six Carbon 3 Compact definitely has the look to be a capable all-around racer but perhaps a little too much substance to go with it, according to Cyclingnews technical editor James Huang.
At first glance, the Cannondale Six Carbon 3 frameset is a near clone of the company's top-end SuperSix what with its similarly rounded-triangular profile down tube and top tube, giant asymmetrical chain stays, whisper-thin hourglass seat stays and chunky fork. Moreover, Cannondale even gives it a similarly racy red-and-white paint job and the exact same geometry as the SuperSix.
Thankfully the resultant performance is also a close copy in many ways as a result: front triangle torsional stiffness is spot-on with the far more expensive flagship (and Cannondale engineers confirmed our impressions as such) and drivetrain rigidity is just a few ticks behind (just nine percent according to Cannondale) - in both cases putting it amongst the stoutest examples out there.
As such, the Six Carbon exhibits just the slightest hint of noticeable twist up front when out of the saddle or muscling the bike through corners and there's little sway down below when you really lay it down - budget-minded quadzillas that have found other comparable bikes too soft either up front or down below, step right up.
Front triangle stiffness benefits from the beefy down tube.

Likewise, handling is exactly what we've experienced on the SuperSix with appropriately race bike-quick turn-in that confidently settles an arc in the curves and yet is still reasonably stable at high speed - we even surreptitiously motorpaced behind a landscaping truck (not recommended behavior!) for about 8km at well over 80km/h and never once felt uneasy.
Comfort-wise, the Six Carbon is again just barely a half step behind its far more expensive cousin. In addition to the usual road buzz, bigger bumps are also duly muted and severely washboarded dirt roads are made surprisingly tolerable as well. Even with the superb front end and drivetrain stiffness, we were still impressively fresh even after rides approaching the five-hour mark.
Give and take
So the Six Carbon is everything that the SuperSix is but with a cheaper price tag, right? Not quite.
The Six Carbon frame adheres to the 'big chain stay - little seat stay' philosophy.

At US$2,999 for the complete bike, something's got to give and the humbler Six Carbon has to make do with a lot more weight in order to reach the SuperSix's performance targets - a substantial 1,380g for our bare 52cm tester to be precise, which is more than we would expect for a reasonably high-end full-carbon machine.
Credit the Six Carbon's lower grade of carbon relative to the SuperSix - meaning more of it is needed - and its more typical modular monocoque construction for the extra mass: both have one-piece front triangles but the Six Carbon's stays are plugged and bonded into more conventional sockets and then overwrapped with carbon, thus leaving more redundant material.
Unfortunately, the fork is an even worse offender as its massive aluminum crown and steerer make for an equally massive 700g on the scale - about the same as a Colnago Precisa steel fork. On the plus side, the burly construction is at least exceedingly robust, making for excellent steering precision and a solid feel under hard braking.
And while the Six Carbon is nearly as comfortable as the SuperSix, its ride quality is more wooden and notably less lively - the test numbers may suggest one thing but the Six Carbon just doesn't speak to the senses in the same way.
Build kit - more of the same
Our test bike came with a threaded bottom bracket shell adapter

Much of that superb chassis rigidity is further muddled by the complete bike's 8.5kg (18.74lb) total weight - without pedals - though at least the mixed bag of parts works well together.
Shimano Ultegra SL STI Dual Control levers are connected to an Ultegra SL front derailleur, Dura-Ace 7800 rear derailleur and 105 cassette for smooth and quiet shifts even with the mismatching KMC chain. Our test bike's Ultegra SL brake calipers provide their usual high-powered and controllable stopping ability though unfortunately production units apparently come with lesser Tektro clampers instead.
FSA provides the competent Gossamer crankset - in either compact or standard depending on your preference - but early production models (like our tester) are unfortunately saddled with the MegaExo version instead of lighter and stiffer BB30 one. Tack on another 67g plus the weight of the adapter cups as a result but Cannondale report that later samples were properly BB30-equipped so shop carefully.
Rolling stock comes courtesy of a Mavic Aksium wheels and Maxxis Xenith clinchers - not much to complain about here as the former are smooth-rolling and stout while the latter offer excellent cornering grip. The wheels' 1,855g-claimed weight doesn't help matters though and swapping in a lighter set of hoops breathes noticeable life into the package.
Finishing things off are a Control Tech aluminum stem, comfy aluminum anatomic bar and carbon-wrapped seatpost topped with a fi'zi:k Arione saddle. Again, all perfectly functional stuff.
Comfy cruiser
The Mavic Aksiums are smooth rolling

Overall, we'd say the Cannondale Six Carbon 3 is a comfy way to eat up lots of distance but it's best not to expect lightning-fast changes in speed - 'deliberate' is the name of the game. For those looking for a refined ride at a reasonable price this is a decent way to go but we can't help but suggest that potential buyers wait for the '10 version, which will reportedly come with a carbon steerer (lopping off several hundred grams by our estimates) and a lighter frame.
Privateer racers, on the other hand, should seriously consider sticking to Cannondale's aluminum CAAD 9 frame, which is both lighter and cheaper than the Six Carbon. In fact, we'll soon be building up our own and price will definitely be a major factor in the build - stay tuned.
Price: US$2,999
Weight: 8.5kg (18.74lb) (52cm complete bike w/o pedals); 1,380g (frame only w/ hanger and collar); 700g (fork only, cut to 225mm)
Pros: SuperSix-like front triangle stiffness and frame geometry, racy looks, solid parts pick, smooth ride
Cons: Heavy frame, very heavy fork, no BB30 bottom bracket on early samples, wooden ride quality
Cyclingnews rating:


More information: www.cannondale.com
Photography
For a thumbnail gallery of these images, click here
Images by Marty Caivano
Images by James Huang/Cyclingnews.com
Frame: Cannondale Six Carbon
Available sizes: 48, 50, 52 (tested), 54, 56, 58, 60, 63cm
Fork: Six Ultra Carbon
Headset: Cane Creek integrated
Stem: Control Tech Estro
Handlebars: Control Tech Elite Compact
Tape/grips: fi'zi:k gel tape
Front brake: Shimano Ultegra SL BR-6600-G
Rear brake: Shimano Ultegra SL BR-6600-G
Brake levers: Shimano Ultegra SL STI Dual Control ST-6600-G
Front derailleur: Shimano Ultegra SL FD-6600-FG
Rear derailleur: Shimano Dura-Ace RD-7800-SS

Shift levers: Shimano Ultegra SL STI Dual Control ST-6600-G
Cassette: Shimano 105 CS-5600, 12-27T
Chain: KMC DX-10SC
Crankset: FSA Gossamer MegaExo Compact, 34/50T
Bottom bracket: FSA Gossamer MegaExo
Pedals: n/a
Wheelset: Mavic Aksium
Front tire: Maxxis Xenith, 700x23c
Rear tire: Maxxis Xenith, 700x23c
Saddle: fi'zi:k Arione MG
Seat post: Control Tech Team Issue 2A carbon-wrapped