Tech News – May 8, 2009
Got tech? Send press releases, news, and tech questions to the Cyclingnews tech desk.

Mavic unveils its ultimate climbing wheel
R-Sys Ultimate debuts at Giro d'Italia
By James Huang in Cison di Valmarino, Italy
Mavic's new R-Sys Ultimate wheelset is their most climbing-specific model to date
Photo ©: James Huang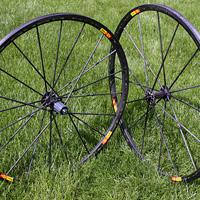 Mavic will supply a limited number of sponsored riders at this year's Giro d'Italia with its most climbing-specific wheel to date - the new R-Sys Ultimate.
As the name suggests, the R-Sys Ultimate employs the same TraComp concept as the original R-Sys with low-tension tubular carbon fibre spokes that operate in both tension and compression for what Mavic claims is a stiffer, lighter, and more responsive wheel.
The 'lighter' part of that equation was somewhat debatable before but certainly not now as the R-Sys Ultimate is said to weigh just 950g for the pair (410g front, 540g rear, without skewers). The shallow 22mm-deep carbon tubular rims are just 230g each, both front and rear hub shells are nearly 100 percent carbon fibre, and every spoke - not just half and half as on the current R-Sys rear - is tubular carbon fibre at a paltry 5g apiece.
In lieu of weight-adding mechanical connections, the entire structure is co-moulded together so the only metallic bits left are the oversized alloy axles, titanium freehub body, Mavic's familiar ratchet system, and the cartridge bearings. Granted, this leaves no provision for at-home truing or repair but unless something actually breaks, there is no reason these should go out of true anyway.
According to Mavic product manager Maxim Brunard, the new R-Sys Ultimate offers 18 percent lower inertia than the company's already-light Cosmic Carbone Ultimate but also manages to deliver the same lateral stiffness thanks in part to widely-spaced hub flanges.
The front hub shell is all carbon
Photo ©: James Huang

Durability issues highlighted by the original R-Sys have been addressed with new nine-layer spokes augmented with four spirally wound outer layers plus an extra pin inserted at the nipple end for additional shear strength.
Mavic claims impact resistance has gone up five-fold as a result and torsional strength more than three-fold, bringing the once-fragile carbon spokes more in-line with the bladed Zircal spokes used in its Ksyrium range. Moreover, Mavic says the new wheel has also passed the UCI's stringent - and highly unrealistic - impact test.
Either way, interested buyers shouldn't hold their breath. As of right now, only 10 sets of these wheels are currently in service and all of them are slated for the Liquigas, Ag2r and Silence-Lotto teams. Estimated cost is also yet to be determined but based on the construction, we would place it even a tad higher than the current Cosmic Carbon Ultimate, thus putting them around the US$3,000 mark - or more than US$3 per gram.
Those kinds of numbers wlll be hard to justify to average consumers but that hasn't limited sales of other wheel exotica like Lightweight and Lew in the past. Pros such as Liquigas' Ivan Basso will only care about the new wheels' improved performance, though, and we'll see over the next few weeks just how much difference that will really make.
Photography
For a thumbnail gallery of these images, click here
Images by James Huang/Cyclingnews.com