Tech News – April 3, 2009
Got tech? Send press releases, news, and tech questions to the Cyclingnews tech desk.

New Scott time trial bike on the way for Team Columbia-Highroad
By James Huang
The stem is fully integrated
Photo ©: Scott Bicycles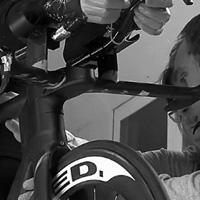 It's certainly no secret at this point that Team Columbia-Highroad has largely shunned Scott's Plasma 2 for time trial use in favour of their 'Highroad dev' bikes - which perhaps should come as no surprise given that the Plasma 2's fit and handling were intentionally designed more specifically for multisport applications - but that situation should change in the very near future based on a teaser video recently released by Scott Bicycles.
"There's an obvious need for new time trial bikes for the team," said Scott marketing and PR director Adrian Montgomery. "There is a lot of knowledge available from the Highroad dev side and we've combined resources to make something new. We've put tremendous resources into the project."
While there were no details offered in text, slowing down the video frame-by-frame offers a surprising amount of information.
Scott has obviously employed computer modeling software to craft the new supposedly UCI-legal carbon fibre shape but has also made heavy use of rapid 3-D prototyping (commonly known as SLA, or stereolithography apparatus, whereby a laser is used to selectively cure UV-sensitive polymers layer by layer), modular quick-change prototype frame construction and even a life-like human model to fine-tune the shape in the wind tunnel.
Some design cues apparently carry over from the existing Plasma 2 - such as the geometric hourglass-profile head tube, doglegged chain stay path, wide horizontal top tube, and slippery seat tube/seat stay junction - but several other features are all-new for Scott.
By moving the steerer outside the head tube
Photo ©: Scott Bicycles

Up front, the new machine sports an external steerer tube that fairs the head tube to effectively increase the combined section aspect ratio beyond the typical 3:1 plus a fully integrated stem that flows nearly seamlessly into the top tube as on the current Highroad time trial rigs. The aero-profile base bar is fully interchangeable - at least on the aero mock-up in the video -suggesting that team mechanics should have few issues accommodating rider fit requirements.
Aero extensions naturally look to be fully interchangeable as well with height adjustments accomplished by adding or removing spacers.
Down below, the bottom bracket junction has sprouted a new Cervélo P4-like form that extends significantly above the shell while the 'Speed Skeg' extension that once extended below on the Plasma 2 has apparently been deleted.
Other prototype details that may or may not make it to production include a variably deep down tube that flares just behind the head tube and a presumably integrated seatpost that appears vertical in one image but is oriented at a more conventional angle elsewhere in the video.
The base bar melds cleanly into the integrated stem.
Photo ©: Scott Bicycles

Based on the prototype, the front brake will be located in the conventional location - rather than behind the fork crown - though the rear brake looks to have been moved to below the bottom bracket shell given the smooth profiles at the top of the seat stays and the elimination of the Plasma 2's Speed Skeg feature.
Scott's teaser offered no information whatsoever in regards to projected weights or costs and consumer availability sounds to be a fair bit off but we expect to see the riders aboard them come the opening team time trial at next month's Giro d'Italia.
"It's not a product we're releasing anytime soon," Montgomery continued. "We're planning to race it at the Giro and the team will keep racing and testing it until we decide it's a production item."
Stay tuned for more information.

Cannondale shuttering US production
By Gary Boulanger, US editor, Bikeradar.com
Cannondale is undergoing more changes
Photo ©: Kirsten Robbins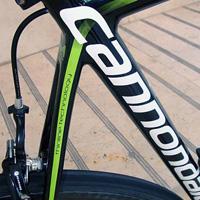 Dorel Industries, parent company of Cannondale, Schwinn, GT, Mongoose and Sugoi, announced it was consolidating locations in the United States, while phasing out production in its Bedford, Pennsylvania factory.
"Today is the beginning of a very exciting period for Dorel's Recreational/Leisure business," said Jeff McGuane, president of Cannondale Sports Group (CSG) North America. McGuane, who has been with Cannondale since 1994 and most recently was President ofCSG International, was named to his new post last month.
Dorel purchased Cannondale and Sugoi from Pegasus Partners for nearly US$200 million cash in early February 2008. Cannondale, an early pioneer of production aluminium bikes, began importing carbon frames from Taiwan in 2007.
The number of Bedford employess will shrink from 300 to 100 by late 2010, as Cannondale transitions 100 percent of its production to its new facility in Taichung, Taiwan. The Bedford facility will be used for final bicycle and Headshok assembly, some CNC machining, testing and quality control, bicycle warranty repair, inside sales/service, distribution and customer support/administration (including a new call center on-site).
The Lake Forest, California and Longmont, Colorado facilities, home to GT and its testing facilities for years, will close as part of the consolidation. All high-end jobs will be based out of Cannondale's original Bethel, Connecticut facility, with some current employees being offered jobs in Connecticut.
Pacific Cycles, based in Madison, Wisconsin, will focus strictly on mass market bikes, where its roots lie since Chris Hornung began selling bikes from the Orient in the mid 1970s. Dorel bought Pacific for US$375 million in 2004.
According to Dorel, all North American product development, marketing and business management functions for all four cycling brands (Cannondale, Schwinn, GT and Mongoose) will move to Bethel, within the newly named Cycling Sports Group (formerly the Cannondale Sports Group).
"Our vision is to create the most innovative and admired company in the recreation and leisure marketplace, and to become a global leader, which is why the Dorel segment was established in the first place," said Robert Baird, president of Dorel's Recreational/Leisure segment. "The strategy for transforming that vision into reality requires a unified, collaborative, and highly engaged workforce, relentlessly committed to innovation and supported by management in rapidly advancing the quality of the products and services we deliver.
"The Cannondale purchase led us to segment our bicycle business to provide best-in-class service to the distinct retailer categories," he added. "Naturally, Cannondale and CSG are key components of our commitment to our independent bicycle dealers (IBD) as we realize how critical IBDs are to the cycling community and to us.
Roman Kreuziger and the Liquigas boys
Photo ©: Christophe Mury

"In addition to the plans outlined above, and to ensure we delight our customers with our distinctive brands, innovative products and impactful in-store programs, we are also consolidating our North American CSG operations to two locations from five."
Dorel has created 'Five Centers of Excellence' around the world, with each location focused on a specific market segment or expertise. These centers will be based in:
* Bethel, Connecticut (global headquarters and innovation centre for high-end and enthusiast bicycles);
* Basel, Switzerland (for high-end and enthusiast bicycles sold/marketed in Europe);
* Madison, Wisconsin (for global mass market products);
* Vancouver, British Columbia, Canada (for active lifestyle and urban apparel and footwear); and
* Taichung, Taiwan (for coordination of sourcing, testing and quality of Asian suppliers/partners)
Bedford has been its domestic bicycle manufacturing hub since the first model, the ST500, rolled off the line in 1983. Company founder Joe Montgomery sold panniers and child trailers in 1971, taking the company public in 1995. A misguided effort into motorcycle production brought the company to bankruptcy in 2003. Italian road star and 2006 Giro d'Italia winner Ivan Basso currently races a Cannondale SuperSix HiMod carbon road bike with the Liquigas team. Stars who've raced Cannondales include Mario Cipollini, Damiano Cunego and Gilberto Simoni (Saeco), Tinker Juarez, Brian Lopes, Missy Giove, and Myles Rockwell.
Dorel, founded in 1962, is a Montreal-based publicly traded company with annual sales of US$2 billion.