Special Tech News – April 1, 2009
Got tech? Send press releases, news, and tech questions to the Cyclingnews tech desk.
Edited by the CN équipe Avril Imbécile

Cyclingnews technical editor launches carbon componentry company
By James Huang
Is this logo going to find your way on to your bike parts in the near future?
Photo ©: Pam Dobrowolski
Cyclingnews' very own technical editor, James Huang, has decided to branch out beyond the world of journalism by launching his own carbon fiber bicycle componentry company called cc: (say 'carbon copy').
According to Huang, cc: will exclusively sell direct to consumers online via the company web site and will offer the most comprehensive range of real carbon fiber components - not wrapped carbon or 'faux' carbon - of any current entity. Regularly in-stock items will include the usual suspects such as handlebars, stems, seatposts, saddles and rims but also more cutting-edge items such as cables and housing, brake pads, handlebar tape, and even bearings.
"I wanted to include the bread-and-butter stuff but also decided to take the risk on some unproven bits that could potentially offer big performance advantages," he said. "The bearings are especially intriguing as they replace one of the last bastions of heavy steel on a bicycle. They're not super round and roll a little rough, but the weight savings should more than make up for the increase in friction."
Interestingly, Huang plans to do no engineering work or independent testing whatsoever. Instead, he plans to source all of the items straight from established Asian manufacturers using ready-made designs and molds and will rely on the manufacturer's own in-house testing to ensure safety.
"Though it's not the norm, some companies already just buy 'pre-fab' parts from these companies, slap their label on them and then call them their own anyway," he said. "I figured if they can do it, so can I - plus I can get better pricing on most of the stuff since I'm blood-related to most of my vendors anyway. Some buyers might recognize some familiar shapes from other brands but mine are absolutely better."
One might assume that this direct-from-factory model would result in lower prices but Huang plans to do the exact opposite. In fact, cc: parts will actually be priced substantially higher - by as much as 50 percent or more - than even already spendy brands such as Zipp and Reynolds in order to instantly garner some exclusivity and cachet.
"Over the last few years as technical editor of Cyclingnews - and now BikeRadar - I've come to find that people will believe that just about anything is top notch if it has a high enough price tag," he admitted. "I mean, seriously, who in their right mind is going to admit to their buddies that they just spent US$600 on a handlebar and don't actually like it?"
One area potential buyers certainly won't take issue with, however, is cc:'s surprisingly generous lifetime warranty policy. No matter the type or age of the part or reason for dissatisfaction - be it a grass stain, user error or 'JRA' catastrophic failure - simply return the item to cc: and the user will get a new one in return with shipping being the only cost paid out of pocket.
"I believe that anyone paying that kind of money for something should at least receive unparalleled support in return," Huang insisted. "And given how little I'm paying for these things, I figure I could replace every item sold 10 times over and still end up with a big wheelbarrow full of money to push around."
Huang says that his cc: web store quietly went live last week and has already taken several orders merely through word of mouth. Moreover, he has also provided himself with an array of test samples so expect to see several reviews - which he promises will remain objective in spite of the apparent conflict of interest – on both Cyclingnews and BikeRadar in the coming months.
For more information, check out the company web site at www.carboncopycomponents.com.

Stiamo Mentendo arrives in Britain to shake up staid world of cycling
By Rupert Elkington Cole
Rosetto per Cani: an urban style attack on the cycling jersey UrbfreeXtremeXIVai
Photo ©: Stiamo Mentendo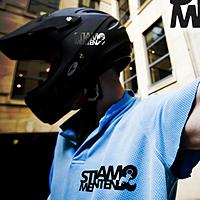 Straight out of Portland, United States of America, with a zeitgeist defining agenda for the prosumer and an Italian flava, Stiamo Mentendo is the hottest new bike brand to hit the United Kingdom.
Britain's urban cyclists are to receive a wake up call this April 1 thanks to the exclusive arrival on these shores of the USA's most wickedest new biking apparel brand - Stiamo Mentendo and its awe-inspiring Malato del Sidro range. Malato del Sidro combines modern fabric technology and corresponds to consumer demand-led sensibility yet retains a stylistically modern urban aesthetic.
Founded in Portland, Oregon, the uber-cool heartland of US cycling chic, by renowned BMX stunts world record holder Erik van Mees Stiamo Mentendo is the brand that: "British cyclists fed up with me-too Lycra, try-hard baggy shorts or faux-revisionist nostalgia-toss retro fashion have been waiting for."
The brand's mission statement is thus: 'Since the dawn of the bicycle, fashions have passed. The bicycle is not fashion - as they say in Italy the bicycle is "assurdità assoluta " - the very essence of man's being."
"Portland reminds me of England," explains Erik. "I was a cycle courier in Stoke-on-Trent for three months during my freshman year and the scene there was so sick. I just know the s*** I've got going down here is going to rock places like Stoke and London."
Erik, who bested Andy Ruffle's world record for doing cherry pickers on standard trick nuts in 2003 with 20,987 consecutive picks, says that his Malato del Sidro collection of technically stylish clothing products combine style with technology. "I call it technolostyle," says Erik. " There is no reason why style and technology cannot be combined to create apparel that riders who dig style and dig technology recognize as part of their whole synergy."
Erik has teamed up with esteemed Turin, Italy, based fabricologists Tecnologia Poco Costosa Della Merda (TPCDM) to create Stiamo Mentendo's first range Malato del Sidro and is the first designer to utilize UrbfreeXtremeXIVaii technical fabric in cycling clothing.
Quello è Errato: UrbfreeXtremeXIVai heat-molded into a free styling jacket
Photo ©: Stiamo Mentendo

"UrbfreeXtremeXIVai was developed in conjunction with the Italian Air Force," explains TPCDM's Cavallo Piegato. "It's an advanced fabric that, as well as being not quite invisible to radar and just a little bit bullet proof, also has excellent breathability and wicking properties."
"I truly believe that the UK is the sickest place to visualize my vision," explains Erik. "I've seen how brands like Rapha and Sport Direct have taken style and cool and zeitgeist and new wave and nu rave and cycling to a level that shouts out 'hey, we need more that's cool and Erik, yo da man fo shizzle. I don't want to keep Stiamo Mentendo on the downlow no more."
Stiamo Mentendo will be on sale in selected UK stores from April 1. Or visit www.stiamomentendo.com.
For more information on Stiamo Mentendo contact Olivia Durchfall at Hotzest PR, Oxford near London, England: stiamotrovando@googlemail.com
You'll be the envy of all the urban warriors
Photo ©: Stiamo Mentendo

Already the hottest cream of journalism is singing the praises of Stiamo Mentendo:
"Erik's designs cut the edge of edges. When I'm taming berms and freeriding knarly trails I find that the Stiamo Mentendo range of clothing is both technologically good and stylishly mild" - Ian Collins, MBUK
The Stiamo Mentendo line will have you jumping for joy.
Photo ©: Stiamo Mentendo

"10 out of 10. At last a cycling clothing brand that doesn't pander to the stylistic vagueries of people who actually care what they look like." - Simon Withers, Cycling Plus
Stiamo Mentendo and Malato del Sidro are trademarks of Stiamo Trovando Inc - born in Oregon, bred on a bicycle
Erik van Mees, 32 from Portland, Oregon, is the world's most winningest BMXer at doing stunts. Among his stunt records are most consecutive cherry picks on standard trick nuts, longest manual (blindfold), most landing on backwheel with one hand on bars, most wheelies outside of girl's colleges (to be ratified by Guinness World Records).
UrbfreeXtremeXIVai is a proprietary technology of Tecnologia Di Cacca A Buon Mercato (TDCABM). It utilizes Nylon, Lycra and Magic from Space. TDCABM was founded in 1973 by Tiago Stagno and was the first company to develop "non parrucca del bastone" technology.

Zipp celebrates 80th anniversary of Zippicelli Tour win
Limited Edition Sweater to be released in tribute
Valentino Spedici Zippicelli with his beloved deep dish rims
Photo ©: Zipp Speed Weaponry

Zipp Speed Weaponry of Speedway, Indiana USA has announced it will release a limited edition sweater to celebrate the upcoming 80th anniversary of founder Valentino Spedici Zippicelli's victory at the 1929 Tour de France.
Born in Autodromo, Italy in 1900, Valentino Spedici Zippicelli was a revolutionary in the sport of cycling in beginning with his first use of balsa wood rims to replace much heavier beech or pear wood rims then popular at the time. He followed this up with the use of large balsa wood lug gussets that allowed his bicycles to be built more than one kilogram lighter than others of the era and later allowed for the first aerodynamic shaping of bicycle frames.
Zippicelli went on to dominate mountain stages of local races and ultimately dominate the 1929 Tour de France with his groundbreaking 110mm deep balsa wood rim, made by laminating balsa wood with epoxy resin, which had been invented only two years earlier in the America.
However, this advance in technology triggered a firestorm of controversy during the 1929 Tour after Zippicelli gained over one hour on his rivals during the 366km stage from Perpignan to Marseille. The final straw was Zippicelli's shattering of the hour record during the weeks following the Tour, where he used his super wheels to break the record in only 52 minutes, stopping along the way for a glass of wine.
Not only limited to the Tour de France, Zippicelli's embrace of technological advancement was not shared by governing body of cycling, the ICU, and Zippicelli was stripped of all his 1929 victories and erased from the history books in an attempt to keep cycling 'pure'.
Valentino Spedici Zippicelli
Photo ©: Zipp Speed Weaponry

Zippicelli fled to the US in 1930, settling in Speedway Indiana where he designed and constructed race cars into the late 1980's. In 1989 he founded Zipp Speed Weaponry to bring his auto racing and carbon fiber knowledge into cycling, creating the first full carbon fiber disc wheel, first 3 spoke wheel, and ultimately triggered the 'Superbike' era with his creation of the Zipp 2001 beam bike.
Zippicelli died of a broken heart in 1998 after his bike was again banned from competition in road racing, and was buried at the Speedway, where he continues to turn a steady 90 rpm in his grave to this day.
The 1929 Zippicelli sweater is knit from the finest Merino wool in the style of the 1920's. This limited edition of 100 units will be made to order and can be pre-ordered by calling Zipp Speed Weaponry at 1.800.472.3972.
Note, while the facts of this story may be subject to the whims of the date, the sweater will actually be on offer, and will be manufactured by Earth Wind and Rider using period appropriate stitched felt lettering, on a 100% merino wool knit body and will have a zippered rear pocket.
Photography
For a thumbnail gallery of these images, click here
Images by Pam Dobrowolski/www.divagonegreen.com
Images by Zipp Speed Weaponry