Tech News Flash – February 26, 2009
Got tech? Send press releases, news, and tech questions to the Cyclingnews tech desk.

Spy photos surface of SRAM's upcoming XX mountain bike super group
By James Huang
The XX brakes look to be distinctly Elixir-like
Photo ©: WheelGiant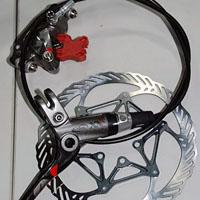 The official launch of SRAM's upcoming XX 2x10 mountain bike is still a solid three months off but a pair of apparent spy photos that have recently surfaced online seemingly provide an early glimpse of what's to come.
Assuming the images are real, here's what we can tell:
Shifters
SRAM has been experimenting with a mountain bike version of its DoubleTap single-lever shifter for some time now: a road version is already commercially available and we spotted a prototype dedicated MTB edition on a bike belonging to SRAM test honch Greg Herbold two years ago.
XX looks to finally bring the idea to fruition on dirt with a single lever that appears to incorporate a carbon paddle co-molded around an aluminum base. We can see no mechanism for adjusting the position of the lever a la X.0 but we'd be quite surprised if it really weren't included.
Otherwise, the body is distinctly X.0-like from what we can see (the top isn't visible) and the XX shifter apparently retains the familiar two-position aluminum clamp - and thus, the same MatchMaker compatibility.
Derailleurs
The rear derailleur retains most of X.0's key features mixed with some Red-like changes. The upper knuckle and outer parallelogram plate look to be aluminum, the lower knuckle - and possibly inner parallelogram plate - appear to be some composite and we're guessing the pulley cage is true carbon fiber, possibly bolstered with an aluminum inner plate. Ceramic-bearing pulleys are a given.
Given the reduced total capacity of the two-ring drivetrain, we're also assuming that SRAM will only offer mid- and short-cage options.
The front derailleur employs Red's wider outer link architecture but seems to use a steel cage rather than a titanium one. We expect the skeletonized form to still be rather light, though, and its shape looks to be optimized for use on a fairly widely spaced two-ring crankset.
Cranks
This leaked spy photo apparently provides the first sneak peek
Photo ©: WheelGiant

The dedicated two-ring XX crank borrows some cues from Shimano's defunct M960 piece with a beefy spider that supports the outer ring all the way out to the teeth for increased stiffness and presumably improved shift quality under load. Gearing options are currently rumored to be 26/39T, 28/42T and 30/44T and bolt circle diameter is still ultimately to be determined (though we hope it's a standard 64/104mm).
We also expect an optimized chainline with both rings evenly straddling the current 50mm standard (measured from the center plane of the frame). This should yield smoother running in cross-gears as well as full use of every possible combination. Given the reduced chainring count, we also expect a narrower pedal stance width in keeping with the desires of many pro racers.
Not surprisingly, the arms will be made from carbon fiber (though we're unsure if there will be an aluminum spine hidden beneath as with the current Truvativ Noir) and SRAM will likely retain the familiar GXP bottom bracket configuration and non-driveside arm attachment.
As with the derailleur pulleys, hybrid ceramic bearings will be a given.
Cassette
Assuming the images are as they say, the XX will not use a slightly modified PowerDome construction as on Red nor the scrapped titanium cog-and-carbon spider version that preceded it, either. Instead, it looks to be an all-steel construct but it is nearly impossible to glean any real information from the grainy image on hand.
Knowing that weight is an utmost priority, though, it's still possible that SRAM has incorporated some Powerdome design features (i.e. distributing drive loads throughout an outer 'shell') but with a much more minimal construction that leaves more room for mud and debris to flow through. However, we're certainly speculating more here than elsewhere in the group but we'll continue to sniff around for additional information.
We are also still waiting to hear more on available gear ratios though we're guessing both a wider 11-36T and more tightly spaced 11-34T and 11-32T spreads will be on tap.
Brakes
Based solely on appearances, XX will be a seriously slimmed-down version of the current Avid Elixir CR and we expect magnesium master cylinder and caliper body construction for reduced weight. The two-piston caliper in particular is a virtual Elixir clone with top-loaded pads, a large window for cooling, and a rotatable aluminum banjo.
The master cylinder bears telltale signs of Taperbore internal architecture and also includes the same bite point adjustment method as on Elixir. Pad reach looks to retain the somewhat cumbersome - but lighter - set screw arrangement of Juicy though.
The removable handlebar clamp is reminiscent of the original Avid Ultimate mechanical rim brake lever and SRAM also appears to have developed an optional add-on that directly integrates a PushLoc lockout lever for suspension components - with a built-in barrel adjuster, no less. The available image only shows the lockout option on the non-driveside though we would expect SRAM to offer one for the driveside as well to accommodate user preferences or rear shock remotes.
Of course, the lever blade is carbon fiber and the shape and layout retain Avid's familiar 'X-Factor' philosophy.
It seems that XX will also mark SRAM's first use of a mixed-material rotor that includes a stainless steel brake track riveted to a minimal alloy spider. There is no word yet on available rotor sizes though 160/160mm and 160/140mm front/rear combos are a safe bet given XX's pure-XC intent.
Upping the ante
Assuming the images are real, XX truly will be an MTB-ized version of Red in both appearance and targeted level of performance. Titanium an aluminum hardware is expected throughout but if the note on one of the images is accurate, total weight now looks to have grown to sub-2.3kg - heavier than the initially speculated sub-2kg figure but still roughly 275g lighter than Shimano's current XTR M970 group. Bear in mind, though, that this figure could easily change - up or down - as the specs are finalized.
SRAM would neither confirm nor deny the authenticity of the images, merely offering only this official statement: "What you saw was preliminary and confidential customer information. We are still in development on the entire product line. We will reveal real and accurate information this summer."
We also have no information on anticipated retail pricing but the word 'premium' will likely apply.
Stay tuned.
Photography
For a thumbnail gallery of these images, click here
Images by www.wheelgiant.com.tw