Tech News – February 4, 2009
Got tech? Send press releases, news, and tech questions to the Cyclingnews tech desk.

A clever new EBB and lightweight carbon fork from Niner Bikes
By James Huang
Niner Bikes' new Bio-Centric eccentric bottom bracket design
Photo ©: Niner Bikes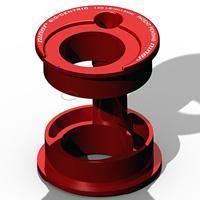 Big-wheeled mountain bike specialist Niner Bikes is soon to release a cleverly simple new eccentric bottom bracket design and is also putting the finishing touches on a lightweight carbon fiber rigid 29" fork.
Niner's new Bio-Centric EBB steps away from traditional wedge-type or Bushnell-style eccentric designs with a two-piece clamshell layout that is far simpler in construction. The two halves are inserted into a standard eccentric bottom bracket shell from either side while a single offset bolt connecting them nominally maintains alignment between the bottom bracket cups during adjustment, secures them together, and also pulls the outer flanges tightly against the ends of the shell to prevent unwanted rotation.
Niner says the simple design runs creak-free and eliminates the possibility of bottom bracket shell ovalization caused by an overtightened conventional eccentric. Moreover, the full-circumference outer flanges supposedly seal the shell interior from contamination and the system is also lighter than usual. As compared to traditional eccentrics - which can weigh upwards of 300g (even Bushnell's new Featherweight design is still 140g) - the Bio-Centric is just 117g including its single stainless steel bolt.
Though Niner has obviously designed its system with its own 29" mountain bike frames in mind, the Bio-Centric can also be used with similarly equipped 26"-wheeled frames or even tandems. According to Niner's Steve Domahidy, the Bio-Centric has been thoroughly tested in the field and has also passed the grueling CEN chain torque fatigue test with no issues.
Retail price is also surprisingly reasonable at just US$80.
Niner also has a new all-carbon 29" rigid fork on the way
Photo ©: Niner Bikes

Niner's pending full-carbon rigid 29" fork is still in the development phase but nearing completion with some impressive early details. According to Domahidy, the new disc-only fork is "carbon from top to bottom" including the steerer, crown, legs and even dropouts and final claimed weight is estimated to be in the neighborhood of 550g.
Stainless steel faces on the forward-facing dropouts will prevent damage from serrated hub axle ends and quick release skewers, post mount disc brake tabs will eliminate the need for most caliper adapters, and brake hose routing will be directly integrated into the left leg.
Despite the feathery weight (roughly 1.2kg lighter than most 29" suspension forks) Domahidy says the fork has "far exceeded any standard testing parameters" and the company has thus far conducted over six months of field testing on various prototypes (we spotted one at the 24 Hours of Moab last year).
"We've gone above and beyond what anybody is doing in a rigid fork for technology and really use carbon in the way it was intended," said Domahidy. "[The] super stiff steering precision coupled with the damping characteristics of carbon make this fork wicked strong but still forgiving for a rigid fork. The fork blades have been designed to maximize the strength of carbon while still allowing for that damping quality that carbon is known for."
Pricing is still being finalized but Domahidy estimates that it will be around US$350.

Photography
For a thumbnail gallery of these images, click here
Images by Niner Bikes