Tech news: Shimano launch new Ultegra groupset, April 2, 2009
Second-from-top road gruppo now 150g lighter
By James Costley-White
Facelift: Shimano's revamped Ultegra group set
Photo ©: Shimano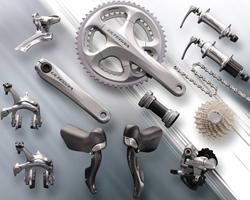 Shimano have finally lifted the veil of secrecy on their new Ultegra road groupset. Slotting in second-from-top in the Shimano hierarchy, just below Dura-Ace, the new kit replaces the old Ultegra and Ultegra SL ranges, and weighs in at 151g lighter than the former and 107g lighter than the latter.
We were shown a prototype version back in February but have only now been allowed to reveal details of the new range, which Shimano claim offers "increased levels of perfection and performance".
The new groupset features trickle-down technology from Dura-Ace, improved aerodynamics and a new 'duotone silver' finish. Shimano say it will "suit all kinds of road cyclists, from the enthusiast to the hardcore racer".
For more pictures, including shots of prototype versions of the new Ultegra kit, photos from the press launch and Shimano's official images, click on the thumbnails on the right. For the full lowdown, read on...
Crankset
The new crank set has a hollow outer
Photo ©: Shimano

The new chainset uses the same Hollowglide technology first seen on Dura-Ace 7900 - a hollow outer chainring which is said to be lighter and stiffer, and to provide better power transfer and shifting. It also has Hollowtech II crank arms, outboard bearings and a fixed axle. It's available as a double (53-39T or 52-39T), triple (52-39-30T) or compact (50-34T), and with 165, 170, 172.5 or 175mm crank arms. Claimed weight is 785g (double with 170mm arms and integrated bottom bracket).
Front derailleur
There are two new front mechs - FD-6700 for double and compact cranksets and FD-6703 for triples. Spring tension has been reduced for lighter and smoother shifts, and the cage has been redesigned so less trimming is needed. The derailleurs feature a wide inner link with two pivots for extra rigidity and an improved chain guide design. Weight is 89g.
Rear derailleur
The Ultegra Dual Control leaver pivot has been relocated
Photo ©: Shimano

The RD-6700 rear mech is available with a short or medium cage. The SS (short) version can cope with sprockets up to 28T. The GS (medium) version is designed for use with a triple chainset and boats a wide outer link design for extra rigidity and a composite plate body which helps reduce weight to 190g.
Dual Control levers
The new ST-6700 Dual Control levers have composite blades, reach adjustment and cable routing designed to be run underneath bar tape. A new pivot location is intended to provide improved control when riding on the hoods. Claimed weight is 445g per pair.
Brakes
The Dual-Pivot caliper brakes feature the same brake shoe compound found on Dura-Ace 7900, which Shimano claim provides 100 percent more power in the wet and 20 percent more in dry conditions. They have a new arch, and cable routing has been altered so friction is reduced and they are compatible with a wider range of frames. The brakes have adjustable spring tension and toe-in. Weight is 317g per set.
Cassette
The Ultegra wheel set is compatible with both
Photo ©: Shimano

The new CS-6700 Hyperglide cassette will be available in five combinations - 11-23T, 12-23T, 12-25T, 11-25T and 11-28T. Weight is 208g (11-23T).
Chain
The CN-6700 chain features redesigned, perforated plates and weighs 267g. It can be joined using a SM-CN79 reusable link.
Wheelset
The WH-6700 scandium wheelset is compatible with both tubeless and clincher tyres, with 16 straight-bladed, straight-pull stainless steel spokes at the front and 20, laced two-cross, at the back. The steel freehub body is compatible with eight-, nine- and 10-speed cassettes. Weight is 1,652g per pair (695g front, 957 rear).
The hubs have labyrinth seals and are colour co-ordinated to match the rest of the Ultegra groupset. Separate hubs will be available with high-quality sealing and cup-and-cone bearings. The front (HB-6700) weighs 156g and the rear (FH-6700) weighs 354g.
Pedals
Shimano Ultegra weight comparison
Photo ©: Shimano

The PD-6700 pedals are identical in function to the current PD-6620 - the only changes are cosmetic. The double chainset version of the groupset should be available from July, with the triple chainset and wheelset following in September.
Photography
For a thumbnail gallery of these images, click here
Images by Shimano