Tech feature: SRAM XX launch, May 26, 2009
SRAM break the 2300g barrier with new XX mountain bike group
The Truvativ XX crank shifts the chainline inboard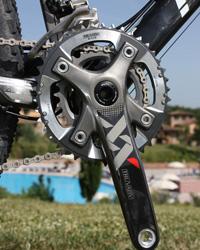 SRAM brings their four component arms together to create their first complete mountain bike group, dubbed XX. It's packed with features and technology and also exceptionally lightweight - and, of course, expensive - but ups the ante of performance for the cross-country set and may just change some riders' habits in the process, too. Cyclingnews technical editor James Huang heads to Borgo Pian del Mucini, Italy, to find out more.
XX - what is it?
Though consumers have always been able to piece together a complete package from SRAM's four brands, XX (say, 'ex ex') is the company's first integrated off-road package to be offered under one label. Targeted firmly at the cross-country and light trail crown, XX shuns the usual 3x9 drivetrain configuration in favor of a two-ring crankset coupled to a wide-range ten-speed cassette.
Total claimed weight for a nine-piece group is a stellar sub-2300g and suggested retail price is a heady US$2430 - over 300g lighter than Shimano XTR M970 but at a cost premium of about US$2/g.
According to SRAM, shaving weight wasn't the primary focus of XX though. Rather, XX was conceived to be the 'lightest and best fully featured and fully adjustable' package available and based on our initial test rides, they may very well have met those goals.
Two chainrings, ten cogs, fourteen shift points, nine hours
The chainring bolts thread directly into the crankarm

The undisputed star of the group is the new ten-speed 'X-Dome' cassette weighing in at just 208g - 42g lighter than XTR even with XX's extra cog. Like SRAM's road-going Red unit, XX consists of a nickel-plated CNC-machined 4130 chromoly 'dome' - reportedly requiring nine hours each just to mill - mated to a 7075-T6 aluminum backing plate only in this case, radically aggressive machining leaves just a sparse lattice of material that mud and debris can easily push through - a common complaint from the cyclo-cross crowd on Red - and the similarly milled-out backing plate on XX now also doubles as the largest cog.
Gearing options include a conventional 11-32T but also an 11-36T, which can provide nearly the same low-range gearing as a triple depending on the chainring configuration used. UK-based riders will undoubtedly scoff at the mere thought of an aluminum rear cog but thankfully it can be replaced individually and realistically speaking, should actually last longer than a conventional middle chainring since it should presumably be used less.
The new Truvativ XX crank is similar in construction with Red and Noir with a unidirectional outer shell surrounding an aluminum spine and foam core. Bottom bracket options will include standard GXP and BB30 but also press-fit variants for both and all will include hybrid ceramic bearings as standard equipment. Press-fit GXP bottom brackets will also be compatible with frames designed for Shimano's press-fit system such as from Yeti and Pivot Cycles. Claimed weights are as low as 694g for the complete BB30 version and 754g for GXP - about 100g and 50g lighter than XTR, respectively.
XX rated?
What do you think of SRAM's first MTB group? Share your thoughts on the Cyclingnews forum.
Chainline is optimized for a 2x10 system with the chainrings bisecting a plane 49.5mm from the bike's centerline for quieter and more efficient running plus access to the full cassette range in either ring. Pedal stance width is also as low as 156mm though wider 164mm and 166mm options - each with their own dedicated crankarm molds - will also be available depending on frame dimensions. Chainring options will include matched 26/39T, 28/42T, or 30/45T and crankarm lengths will be limited to 170mm and 175mm for now.
A small threaded collar allows for fine bearing adjustment

SRAM have focused heavily on XX's shift performance and both the cassette and chainrings bear significant advances relative to current gear. Out back, the new X-Glide tooth profiles are markedly more complex than before and the unique construction allows for virtually zero cog flex for smoother chain movement under power but the X-Glide concept pays its biggest dividends up front.
Chainring combinations are intentionally matched in 1:1.5 ratios as SRAM have discovered that that magic number yields the greatest number of points where the chain can be simultaneously fully engaged between the two rings - 13 for the 26/39T, 14 for the 28/42T and 15 for the 30/45T, whereas normally there are just two - for the smoothest possible shifting under load. Add in four sets of upshift ramps and pins and another four sets of downshift points and the result is what SRAM claim is their best front shifting to date.
In addition, the outer ring is machined from a 6mm-thick 7075-T6 aluminum plate and is supported by a beefy carbon spider with a proprietary 120mm bolt circle diameter while the inner ring uses a similarly XX-specific 80mm dimension. Many will undoubtedly cry foul over yet another chainring standard but at least in this case replacement rings are expected to be fairly reasonably priced.
Admittedly, XX's 2x10 gearing doesn't quite offer the total range of a conventional drivetrain but depending on which configuration you choose it can be surprisingly close depending on the particular requirements. For example, a 26/38T and 11-36T XX combo will yield a low gear roughly equivalent to a 22x30T and a high gear nearly on par with a 44x13T; the other extreme will virtually duplicate a triple's highest gear while mimicking a 22x25T. Not bad, all things considered.
X.0 technology spawns new shifters and derailleurs
The carbon fiber pull lever is still adjustable for angle

The new shifters are based on the existing X.0 triggers with borrowed features including the aluminum-and-carbon fiber clamshell design, two-position clamp, basic two-lever layout and the adjustable pull lever. However, the XX trigger shifter bodies are more compact and the 3mm-shorter pull levers are now carbon fiber, making for an impressive claimed weight of 183g per pair - about 40g lighter than XTR.
Shifter internals are specific to XX's 2x10 system and the rear cable pull actuation is shared with SRAM's road groups. Though this makes them wholly incompatible with other existing SRAM off-road bits, the Exact Actuation rear shift geometry - whereby a given amount of cable pull yields the same amount of linear derailleur movement regardless of position - is more tolerant of variables such as hanger thickness. As a side benefit, this also opens up new possibilities for cross-compatibility between XX and SRAM road groups for 'cross and touring bike applications.
The XX derailleur is by far SRAM's lightest off-road model to date.

The rear derailleur shares the basic X.0 features but with significant updates such as a full carbon fiber pulley cage (with a 93mm cage length optimized for 2x10), forged magnesium inner parallelogram link, and forged aluminum B-knuckle and outer link for a claimed weight of 181g - about 20g lighter than either X.0 or XTR.
The cable fin and anchor bolt assembly have also been moved from the outer link to the inner link for additional protection from trail hazards and both pulleys utilize hybrid ceramic cartridge bearings.
Finally with XX also comes SRAM's first truly high-end mountain bike front derailleur. The new XX changer is built from forged 6061-T6 aluminum with a steel cage specifically designed around the XX's two-ring crankset. Claimed weight is as low as 118g - about the same as XTR and a 36g lighter than SRAM's current top-end X-9 - and SRAM will offer the XX front derailleur in a staggering forty-odd configurations including low mount, high mount, four varieties of direct mount standards plus multiple clamp sizes and cable pull options where applicable.
High mount versions will also use a neat stainless steel band clamp that should conform better around - and exert less stress on - carbon fiber seat tubes.
SRAM's lightest disc brakes yet
A new two-piece rotor uses a stainless steel brake track

The Avid XX hydraulic disc brakes will borrow heavily from Elixir (Taperbore master cylinder architecture, identical pad fitments, similar look and feel) but a streamlined master cylinder shape, a new forged two-piece magnesium caliper body and a stainless steel rotor with a six-bolt aluminum carrier bring the system weight down to just 288g (front, post mount, 160mm rotor). Center Lock hubs will require a rotor adapter.
As on SRAM's top-end Elixir models, XX will include a tool-free pad contact point adjustment but a tooled lever reach adjustment and a press-fit pivot pin for a stouter feel. Lighter alloy-backed organic pads will come standard and rotor sizes will range from 140mm (rear only) up to 185mm.
A lighter U-shaped one-piece clamp (reminiscent of the old Single Digit Ultimate levers) fosters an updated MatchMaker X accessory clamp, too, which boasts a cleaner look than the standard Matchmaker - especially with the new remote fork lockout switch - but also a wider range of angular adjustment for the shifter pods, easier lateral position changes, and more accessible bolt heads.
Yes, XX suspension, too
The top-end SID XX World Cup

SRAM's quoted weights and prices for XX do not include suspension forks but they're an optional part of the package as well - though only slightly altered from non-XX versions. All XX-level forks will include the new XLoc remote hydraulic lockout switch, which trades the old steel cable and housing for 5wt suspension fluid and nets smoother and fully sealed action plus a 60g weight reduction in return.
In contrast to existing RockShox remotes, XLoc operates more like a retractable pen - push in to turn the suspension 'on' and pop it out to engage the lockout. According to SRAM, the system may seem more complex in nature - there are bleed ports just like on hydraulic brakes - but it's not as sensitive as the brakes to air contamination, it's easier to bleed and (in theory) should require virtually zero maintenance once set up. A built-in Floodgate knob is integrated into the design as well for easily tunable lockout blowoff threshold.
The most race-oriented 80/100mm-travel RockShox SID XX World Cup sports a claimed weight of 1436g - with the XLoc remote - with a new one-piece hollow carbon fiber crown and steerer assembly and similarly shortened internals as on the current SID World Cup. Lowers are now all magnesium lowers (sorry, no more carbon fiber enhancements) but total weight has dropped nonetheless.
For several hundred dollars' savings, the standard SID XX adds 110g by virtue of its standard forged aluminum crown and steerer.
In addition, there's also an 80/100/120mm-travel Reba XX in both 9mm quick-release (1651g) or 20mm Maxle Lite thru-axle (1781g) versions plus the versatile Revelation XX in 130/140/150mm and 120-150mm Air U-turn flavors ranging in weight from 1695-1825g depending on spring and dropout configuration.
Other XX tidbits
SRAM haven't developed an XX-specific chain, instead opting for the existing 10-speed-compatible road units such as the PC-1090 and PC-1090R.
Hardware throughout the range is almost exclusively titanium or aluminum and nearly all of it uses a standard T25 Torx head for easy servicing - no more fumbling around for multiple wrenches.
But what about wheels?
As of right now there are no XX wheels as part of the package but given SRAM's recent acquisition of Zipp we wouldn't be surprised to see some introduced in the near future. In fact, when we pressed SRAM global marking manager David Zimberoff about it we got this reply: "Wheels would definitely be a great addition to the XX line - at some point."
Perhaps at Interbike?
So howzit ride??
Our test bike for the launch

We sampled an XX-equipped Merida Ninety-Six over three days on the trails of southern Italy and came away duly impressed with the initial taste test.
Shift performance is the most dominant feature of XX as it's by far the best we've yet seen from SRAM - on or off-road. Out back, the new X-Glide cassette now shifts with Shimano-like precision (finally!) but is also refreshingly smooth and quiet, especially as compared to the road-going Red. Up front, the X-Glide geometry and stouter chainring support actually deliver real world performance to match up to the marketing hype and even when abused we neither dropped a chain or experienced any chainsuck or clatter. We can only hope X-Glide's more advanced tooth profiles soon make their way down the rest of the SRAM cassette range.
Interestingly, though XX is quite possibly the best-shifting group in the SRAM family, the 2x10 gearing requires fewer total gear changes since either ring now effectively yields more usable ratios. The full spread on the extra-wide 11-36T cassette is accessible in either chainring and the straighter chainline means that the system runs both quieter and with less friction than one would normally expect from a crossed combination.
SRAM have adopted T25 Torx bolts for nearly everything

Even on steeper climbs we rarely dropped down to the inner ring and were able to get back on the gas quicker after cresting the top as there was no need to double-shift both ends - a notion also supported by SRAM-supported athletes Mary McConneloug and Mike Broderick (Team Kenda-Seven-NoTubes).
Braking performance is largely identical to the current Elixir CR with smooth progression and predictable modulation, quiet operation and a snappy lever feel. Shifter feel is subtly different from the current X.0 however with a slightly lower total effort and feel but a seemingly higher threshold to inadvertent movement - meaning the levers are easier to push but accidental upshifts are now far less frequent. Multiple upshifts now require a somewhat more deliberate motion, however, but it's a tradeoff we'll accept.
As for the XLoc, we're not entirely sure just yet. The operation is ultra-smooth but is essentially opposite to how the current PopLoc and PushLoc remotes work. This way actually seems to make a bit more sense though as the button is easier to find when the system is locked out - a good thing after you've crested a climb and are already bombing down the other side and are struggling to open the system back up.
So what now?
SRAM say that production units will begin shipping to OEM and aftermarket outlets no later than July 1 and industry support for the two-ring concept has been surprisingly robust. Whether or not the general public will see the performance gains as worth the substantial price premium remains to be seen - after all, a complete XX group will buy a rather nice complete bike - but for those that demand the latest and greatest, this now seems to be it.
| | | |
| --- | --- | --- |
| | Claimed weight | Suggested retail price |
| SRAM XX rear derailleur | 181g | US$265 |
| SRAM XX front derailleur | 118g | US$106-119 |
| SRAM XX trigger shifters (pair) | 183g (low mount) | US$276 |
| SRAM XX cassette | 208g (11-36T); 185g (11-32T) | US$328 |
| Truvativ XX crankset | 754g (GXP); 694g (BB30) | US$430 (GXP); US$470 (BB30) |
| Truvativ XX bottom bracket | | US$195-205 |
| SRAM PC-1090R chain | 255g | US$84 |
| Avid XX brake (w/ rotor) | 288g | US$373-377 (per wheel) |
| Avid MatchMaker X (pair) | | US$45 |
| RockShox SID XX World Cup | 1436g | US$1120 |
| RockShox SID XX | 1546g | US$789 |
| RockShox Reba XX | 1651g (9mm); 1781g (20mm) | US$724-754 |
| RockShox Revelation XX | 1695g (9mm); 1825g (20mm) | US$724-741 |
Photography
For a thumbnail gallery of these images, click here
Images by James Huang/Cyclingnews.com
Images by SRAM
Images by James Huang/Cyclingnews.com
Images by SRAM
Images by James Huang/Cyclingnews.com
Images by SRAM
Images by James Huang/Cyclingnews.com