On test: Zipp VumaQuad crankset, June 25, 2008
Guaranteed to be lighter and stiffer than you
We were smitten with Zipp's 300 crank a couple of years back but technology has moved on since then and the Indiana company has followed suit with its new VumaQuad. Can Zipp maintain its edge over the competition? Cyclingnews technical editor James Huang finds out.
Zipp takes another step forward
Photo ©: James Huang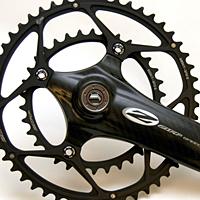 In this day of never-ending stiffness, weight and even stiffness vs. weight ratio comparisons, Zipp's new VumaQuad manages to trump nearly all comers on all fronts: at just 560g for a complete assembly (172.5mm, 50/34T compact chainrings, bottom bracket and all hardware) it's nearly the lightest crankset we know of yet also manages to shatter what we thought was previously possible in terms of absolute stiffness for such a feathery bit.
Zipp's previous top-end model, the 300, proved ultra-rigid on our test bench but its ISIS-compatible bottom bracket left a little to be desired in terms of bearing and seal friction. Rather than simply jump on the standard external-bearing bandwagon with this next iteration, though, Zipp leapfrogged ahead with a larger 30mm-diameter aluminum spindle that is so large that a Shimano Dura-Ace spindle actually fits inside.
Mix that oversized spindle and corresponding external bearing dimension with the gigantic integrated carbon arms and chainring spider and the results are predictable in a wonderfully good way. As expected, the VumaQuad is fantastically rigid underfoot; in fact, Zipp claims an 11 percent improvement over the Dura-Ace 7800 benchmark. While our testing lab has sadly closed shop since our 300 test, we can comfortably say that the VumaQuad at least doesn't feel any softer which is no minor accomplishment given its incredibly light weight (almost 200g lighter than Dura-Ace or Campagnolo Record). Moreover, the included hybrid ceramic bearings are among the smoothest we've sampled, shift quality is very good and Zipp even manages to maintain a tidy 146mm pedal stance width with the beefy arms.
Zipp did have to resort to a bit of proprietary trickery to achieve some of its goals, though. The VumaQuad uses a proprietary four-arm 110mm bolt circle diameter that is undoubtedly clean with its hidden fourth arm and clever NoNuts single-sided chainring bolts but replacements are likely to be somewhat costly down the road and might be hard to find. Regardless, the outer chainring is surprisingly rigid in spite of its stretches of unsupported span and likely has much to do with the VumaQuad's shifting prowess. We tested the compact 50/34T version but standard-sized 53/39T rings are on tap, too.
A high-quality tool, made by Pedro's, is included as well.
Photo ©: James Huang

Installation was decided straightforward as well although mechanics, professional or amateur, will want to make note of a few things before setting off on the pavement. Zipp uses no center sleeve in the bottom bracket design (probably to save weight) and instead relies on a wave washer to preload the bearings and take up any dead space.
The setup definitely works but is absolutely contingent on proper bottom bracket shell width. Slightly narrow shells will yield lateral movement under power (and probably errant shifting) whereas slightly wide shells will put too much preload on the bearings. And when we say "slightly", we're talking fractions of a millimeter here. Measure precisely and be sure to use proper frame prepping tools if required lest you prefer to face the consequences of a very expensive mistake.
Not surprisingly, all of these fantastic performance features comes at an expected cost; namely price. At US$1000 for the complete setup with standard bearings, the VumaQuad is roughly double the price of Dura-Ace 7800 or SRAM Red and not far off of that for Record or FSA K-Force Light. Want ceramic bearings with your VumaQuad? That'll be another US$200, please.
Even so (and price notwithstanding), the VumaQuad is a stellar bit of kit and well worth it if you can afford the cost. As always, being the best never comes cheap.
Price: US$1200 (with ceramic bearing bottom bracket); US$1000 (with standard bottom bracket)
Weight: 560g (complete assembly, including 172.5mm crankarms, 50/34T chainrings, bottom bracket and all associated hardware)
Pros: Superb absolute stiffness, incredibly lightweight, smooth-spinning ceramic bearings, quality construction
Cons: Proprietary chainring bolt circle diameter may be a pain down the road
Cyclingnews rating:


More info: www.zipp.com

Photography
For a thumbnail gallery of these images, click here
Images by James Huang/Cyclingnews.com