On Test: Van Dessel Gin & Trombones BB30 prototype, October 17, 2008
Bring on the barriers
Van Dessel may be a small name but it has managed to eke out a loyal following for its Gin & Trombones cyclo-cross machine. Cyclingnews' technical editor James Huang dives headfirst into 'cross season aboard a BB30-equipped prototype to see what all the fuss is about.
Van Dessel drapes the Gin & Trombones
Photo ©: James Huang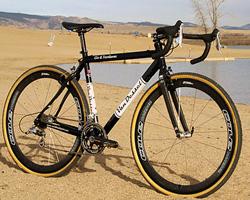 Van Dessel Sports has only been in the game for a few short years but it didn't take it long to figure out the formula for a successful 'cross rig. While some other companies prefer to wow you with fancy buzzwords, marketing schtick and engineering code words, the Gin & Trombones is a no-nonsense race rig that just flat-out works, and very well at that.
As it turns out, the formula is rather straightforward: the Gin & Trombones is built with a lightweight triple-butted 7005 aluminum main triangle mated to relatively tall chain stays and a carbon fiber wishbone-style seat stay assembly. While only the seat tube is round, the rest of the shaping is rather subtle: the down tube and top tube both wear teardrop-shaped cross sections and the down tube is just slightly ovalized at the bottom bracket for a little extra rigidity.
'Cross-specific features include a svelte gusset welded in behind the head tube, classic 'two up, one down' 'cross cable routing, and plenty of room at the rear end for fat rubber and mud. In terms of geometry, Van Dessel opts for the North American style with a relatively low bottom bracket plus fairly steep 72/74 degree head/seat tube angles for our 54cm tester. The impressively broad size range runs from 50-60cm and top tube lengths vary from just 1-2cm so chances are you'll be able to find one that fits.
2009 model year frames also now get a 1 1/8"-to-1 1/2" tapered front end complete with a beefy Van Dessel-labeled all-carbon fork for reduced brake chatter. While we miss out on this last feature with our prototype tester's standard 1 1/8" head tube, we did end up with a superb BB30-compatible bottom bracket shell that sadly won't make it into production until 2010 or so. Regardless, all of the frame tubes save for the head tube and bottom bracket shell are wholly identical so the overall ride characteristics are otherwise unchanged.
Actual weight of our bare test frame was spot-on with manufacturer claims at 1450g (3.2lb). Built up with an assortment of race ready gear, total weight was just 7.8kg (17.3lb) complete with pedals. Now all we need is some mud…
Classic 'cross
Our particular tester was a prototype frame
Photo ©: James Huang
The thin-walled frame construction pays the expected dividends in terms of overall feel with an exceptionally light, resilient and comfortable ride that is well suited for most 'cross courses. While some other big-tubed machines tend to crash and chatter as they make their way across the ground, the Gin & Trombones prefers to gracefully glide along as if your line is perpetually just a tad smoother than that of your competition. The carbon rear end doesn't exactly hurt, either.
That buttery ride does come at the expense of some torsional stiffness up front, though. While the down tube is fairly sizeable the comparatively tiny top tube measures barely 30mm across. Things feel buttoned-down enough while seated and cranking along but there's definitely some noticeable twist when you're out of the saddle and really wrenching the bars. Granted, we still wouldn't characterize the Gin & Trombones as particularly whippy but it's no paragon of solidity, either, and larger sizes will undoubtedly feel even softer.
The aluminum dropouts are aggressively machined
Photo ©: James Huang

Thankfully, drivetrain response from the tidy rear end is very good and there's little hesitation when you lay the hammer down, perhaps also helped along by our prototype setup's larger-diameter BB30 spindle and oversized bearings.
Handling characteristics are also dead-on perfect as far as we're concerned. The 72 degree head tube angle is quick, without being too quick, and 140mm-long head tube strikes a good balance between an aggressively low and comfortably high bar position.
Down below, the lower bottom bracket height doesn't allow you to pedal through corners the way a Euro-geometry machine might but it does provide a lower center of gravity that feels noticeable more stable. So while you can't power all the way through the turn, you can likely carve it a little harder than you would otherwise so ultimately it's likely more a matter of personal riding style than anything else. Pick your poison.
Off the bike and on the shoulder, some might scoff at the lack of a flattened section beneath the down tube to ease the pain of run-ups. However, the teardrop-shaped top tube at least places the fatter section against your shoulder and we honestly never felt the need for such a luxury (probably because we were breathing too hard). 'Quit your crying, we say. If your shoulder aches, run faster!'
Parts is parts
What's with the Gin & Trombones name?
Photo ©: James Huang

We admittedly don't have too much to add here componentry-wise. Since our tester arrived as a bare frame and crankset, we built it up with an assortment of 'cross gear that we'd mostly already reviewed, were familiar with, and knew to work well so that we could concentrate on the frame.
Our build kit of choice included a nearly complete SRAM Rival group, Reynolds Ouzo Pro Cross fork, Cole Shuriken Carbon Lite T-50 wheels and Challenge Grifo 32 tubulars (which were eventually traded for a set of Williams Cycling Wheel System 38 carbon tubulars and Continental rubber). Finishing kit included a Thomson Elite seatpost, Ritchey WCS Carbon 4-Axis stem, Deda Newton 31.8 aluminum bars and TRP's outstanding CR950 cantilevers.
For the most part, there isn't much to add save for what we've already mentioned on the above gear. However, this was our first long-time experience with FSA's SL-K BB30 crankset and we can find nothing but good here. As promised, the bearings were smooth-running and remained that way all year long and while we can't say empirically that the larger-diameter spindle increased stiffness, it's impossible to argue with math.
It is also worth mentioning that we continue to be impressed by SRAM's mid-level Rival group even after nearly a full year of abuse. Considering that it is but a fraction of the cost of the top-end Red group while delivering nearly the same level of performance (the '09 version is even better; look for a full review shortly), we easily consider Rival to be the 'cross componentry package to have at the moment.
A well earned following
Now that we've gotten to spend some time on a Gin & Trombones ourselves, it's easy to see why it's gotten so popular. Save for the slightly soft front triangle, there's little to fault here as Van Dessel has managed to put together a solid rig nearly devoid of needless frills while also hitting that magical US$999 price point for the frame, fork and headset. Complete bikes with a variety of Shimano, SRAM or Campagnolo builds are also on tap for those that prefer to avoid the do-it-yourself route.
Larger or more aggressive riders may want to look elsewhere if overall rigidity is at the top of the requirement list (Van Dessel also offers the stouter, all-aluminum Hole Shot with identical geometry), but for just about everyone else, the Gin & Trombones is just about all the 'cross bike you'll ever need.
Price: US$999 (frame, fork and headset); US$3,199 (complete bike with Dura-Ace); US$3,399 (complete bike with SRAM Red); US$3,899 (complete bike with Campagnolo Record)
Weight: 1450g (3.2lb), frame only; 7.8kg (17.3lb), as tested with pedals
Pros: Sublime ride quality, well thought-out 'cross-specific details, spot-on handling characteristics, value-packed price, tapered front end for new '09 models
Cons: Somewhat soft front end
Cyclingnews rating:

(ignoring cost);

(factoring in cost)
More info: www.vandesselsports.com
Photography
For a thumbnail gallery of these images, click here
Images by James Huang/Cyclingnews.com