On test: Rocket Science Sports Rocket Bag, June 3, 2008
Convenient all-in-one hauler
The Rocket Science Sports Rocket Bag
Photo ©: James Huang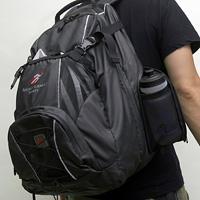 Rocket Science Sports' new Rocket Bag is primarily intended as a gear hauler for the multisport crowd but its convenient form factor, capacious volume and well thought-out interior works surprisingly well for dedicated road and off-road cyclists, according to Cyclingnews technical editor James Huang.
Cycling is a glorious sport but its gear-intensive nature means that we often have a lot of equipment to lug around if our point of departure is anything other than our front door. At the very least, that laundry list typically includes your bike, a helmet, cycling shoes, clothing, water bottles and/or a hydration pack, tools, food… you get the idea. Add in a multi-story walk-up or long parking lot stroll to the car for apartment dwellers and suddenly meeting your buddies for a ride somewhere becomes a major pain.
Standard duffel bags and backpacks get the job done alright but Rocket Science Sports' new Rocket Bag does one better by providing a more sports-specific method of hauling everything around. Originally designed for multisport athletes, the roughly 38L (2340ci) volume easily swallowed up all of our cycling needs and its unique compartmentalized interior also meant that that gear was reasonably well organized, too.
Loaded to the gills
The interior of the bag opens up in clamshell fashion.
Photo ©: James Huang

Included with the bag is a wet gear compartment
Photo ©: James Huang

The water resistant shell is augmented by water resistant zippers.
Photo ©: James Huang

The padded back allows for decent airflow
Photo ©: James Huang

Exterior pockets hold bottles or even shoes.
Photo ©: James Huang

Rocket Science Sports designers clearly opted for the 'more features are better' philosophy, making the Rocket Bag the equivalent of a Chrysler minivan: a place for everything and everything in its place. The bag opens up in clamshell-fashion to reveal a single large rear compartment and two other ones up front, all separated by a double-walled mesh divider panel that is also a compartment in and of itself.
In addition to the three main large compartments, there are specific storage spots for sunglasses, an MP3 player, heart rate monitor and chest strap, an exterior organizer panel, rear light loop, exterior bungee cord tie-downs and even a sleeve for the included transition mat which proved surprisingly handy for bare feet on rocky ground. The rear half of the clamshell also accepts the included snap-in wet gear bag or an optional padded laptop sleeve (and we all know how pro riders need to blog while on the road).
The bag's exterior hasn't been ignored, either. The shell is water resistant, as are the zippers, and the ventilated back and curved shoulder straps are lined with mesh-back padding. Proper sternum and waist straps plus a couple of compression straps kept even heavier loads reasonably comfortable.
For off-road trips, we stuffed the rear half of the clamshell-style interior with a loaded medium-sized hydration pack while the two compartments on the other side of the interior held enough extra clothing for an all-day excursion into the uncertain Rocky Mountain springtime high country. Shoes were neatly tucked into the expandable side pockets, the dedicated helmet holder on the outside gobbled up a bulky Giro Xen without issue and we still had enough room for a change of clothes afterwards. Naturally, road-specific gear was even more easily accommodated and freeriders will be happy to note that the compression straps will also handle a full-faced helmet.
Once loaded up, we just tossed the Rocket Bag on our back and off we went.
Bigger is better?
While the hyper-compartmentalized interior is great for the OCD-inflicted, Rocket Science Sports is definitely pushing the limits here. We never found much use for the center divider pocket and the multiple layers of storage slow down access to items that might be buried deep within (if you close everything up you have to undo three zippers to pull out your laptop). Moreover, the split interior also limits the ability to carry bulkier items that you might otherwise think would fit.
The color-matched interior zippers and small zipper pulls can also be hard to find in the endless sea of grey although Rocket Science Sports says that production units are supposed to have bigger zippers and 2009 bags will be fitted with brightly colored pulls.
Lastly, the padded back and straps are a nice idea but the foam density is too low to be completely effective. When heavily loaded, the strap padding in particular bottoms out too easily and shoulder fatigue begins to set in shortly thereafter.
A solid choice
The Rocket Bag isn't perfect but then again, few things are and this comes pretty close. Minor gripes aside, it still provided a superb all-in-one way of getting our gear from one place to another and we're almost certainly never going to use a duffel bag ever again.
Price: US$149.99 (Rocket Bag), US$11.99 (optional laptop case)
Pros: Ample interior volume, multitude of compartments and pockets, water-resistant shell
Cons: Too much organization for some, wealth of features results in extra weight, shoulder strap and back panel padding should use higher-density foam
Cyclingnews rating:

Photography
For a thumbnail gallery of these images, click here
Images by James Huang/Cyclingnews.com