Tech News – October 3, 2008
Edited by Greg Johnson & Bikeradar.com
Got tech? Send press releases, news, and tech questions to the Cyclingnews tech desk.

SRAM completes Lehman Brothers deal
SRAM has taken a prominent role
Photo ©: Rob O'Dea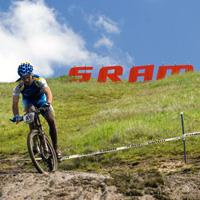 Chicago-based bicycle component maker SRAM and Lehman Brothers Merchant Banking (LBMB) have completed their strategic investment transaction, giving LBMB a 40 percent stake in the company for a reported US$200 million.
"Getting to the finish line, given the current state of the financial markets, is a reflection of LBMB's role as one of the leading private equity organizations in the middle market and our strong SRAM management team," said Stan Day, chief executive of SRAM.
As a result of the transaction, LBMB managing directors Charlie Moore and Bill Lovejoy will join the SRAM Board of Directors. The SRAM management team remains intact.
"All of us at LBMB are thrilled to be closing our investment in SRAM," Moore said. "The company is a leader in its industry with tremendous momentum and a bright future. We look forward to working with SRAM's management team to build the business and realize its full potential in the years to come."
Prior to the completion of the transaction, seven-time Tour de France winner Lance Armstrong confirmed his return to the sport of bike racing with the SRAM-supported Team Astana. Additionally, Armstrong has made a meaningful passive investment alongside LBMB to further strengthen his ties with SRAM, said to be in the millions of dollars.
Armstrong's use of SRAM components will become a part of the SRAM overall marketing program. He will also serve as a technical advisor for SRAM's product development teams alongside many of SRAM's other established professional riders.
"The entire organization welcomes Lance to the SRAM team," Day added. "We are looking forward to his input and doing everything we can to support his return to racing."
Headquartered in Chicago, with product development and manufacturing facilities in California, Colorado, Indiana, Taiwan, China, Germany and Portugal, SRAM produces a full line of high performance bicycle components for original equipment manufacturers and independent bike dealers. SRAM markets its products under the SRAM, RockShox, Avid, Truvativ, and Zipp brand names. In business since 1987, SRAM expects 2008 revenues to approach US$500 million.
For an exclusive video interview with SRAM's Stan Day, click here.

Trek shows off belt-driven cyclo-cross bike
Eccentric dropouts - quite a deviation from the standard
Photo ©: Scott Daubert

Former mountain bike pro and current Trek test bunny Travis Brown raced a prototype belt-driven Trek cyclo-cross bike at CrossVegas September 24.
The bike has unique tension adjusters built into the dropouts. Brown was equipped with a few "cog" options so he could make a final gearing selection at the race once he saw the course. The bike was built off a standard Trek XO2 cyclo-cross platform and had the rear dropouts and chainstays replaced to accommodate the belt. The chainstays are off a Trek T900 tandem; their heavier gauge minimizes lateral flex and compression loads that could make the belt skip.
Trek's Advanced Concept Group has been tinkering with how belt drive bikes can fit into the line. Right now belts are on a few commuter models (including the Trek District) and some other prototypes running around the office but watch for them on more and more bikes in the future.
According to Trek's brand manager Scott Daubert, the dropouts are eccentric.
"If you are familar with Trek's ABP suspension set up you understand how it works," he said on Trek's "Up The Road" blog. "The inboard eccentric plates are slotted to accept a conventional hub. A "QR" threads in from the non-drive side and pinches everything together."
Photography
For a thumbnail gallery of these images, click here
Images by Scott Daubert/Trek Bicycle Corp

Blue announces windy deal
Blue Competition Cycles will offer customers purchasing its news Triad multisport/time trial bike an hour in a wind tunnel. The company has partnered with the A2 Wind Tunnel in Charlotte, North Carolina to help ensure its customers make the most of their new purchase.
"We know that more than 80 percent of total drag comes from the rider, not the bike," said Chance Regina of Blue Competition Cycles. "When a cyclist buys a bike of this caliber, they are clearly serious about speed and efficiency. We want our Triad customers to get the most from the bike, so we're giving them the opportunity to do the same type of wind tunnel optimization as the pros."
Buyers of the Triad, which debuted at the Beijing Olympic Games in August, will need to complete their registration card in order to be eligible for the offer. The offer will assist riders with reducing their drag, according to A2 Wind Tunnel's Mike Giraud.
"Anywhere from 70-90 percent of a rider's power output is used to overcome wind resistance," said Giraud. "Positioning is extremely important for cyclist to be able to minimize drag while still producing maximum power."
Customers may purchase additional time at the facility at a special, reduced rate.

Roys get Seven rigs
Maureen Bruno Roy
Photo ©: Todd Leister

Cyclo-cross squad MM Racing will be supplied with custom Seven Cycles IMX 'cross bikes this season, the team has announced. The squad, consisting of Maureen Bruno Roy and Matt Roy, will be launched this evening in the United States of America.
"I'm so thrilled to be working with Seven," said Bruno-Roy. "Their attention to detail, professionalism, and passion not only make for amazing bikes but also extends beyond the manufacturing and is truly reflected in the people at Seven Cycles."
The light weight bike features a blend of butted titanium and carbon fiber and will carry a SRAM Red drive train, Mavic R-Sys Premium wheels and Michelin tires. The team's next race for 2008 will be at the Erdinger Gran Prix of Gloucester, October 11-12.
"All of us at Seven Cycles are excited and proud to have Maureen representing us," said Seven's marketing director Jennifer Miller. "She is a strong competitor, possessing a high-degree of professionalism. Equally important, Maureen is friendly and upbeat and is a great ambassador for the sport and her sponsors."
Bruno Roy is a two-time podium finisher in the Elite Cyclo-cross National Championships, winner of the Verge New England and Verge Mid-Atlantic Cyclo-cross Series, and 2006 US Cyclo-cross World Championships team member.

Cycling to help cancer cause
Some of the biggest brand names in world cycling are grouping together to raise money for breast cancer awareness. Ellsworth, Sycip, Torelli, Vicious and Rock Lobster have all donated bikes to the Shimano Alfine Breast Cancer Fundraiser.
The commuter bikes will be auctioned off on EBay in early October, with all proceeds going to the Young Survival Coalition. YSC is a non-profit network of breast cancer survivors and supporters dedicated to addressing the concerns and issues that young women with breast cancer battle on a daily basis.
"Every one of us is affected by cancer, if not directly," said Ellsworth Handcrafted Bikes founder Tony Ellsworth. "My aunt battled it this year and members of my staff also have family members facing these challenges right now. I look forward to a world where we can all enjoy perfect health all the time.
"Until that day, Ellsworth wants to do more than just wait, hope and imagine," he added. "We want to be part of the cure."
For more information on the auction or YSC, visit: www.youngsurvival.org