Tech News – June 17, 2008
Edited by James Huang
Got tech? Send press releases, news, and tech questions to the Cyclingnews tech desk.

Felt supplies Slipstream with new aero road racer in time for Tour
By James Huang
Felt Bicycles has supplies the Slipstream-Chipotle team
Photo ©: Felt Bicycles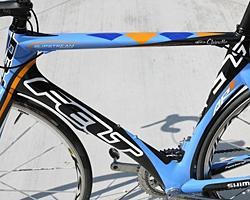 Slipstream-Chipotle riders will have a new weapon in their quiver for next month's Tour de France courtesy of team sponsor Felt Bicycles. Riders will depart from Brest on new AR road frames that add credence to the idea that the war of bicycle aerodynamics is no longer limited just to time trials.
Felt learned a lot of aero lessons in developing its DA time trial/triathlon and TK frames so it should come as no surprise that the new AR includes attributes of both. The down tube, head tube and seat stays are all aero-profiled and the deep-section seat tube shields the rear wheel all the way from the bottom bracket shell to the seat stays. The down tube is also slightly dropped and the lower edge is slightly profiled to smooth the airflow coming off the front wheel.
As on the DA, derailleur cable housings are internally routed and enter the top of the frame directly behind the stem; the rear brake line is also internally routed but is set in a more conventional location. Naturally, the new fork is also aero-shaped and well integrated with the frame. Felt will build the new AR frame and fork with its top-end Ultra Hybrid Carbon blend of Toray SB60, M30S and T700 carbon fibers, all held together with new nano-enhanced resins. According to Felt, the new resins will provide a stronger and more robust exterior surface as well as improved compression and sheer strength.
Felt contends that the new AR shape will retain the ride and handling traits of its existing F-series road frames but will offer a two percent energy savings "over a standard road bike when in identical conditions." If you believe the company's numbers, this will yield up to a 75-second advantage over a one-hour ride and places the AR within the realm of some full-blown dedicated time trial frames.
The aggressively profiled seat tube
Photo ©: Felt Bicycles

"We consider the AR another step in the continued and ongoing development of our road bikes," said Felt US President Bill Duehring in a recent press release. "With all we have learned from our various time trial related projects, it seemed like a natural progression for us. Knowing the AR will now be a big part of the team's equipment arsenal is really very exciting, especially going into the Tour de France."

Photography
For a thumbnail gallery of these images, click here
Images by Felt Bicycles