Tech feature: Magura 2009 launch, May 27, 2008
Magura brings the weight down for 2009
By James Huang in Sedona, Arizona
Stick a fork in me; I'm done
Magura breaks the 3lb barrier
Photo ©: James Huang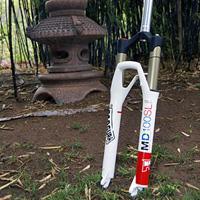 Magura's suspension fork lineup has typically been regarded as well-engineered, durable, stiff... and occasionally a bit heavy, at least on the cross-country side of things. For 2009, the German company looks to shed that image by breaking the three-pound barrier and aiming straight at the racing crowd with its new Durin SL.
Rather than sacrifice the superb rigidity of its unique (and effective) dual-arch chassis design and 32mm stanchions, Magura opted to remove some external adjustments and features in order to reduce mass (although a new aluminum steerer also shaves 30g). As such, the new Albert SL damper uses factory preset compression valving and platform threshold settings; there are no external compression damping adjustments whatsoever. Users looking for a more compliant ride (the factory setting is quite firm) can opt for a more typical threshold setting but will have to swap out the damper cartridge in order to do so.
Travel settings for the Durin SL will be fixed at either 80mm or 100mm. Claimed weights are 1350g (2.98lb) and 1380g (3.04lb), respectively.
Last year's Durin now becomes the Durin Race and will retain last year's DLO (Dynamic Lockout) damper. The Durin Race gets the same updated steerer tube as the Durin SL but the user controllable lockout will cost a bit at the scale: claimed weights for the new 80mm and 100mm models are 1420g and 1480g, respectively.
Magura has also pared down for the marathon category as last year's hefty 130mm-travel Laurin will be replaced by the decidedly more svelte 120mm-travel Durin Marathon. The new model will use the same lower legs as the Durin SL and Race along with model-specific stanchions, crown and steerer to drop weight down to a far more competitive 1550-1580g (3.42-3.48lb), depending on configuration. Albert Select damping will allow for manual or remote-controlled lockout and external platform threshold adjustment while the optional Flight Control Remote will allow for adjustable travel from 80-120mm.
The new Durin Marathon offers 120mm of travel
Photo ©: James Huang

New for '09 is the 140mm-travel Thor which will come with RockShox' standard tool-free Maxle 360 20mm thru-axle system or Magura's own '60less' (as in 60g lighter) axle which will require a 5mm hex wrench. Travel is adjustable down to 100mm via Magura's Flight Control Remote.
Thor will incorporate the Albert Select damper but with a new shim stack rebound piston for better deep-stroke control while an optional remote will allow for easy platform on/off convenience. In keeping with its all-mountain theme, the post mount disc tabs are specifically sized for 180mm (7") rotors while an adapter will allow for a 203mm (8") rotor. Claimed weight is 1785g (3.94lb) without axle.
The Wotan and Menja forks remain unchanged for 2009. We should also note that Magura will continue to utilize the 20mm thru-axle standard for its mid-travel forks for now, although it is currently evaluating the merits of the new 15QR system introduced by Fox Racing Shox and Shimano earlier this year.
Nothing but air
The new MX rear shock uses nothing but air
Photo ©: James Huang

Out back, Magura reintroduces the cycling world to air damping with its new MX rear shock although it bears little functional resemblance to the Cane Creek AD-series units we've seen before. In fact, the MX is essentially a bicycle-specific analogue to the Air Damping System successfully used by BMW on its current line of enduro motorcycles.
Instead of a conventional rigid air chamber and high-pressure seals, the MX uses a unique non-stretch rubber bellows made by German compatriots Continental. The bellows contains the pressurized air but also acts as a boot and completely seals the shock from contamination without the use of tight-fitting dynamic seals (the bellow walls 'roll' up the side of a plastic cone when the shock is compressed). Speed-sensitive compression damping is controlled by a surprisingly conventional shim stack while rebound damping is externally adjustable via a convenient knob.
The MX design is undoubtedly unorthodox (at least in the bicycle world) but the benefits touted by Magura are compelling. By eliminating nearly all of the dynamic seals used in conventional air/oil shocks, breakaway force is dramatically reduced for ultra-supple small bump response and the sole Teflon internal air piston seal supposedly requires no additional lubrication or maintenance of any kind.
Because air is used as both the spring and damping medium, Magura also claims that damping rates are automatically adjusted in lock-step with air pressure. As one would guess, the MX is lightweight, too: claimed weight is 195g for a 165mm eye-to-eye sample. Available sizes will include 165/38mm, 190/50mm and 200/50mm eye-to-eye/stroke lengths.
As for downsides, the only obvious one we can come up with at the moment is that there is currently no provision for pedaling platform. This means the MX is probably best suited for suspension designs that don't rely on shock valving to combat pedal bob and squat. Otherwise, it's certainly an intriguing concept.
Marta SL Magnesium disc brake breaks 300g barrier
Magnesium lever bodies and calipers
Photo ©: James Huang

Magura's Marta SL hydraulic disc brake was already among the lightest available but a new magnesium master cylinder body and caliper now drop the claimed weight of an entire assembly to just 297g, including a 160mm rotor and all associated hardware (which is made of titanium, of course). Even with the lighter weight, stopping power has increased thanks to new pads with more surface area that are shared with the Magura Louise (sorry, the new pad is not compatible with current-generation Martas).
Other improvements include a new bleed port in the master cylinder reservoir cap for easier bleeding and a revised pivot arrangement for the 'stitched' carbon fiber blade (supposedly stiffer than other construction methods) that allows for a closer reach and snappier return. Rotor options include 160mm, 180mm and 203mm diameters but don't expect a 140mm option any time soon: Magura claims it doesn't dissipate enough heat to be safe.
The Marta SL also receives the upgraded bleed port and lever pivot but makes do with forged aluminum bodies instead of magnesium and steel hardware instead of titanium to add about 35g per wheel. Magura will offer a standard Marta as well, equipped with an aluminum lever blade but offering the same power and modulation as its more expensive cousins.
Red rockin'
Test bikes are loaded up and ready to go.
Photo ©: James Huang

We sampled the Durin Marathon and Marta SL Magnesium for two days in and around Sedona, Arizona. As expected, the Durin's dual arch design delivered precise steering and a solid feel. However, the spring rate was too linear for our liking, easily allowing for full travel but also producing heavy brake dive especially when pointed downhill. Once we added a bit of oil to the air chamber to ramp things up, though, we were much more confident and tackled the rest of the trip without issue (at least as far as the bike was concerned).
We couldn't have asked for much more from the Marta SL Magnesium brakes, however. In spite of the smallish 160mm rotors fitted front and rear to our Pivot Mach 4 loaner, we were treated to good power and superb modulation that showed no signs of fade even towards the bottom of the treacherous Hangover trail (hate exposure? This is not the trail for you).
Two days on anything doesn't say much, though, and we also didn't have a chance to play with the new MX rear shock. Production versions of the new suspension bits are slated for late summer and the new brakes for mid-fall, though, so we'll soon have an opportunity to give these items a better workout and will report back with the findings.
Photography
For a thumbnail gallery of these images, click here
Images by James Huang/Cyclingnews.com